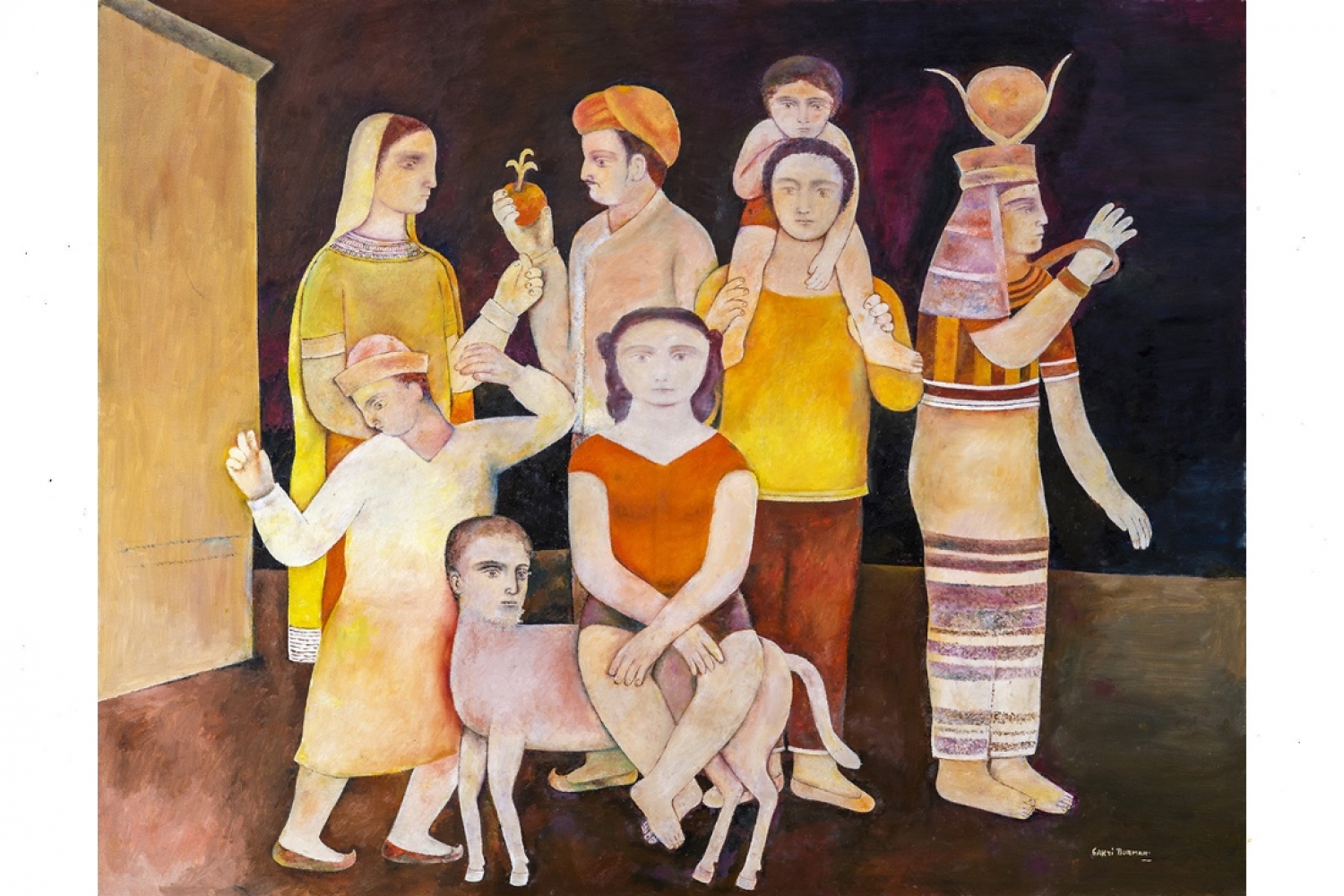 Sakti Burman, Life is a theatre, Oil on canvas, 44.8 x 57.5 inches, 2021
Life is a theatre features recent works by the renowned artist Sakti Burman where he employs humour to create his own fantasy world which looks at the lighter side of life where life imitates theater. His varied background and interests endowed his works with a unique combination of Indian and French culture representing a cultural connection between the two countries. The series, not only incorporates the vast array of Burman's iconic numinous characters, but also celebrates the simple pleasures of human existence through his poetic charm. The profundity of Burman's characters inspired from the traditional Indian and European cultural ethos exist in a dreamlike and vivid fantasy world. The artists' renditions play out gracefully on his chosen medium as the characters reflect unlimited possibilities. Burman's distinct artistic practice, existing somewhere between imagination and experience is a refreshing take on modern-day human relationships.
The Garden of My Soul, Maite Delteil
"The viewer is seized, immediately, by the sumptuousness of Maite's palette: the glowing reds, pollen bright yellows, candied pinks, lambent blues and succulent greens in which she clothes the natural world, which is her chosen zone. An elan vital throbs in each painting and invests the images with their radiant significance. It is a principle of joy, hope and renewal that carries us forward even in pensive seasons and times of crisis."
- Ranjit Hoskote, Curatorial Advisor
Growing up in a conservative home in the French countryside, Maite Delteil is a 'nature's child'. Nature, flora and fauna has been an intrinsic part of her visual vocabulary which is defined by a quaint charm. The Garden of My Soul, features recent works of Maite Delteil where she explores her memories of the past, her reminiscence of her roots, the abundant French countryside as she misses France and has resided in India for the past 2 years due to the situation around the world. Maite's remembrances of a colourful world that is classified by a distinct poetic warmth is exhibited in this series as the illustrious artist reflects back on her life at the age of 88. Maite's colourful and scrumptious palette reminds one of a colourful and happy time while also remaining connected to one's origins.
Games of Life, Maya Burman
"Maya approaches life through the registers of the game, the feast, and the dance. Maya portrays the protagonists of her paintings in postures of heightened play: Leisure as a form of gracefully slowed down athleticism, expressing itself through a finesse of gesture in a pictorial space that appears to have been shaped as textile, as tapestry."
- Ranjit Hoskote, Curatorial Advisor
Maya Burman's watercolours and ink paintings in the show, The Game of Life, evoke a sense of exuberance. The body of work created during the lockdown reflect her proximity to nature as she changed her residence from the city of Paris to a small commune in Southwestern France. Her buoyant, delicate and detailed figures which are present in the abundance of nature are accented by a bright palette that enhances the festive air and celebratory nature of her work. She creates a dream world brimming with characters that are metaphorical and have an imaginative presence. The precise detail, tapestry-like flow and poetic quality characterizes Maya Burman's art as a meeting ground for her French and Indian roots. The sense of merriment and playful-ness in Maya's artworks gives us hope and is a reminder of the happier times.
Through their practices, distinct yet alike, they explore the theatricality of life, the humour, the memory, the drama and the essence of life. All the artworks are an experience and a celebration within themselves. The show will open at Bikaner House with a private preview which will be a celebration of the Indo-French cultural connection.

Date 14-01-2022