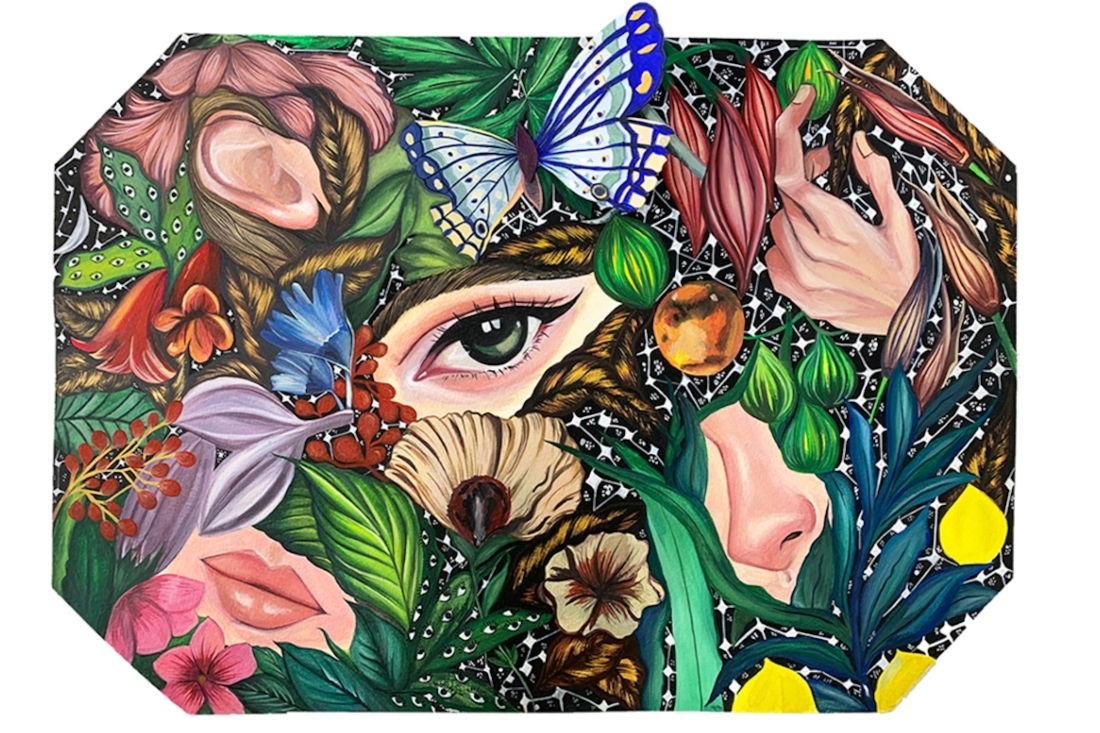 The Artist
Visual artist and designer Charuka Arora had invariably been a creative child, spending time with herself making paintings or indulging in crafts was a habit for her. She vividly recalls her room filled with glitter and getting yelled at for her creative messes. As a young child, Charuka never considered it as a strength or a skill — it was something that came naturally, as banal as breathing, she tells me. Her love for the arts only increased, and while academia may not have been her strong suit, creative projects always were. She adds, 'I grew up in a small town, I never really thought of myself as an artist but always considered myself to be creative. Living in India, growing up in a small town, there's a stigma attached to being an artist. It wasn't even an option. The closest thing my father considered was fashion design because of its commercial and practical value.'

Post dabbling in fashion and a lot of other fields, she decided to channel her creativity without the commercial pressure attached to it. Eventually, as she gained more experience dealing with reality, she realised the worth of her artistic skills and how painful it was to reconcile them in a capitalist setup. Charuka explains, 'I just wanted to build a practice centred solely around my skills so I could keep creating art. All I can recall about myself is that I used to always just quietly indulge in crafting, back then there was no pressure of good art or bad art, it was just about being able to create. I fell in love with the process, since then I haven't stopped. I think and see visually, it is a kind of a language for me. It's very intimate and personal, and I don't think I can separate myself from it.'
The Inspiration
One tends to find inspiration from a plethora of sources, Charuka defines her practice as the visual documentation of her journey as an urban woman. Her art is a manifestation of the psychological woes she went through in her life. Her art helped her work through her feelings. It began with mere doodling and drawing but she eventually built her practice and centred it around documenting her mental state. Her art is an extension of who she is and what she believes in. Navigating her life as a modern woman is one of the major factors that defines her sense of self. Facing misogyny was a quotidian experience while traversing through life on her own in the capital city, growing up she could sense the conflicts revolving around women's identities and the discourse eventually became a part of her.
She breaks it down further, 'As a child, I had understood I would have to fight these stereotypes, although I never imagined art as a medium to do so. I voice my experiences via art. Today's day and age is all the more tricky, there's this constant conflict between letting go and holding on.' As the female figure becomes her centre of attention, it all comes from her intimate lived experiences. Charuka believes in authentic narratives arising out of her perspective. She further expresses, 'I want us to be seen more, heard more, to be felt more because we've been suppressed for so long. Our identities have always been compromised. I think today's women are phenomenal in what they're doing, and I want to be able to represent their uniqueness.'
The Process
Charuka's process is rather intuitive, she doesn't begin with any plans. The onset of her projects are rather marked by emotions, which are usually unknown to her in those moments. Creating her collages is therapeutic for the artist, whereas for her paintings, there has to be some thought before she begins. Her instinct is what guides the collages, she puts out the magazines and just begins working. She elucidates, 'I've observed that I enjoy working on collage series, it takes a lot of work to bring those emotions out. With paintings also, it's similar. I don't have a structure to begin with but rather a vague idea that guides me. It is my emotions that guide me further into the project. The current socio-political environment also drives me. I have now started ornamentation, which has become a vital part of my process. It is an important stage also because I can relate to the femininity of my work, I think my work is bold yet feminine. Hence the stage where I get to dress and ornament my work excites me.'
She also journals everyday, which is also part of her process. Documenting her thoughts and feelings helps because they eventually transform into the subject matter for her projects.
To The Viewer
Describing her aesthetic as contemporary, Charuka's aim is to connect to those going through similar experiences as hers. The embroidery surfaces and ornamentation add that extra edge to her art, and lends it the kind of modernity she's aiming for. She describes, 'I just want to be able to bring out whatever I have in my head without the fear of being judged. It is further important for me to be honest to myself and my practice. I think this also reflects in my aesthetic. The aesthetic also evolves with me, which I think is one of the most beautiful aspects of the process.'
Her artworks are communicative tools she uses to reach out to her audience. A major part of her job is to make sure the female experience reaches a much larger audience. She explains, 'I want other women to find the courage if they can. I'm surrounded by multiple women and we have this conversation a lot of times that we are unusually unable to express ourselves openly. A lot of things that my art represents, I may not be able to verbally spell out. With my work, I want to start a conversation and push others to try the same. It's also important for others to acknowledge our experiences and respect them.'
The Pandemic and Beyond
The lockdown has brought about conflicting emotions in Charuka. She's been fighting the battle between gratefulness and guilt. On one hand there was the larger scenario of the migrant crisis and poverty evoking guilt and mental stress due to her privilege, on the other hand there was gratefulness for possessing things others didn't. As an artist, loneliness is something she is used to, yet with the lockdown, mental exhaustion escalated. This period also proved fecund in terms of providing a moment of clarity, which helped her deal with the deeper aspects of life.
Charuka is excited for all that's to come in the future. For someone whose work is still at a nascent stage, she does have international opportunities lined up. She has a few shows coming up in the near future. What she's looking forward to, is to be able to create a challenging body of work that helps her push boundaries.
Text Unnati Saini