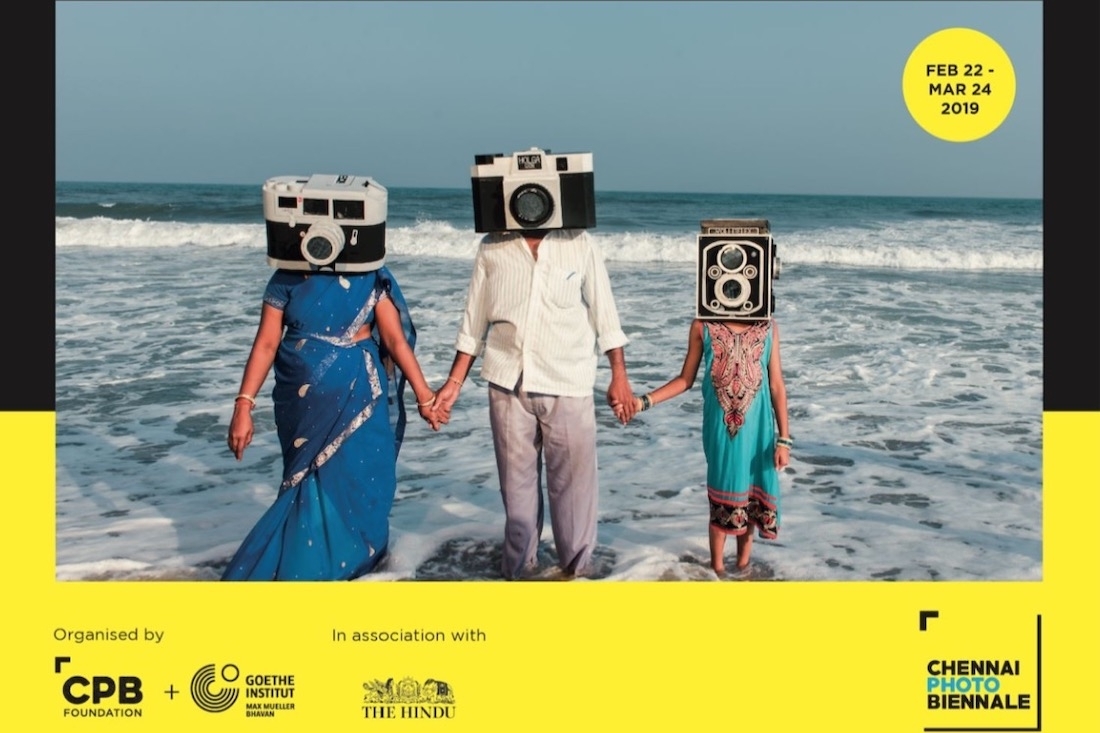 Chennai Photo Biennale 2019.
The second edition of Chennai Photo Biennale, an international biennale of photography, will be held between 22 February - 24 March 2019 with large scale exhibitions in a variety of public spaces, showing works by over 50 artists in print from 13 countries across the city of Chennai. Alongside the exhibitions, the Biennale will include an extensive programme of artist talks, workshops, films, projections, residencies, skill development in photography and much more.
The Biennale, co-founded and co-organised by the CPB Foundation and the Goethe-Institut/ Max Mueller Bhavan, Chennai, has chosen renowned sculptor and photo performance artist, Pushpamala N. as the Artistic Director for the second edition. The philosophy for this edition is Fauna of Mirrors, an old Chinese myth that talks about an alternate universe that exists behind the mirror, another dimension which is home to unknown creatures and unknown worlds.

One of the highlights of the Biennale is the International Photography Conference, 16 - 17 March (to be held at the historic Egmore Museum Theatre), the first of its kind in India and open to all. The title of the conference is Light Writing: The Photographic Image Reloaded and it is supported by the Shergil-Sundaram Arts Foundation and presented by Savera. The conference will include a dynamic program of artists, curators and scholars from different parts of the world who will present papers and discuss the state of photography today. Speakers include Ashwini Asokan (India), Diwas Raja KC (Nepal), Emeka Okereke(Nigeria), Kristoffer Gansing (Germany), M.K. Raghavendra (India), Rashmi Sawhney (India), P. Sainath(India), Sabeena Gadihoke (India), Satyajit Mayor (India), Shela Sheikh (UK), T. Shanaathanan (Sri Lanka),Y.S. Alone (India), Zhuang Wubin (Singapore).

In its second edition, a key initiative that the Biennale wanted to undertake was to work with students at an early stage of learning. The CPB Education Program was launched in November 2018 and has run iPhone photo camps in schools across Chennai with 265 students (ages 10-16) which will also continue after the Biennale. An advanced residential photography workshop with 25 selected students was conducted between 1 - 3 February 2019 and the resulting works will be showcased at the Biennale.
The Biennale aims to engage and enrich diverse communities and encourage viewing photography in a more democratic and accessible way. By energising venues all over Chennai, the Biennale hopes to enhance the cultural offering of the city to residents and visitors alike. Locations include Senate House - the University of Madras, Government College of Fine Arts, Government Museum, Madras Literary Society, Southern Railway: Chennai Mass Rapid Transit System (MRTS), Cholamandal Artists' Village and Art Houz Gallery with many of the exhibitions adapted to the exceptional architecture and ambience of the venues.
The Biennale includes international artists, many of whom have been supported by Foreign Cultural institutions in India including the British Council, InKo Centre, Canadian Consulate, Institut Francais, Japan Foundation and Pro-Helvetia Delhi.

Participating Indian artists: 3rd Space Lab Collective, Aishwarya Arumbakkam, Akhila Vijayaraghavan, Amshu Chukki, Archana Hande, Arpan Mukherjee, Arun Vijai Mathavan, Atul Bhalla, Balaji Maheshwar, CAMP India, Cop Shiva, D. Ravinder Reddy, Dayanita Singh, Desire Machine Collective, Gauri Gill, Indu Antony, J.H. Thakker, Karthik Subramanian, Kowshik Vasudevan, Manjunath Kamath, Nalini Malani, Nandini Valli Muthiah, National Institute Of Design Gandhinagar, National Institute of Fashion Technology Chennai, Navjot Altaf, Offset Pitara curated by Anshika Varma, P. Sainath, Ram Rahman, Raqs Media Collective, Sheba Chhachhi and Sonia Jabbar, Srishti School Of Art, Design And Technology, Susanta Mandal, Tejal Shah, Vijay Jodha and Vivan Sundaram.
Participating international artists: Angela Grauerholz (Canada), Anna Fox (UK), Armin Linke (Germany),Catherine Leutenegger (Switzerland), Chan Hyo Bae (South Korea), Jason Shulman (UK), Kader Attia(France & Algeria), Liz Fernando (Germany), Manit Sriwanichpoom (Thailand), Munem Wasif (Bangladesh), Naeem Mohaiemen (Bangladesh), Putu Sayoga (Indonesia), Rabih Mroue (Lebanon), Rashid Rana (Pakistan),Shadi Ghadirian (Iran) and Tracey Moffatt (Australia).