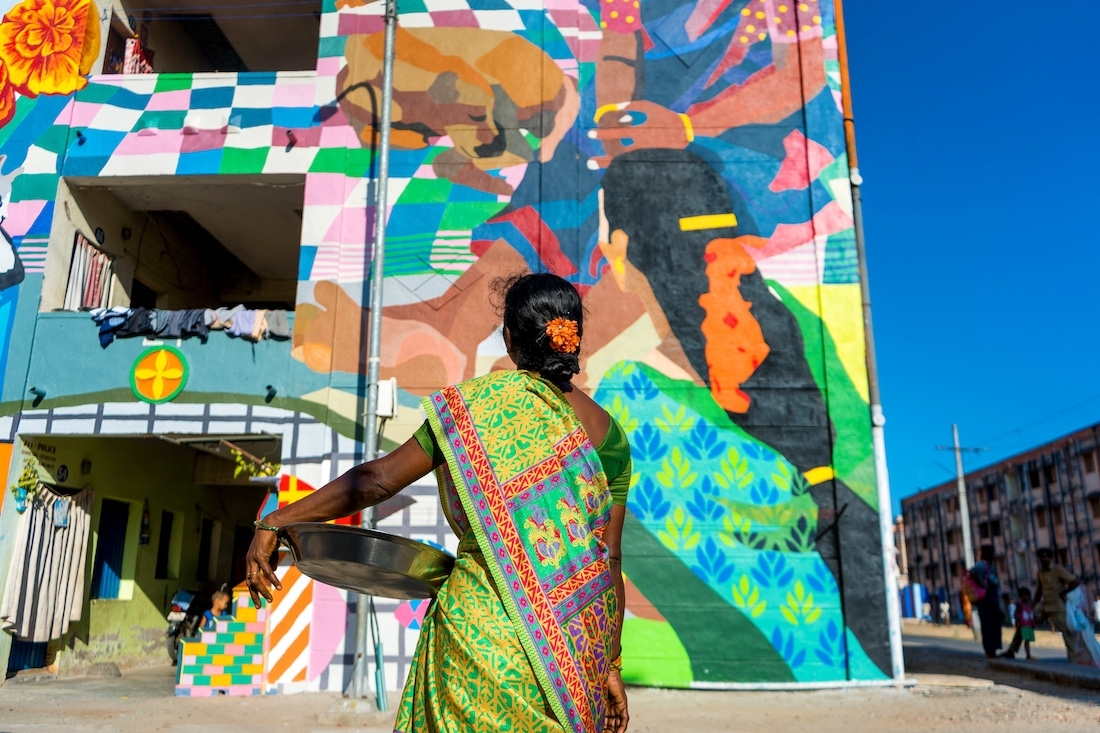 Aravani Art Project at the Kannagi Art District; Pranav Gohil
Chennai's new art district
Basquiat, Banksy, Fairey — we've all seen or heard of their iconic and subversive paintings that almost invariably make strong political statements while simultaneously being incredible works of art in their own right. Street art may be perceived by many as synonymous with disruption, however it is more often than not intended to make a personal statement about the society of the artist. During a tragic time like the one we are currently in, where the world has literally come to a standstill and is constantly plagued by crises, street art plays a key role in inspiring change, political or not. It is a medium that makes art accessible and gives expression to all, regardless of their background. Platform connected with one such non-profit organisation that has made the space of art in general, a truly democratic one.
The St.art Foundation has been working for six years across 11 cities, bringing artwork outside the conventional gallery space and transforming parts of the cities into literal open air museums. What started off as an informal effort to open up a new alternative scene and a panorama for artists and viewers alike, has today become synonymous with revolutionising street art in India and how it is perceived by the public. Scrolling through their Instagram page, a riot of colours greets the viewer, leaving them to only imagine what the actual experience of taking a stroll through one of these public art projects must be like.
Crossing the alleys and by-lanes of a quaint district in the heart of Chennai, one could have never envisaged the vibrancy it could potentially exude as a consequence of the sheer effort made by a group and their passion for art and experimentation. The district of Kannagi has been transformed into a public art project, the first of its kind in this region. The mundane uniformity of the buildings has been altered into breathtaking murals, that cover the once blank and grey spaces. An initiative of the St.art India Foundation in collaboration with Asian Paints, the Kannagi community art project emerged from their wish to create a disruptive experience in a positive way and reinvent the image of Kannagi district.
A marginalised colony and one of the largest resettlements in India, Kannagi houses close to 80,000 families. While one half of the population are slum dwellers, the other half are fishermen who were displaced from their original settlements due to the tsunami that hit Chennai in 2010. This miscellany of population has been translated onto the murals as well, with a couple of them representing the actual residence of Kannagi. A quick search on Google would reveal the sordid side of the region, with reports on a considerable number of criminal activities triggered by unemployment. Through the project, they aimed to change the public image of the locality by making it a more socially acceptable space.
Co-founder and curator of the foundation, Guilia Ambrogi explains why Kannagi was the perfect spot for their next project, besides the aim to reinvent the image of this area. 'Usually, when we go into a city, we spend a lot of time roaming around the city, trying to understand the vibes and complexities of it. When we saw Kannagi, the facades were beautiful, which was something we look for because big facades are like flat canvases for artists. Secondly, walkability is very important when it comes to open air museums. The blocks of buildings in Kannagi are very well organised and pedestrian friendly. There are barely any cars so you can really enjoy the experience without getting perturbed by traffic.' She further adds, 'With this project, we tried to create an area of interest in the city, create an art museum in a place where you don't expect art to be. People from different areas of Chennai were coming in. Before the lockdown, it stimulated a different type of dialogue, a different micro-economy and essentially a sense of belonging to the area.'
Street art has always been heavily instrumental in communicating social messages and allowing the artist their freedom of expression. On this, Guilia elucidates, 'Street art is out there, it's as simple as that. Art is perceived as something that belongs to the elite and something which you must be educated to understand. However, art was truly everywhere in the past centuries and it's also a form that is so characteristic of human beings everywhere in the world. The first human beings in the caves were painting on the walls. When you're young, you sketch and doodle, it's very common. Then we sort of tend to lose these genuine and free expressions. The point is that, art connects across generations, class and countries. It transcends the barriers of language and education. Of course, with education you can perhaps understand the various layers of an artwork, but the first visual layer connects with everyone, it activates the imagination. If we don't imagine, how can we be inspired to move further and envision a better world for us?' She adds, 'When art is between walls, it's much more difficult to connect with different audiences and trigger communication.'
From vibrant geometric patterns to portraits that look like they have been taken out of a photograph, every mural speaks a certain story, and more often than not this story reflects that of the people of Kannagi. 'People and environment were the main themes behind this project. We always invite the artists to respond to the local narratives and local contexts, and interpret it as they like, in accordance to their signature style and discourses. In this context, the people from Kannagi were displaced from their environment and had to recreate a new life. So, essentially, this theme was translated by the artists into different forms, some more literal, some surreal and some emotional.' Sixteen local, national and international artists participated in this project, each of them bringing their unique style to the table.
The mural that became somewhat iconic across social media, titled Sisters, was made by an artist called A-Kill. A hyper-realistic portraiture, A-Kill's piece was adapted from an image the artist took of two smiling sisters. The building on which he worked is situated in the heart of the neighbourhood and according to Guilia, the heart of the neighbourhood of Kannagi are the 'smiling kids.' She recalls how the artists were surrounded by kids at all times, whose warmth and innocence radiated despite their indecorous conditions. She goes on to speak of another Chennai based artist, Karthik S' mural, which is a satirical take on the phenomenon of artificial intelligence, with an ironic interpretation of the phrase 'running around like a headless chicken.'
The international artists like Antonyo Marest, Ben Johnston, David Leitner, to name a few, responded to the experience as 'life changing.' Guilia adds that 'it was incredible for them to see an area that, with so many issues, could actually be such a lively place where the community aspect is so strong, where everyone looks for one another. The sense of humanity and togetherness is something that is completely lost in big European and American cities, you don't even know your neighbour! So, for them, being a part of this was really stimulating, also on a creative level. The vibrant colour palette and aesthetic of Chennai was also very inspiring for them.'
Sisters by A-Kill, Kannagi Art District, Chennai
Besides creating public, community based art projects and open air museums from scratch, they also organises collateral events such as concerts, poetry-readings, workshops, et cetera, at the site of their project. However, with the pandemic, like everything else globally, the foundation is also restructuring their projects to gravitate towards the digital realm. They want to use the digital medium not as a showcase window, but in its real potential, working with digital artists and making it a public space. Even though it's not the same as walking across a powerful mural on your daily commute to work, however, Guilia is confident. She says,'street art has become popular over the years because of exposure via social media, so eventually, all these platforms become public spaces. As such, we are trying to come up with a format of a festival which utilises the potential of this particular public space and not translating what we could have done on ground, on social media. It's taking a little time because it's a very new realm for us, but we're also very excited to see what the potential of this medium is. That's going to be our next project. It is most likely going to be called St.art Imagine.'
Luckily, the Kannagi art project was completed before the nationwide lockdown was announced. Even though we cannot experience this open art museum in person, we can always take a virtual visual tour of it and a catch a glimpse of the transformation of what was once a grey and dull Kannagi Nagar.
Text
Samadrita Khasnabis