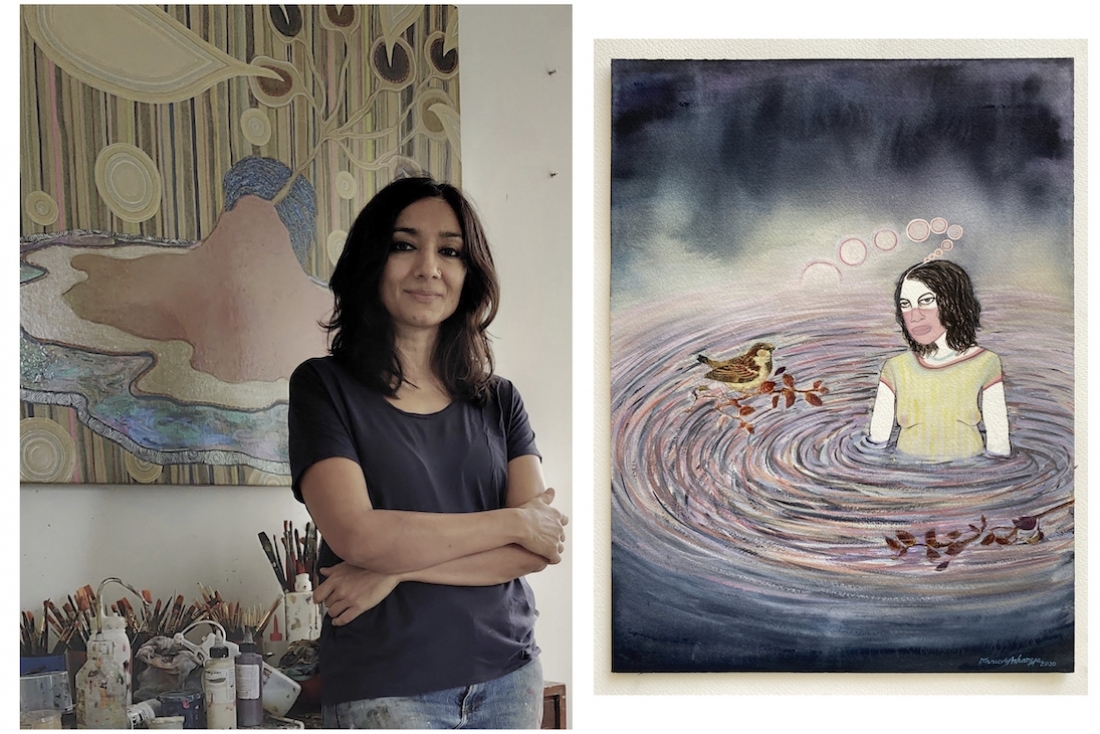 Dhruvi Acharya
Painting In The Time of Corona
Change is a constant, a rule that has governed human life since eternity. Yet, our current situation, resultant of a worldwide pandemic, is a change that none of us quite possibly knew how to handle. Just like our society is divided, so is the level of suffering. However, ultimately the battle is a collective one. For many, this time has led them to seek solace in things like cooking, stargazing, journalling, music, et cetera. Essentially, art, in all its diverse forms, has been a source of respite and catharsis for many of us. At the same time, artists across the globe have been responding to the pandemic passionately and have been asserting their own experiences and anxieties through their art.

Dhruvi Acharya, an Indian artist known for her psychologically complex and visually layered paintings, has been expressing herself on the canvas throughout the lockdown. Her series called, Painting in the Time of Corona, has been garnering much attention on Instagram and is a true example of how art brings us all together during a collective crisis. We connected with her to know more about her response to the pandemic and what the role of art is during this pandemic and beyond.

Tell us a little bit about how your current work responds to the pandemic and the resultant lockdown.
My work has always been like a visual diary, wherein I draw my experiences, think through things, and try to get a better understanding of the world. The lockdown in India to fight the pandemic caused by the Covid19 has been stressful for me - as it must be for most people – the isolation, the fear about the virus, disruption of routine accompanied by daily news of the plight of daily wage labourers in India, the dangers healthcare workers face around the world, stories of death and disease. So, on March 22, the day of the Junta curfew, I went to my studio which is a flat in my residential building and decided to just paint about whatever was on my mind – which I guess, for the privileged among us, is the virus itself (versus hunger, poverty, illness and death for many). Since then I have been painting daily, as it helps me to not worry excessively about things I cannot control. The paintings are about the physical and psychological impacts of the pandemic – social distancing, the plight of the underprivileged in our society, loneliness, fear of touching anyone or anything, vigilance against the virus being transmitted via a touch, a sneeze or a cough, and fear of the disease itself.

What do you think the role of art and an artist is in our current situation?
In the current pandemic, humans across the world are dealing with the virus and we all have the same fears — albeit in different circumstances based on our geography and social standing. Most of us, who are not greatly physically suffering turn to the arts in some way. Art, which includes music, dance, drama, film, visual arts and literature, has always given meaning to situations and experiences, and helped us all make sense of the world in real time or in hindsight. Both in 'normal' times as well as in times of stress due to social unrest, wars, epidemics etc., artists have always responded to the world and the situation around them – they respond with their hearts and minds in their chosen medium, and their work often resonates with other humans who in some way feel connected, and feel that they are not alone.

How do you think the world of art will change or should change post the pandemic?
The art world is already coming together to raise funds for those in need. Post the pandemic, I personally think it may benefit the art world to slow down a bit, so that artists get more time to make work before exhibiting. Art sales may also be affected – of course the wealthy may continue to buy the work of established artists, but it may get hard for mid-career and younger artists, so maybe the art fraternity will support young deserving artists with stipends and studio spaces. Also, many galleries may close down their physical spaces, so online exhibitions could become a new normal. Also, just as museums are opening their online doors and making their collections more accessible, the contemporary art world has an opportunity to reach out to all sections of our society, and make themselves accessible to people who say they don't understand art, because I firmly believe that art has the power of healing hearts and minds.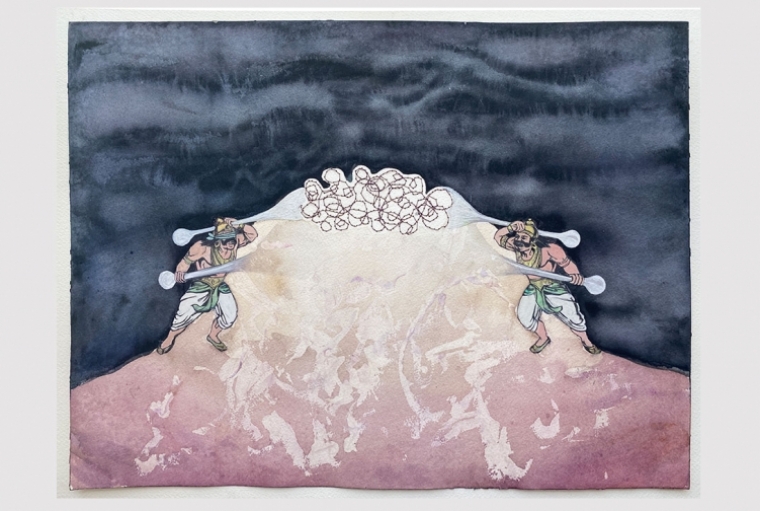 What will be the new normal for you post the pandemic?
I know I love painting so that will continue and I hope I am able to go back to swimming daily. Post the pandemic, I don't know what the new normal will be for me or anyone else - when will we be comfortable to once again meet people, touch them, be in large crowds, visit a restaurant or theatre? Yet, my hope is that we humans will change our ways and pay heed to scientists' warnings about the impending and extreme impact of climate change that will affect all of humanity and learn to respect and value our environment and all living things on Earth. If not, I fear humans will live and die in a constant cycle of disasters in different parts of the world. This virus can be seen as a wakeup call, and I hope we and our world leaders realise that we are all connected and that we are all in this together.
Everyone has different ways of coping with the isolation, what has/ have been yours?
Well I always work alone, am a fairly disciplined person, and love painting. So, through this lockdown period, I have just been painting as much as I can. When I started making these paintings – which is now a series called Painting in the Time of Corona - I began posting them on Instagram. Soon people started writing to me, asking if the works were available for sale. For a while I just replied that I was not sure – I didn't want to profit off of the works that were about the pandemic. However, after enough inquires, I spoke to my gallerist Shireen Gandhy of Chemould Prescott Road, and we decided we could have an online show and donate proceeds to the underprivileged people affected by the pandemic. So, most of my time (besides painting for 10-12 hours a day) has been spent on making this happen.

Text Nidhi Verma