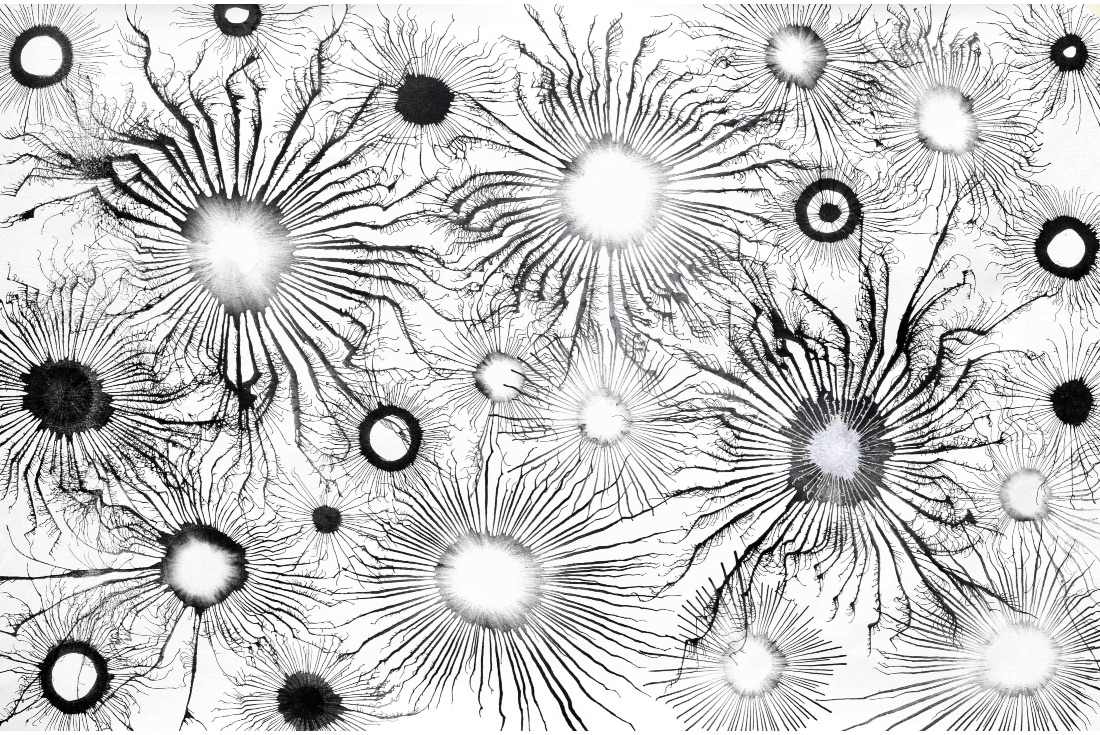 Exploflora series NO. 95 39x61 inches
Exploflora Series by Sumit Mehndiratta
When did your romance with the arts begin?
Till the time I was 23, I had no idea I would be living as a professional artist in the future. I was a marketing major, studying International Fashion Marketing from Manchester Metropolitan University in Manchester, UK, where I used to share my campus with art students as well. I used to study fashion sketches and art drawings of older artists and designers in the library, and practice sketching in my free time. After I finished my masters, I came back to India at a time when there was a recession in my country. I was unemployed for a whole year and was naturally inclined towards painting large canvases and experimenting with other art materials. That was the first step in my career as an artist.
How do you merge your fashion knowledge with art?
When I was studying fashion marketing, I was sharing the library with fashion design students and fine art students as well. The library housed all couturier biographies, artist biographies, et cetera. I came across a coffee table book about Manolo Blahnik's footwear sketches, mostly of stilettos. At the time, I was very much inclined towards women's footwear. I started sketching his designs, added more designs to my sketchbook and made a portfolio. I thought that maybe I would end up becoming a shoemaker, but it was the artistry of the shoes that inspired me to sketch them and not the footwear itself. That's when I realised I should explore more sketching, drawing, painting, et cetera. From there, I did gender fluid self-portraits in 2009, with me wearing stilettos, in contrast to wearing men's clothes. It's a good story about fashion studies, leading to self-expression through photography.
Can you tell me a little about the Exploflora Series?
I see a great deal of similarity between emotions and colours. Just like emotions, colours add a variety to my existence. Colours have a strong personality and each colour sparks a different emotion. There is a resemblance between how emotions flow and how I try to explore the movement of colours in my works. Emotions are complex and I try to exhibit them in their state of complexity. I experiment with the fluidity of the colours and alter their viscosity to an extent that they start to flow and move with uncertainty.
My abstract pieces reflect on the beauty of uncertainty in life. As water moves and flows without any intention, I let the colours flow irrespective of what they form into, leading to beautiful patterns with root-like complex structures. The beauty of abstraction is that its interpretation is different to each individual. We interpret art in our own unique ways. I express my emotions through the flow of colours, which is the root of my works.
What influences you as an artist?
In the beginning, when I started to paint, my experiments and my failures were my biggest mentors. I didn't have anyone in my family to guide me to paint or do photography, but they always encouraged my creative endeavours, especially when I started selling my works. As sad as it sounds, an artist is only respected more when his works begin to sell. I started with geometrical works inspired by S.H. Raza and then I looked upto international artists like Damien Hirst, Jeff Koons, Katrin Fridricks and many more.
What are you working on right now?
Right now I'm working on a new collection of wall sculptures in which I use colourful thread woven through the nails hammered into a wooden plank. I weave threads to create beautiful intricate geometric patterns. This collection will be exclusive to a world renowned website selling artisanal items from artists worldwide.
Text Hansika Lohani Mehtani
Date 12-07-2021