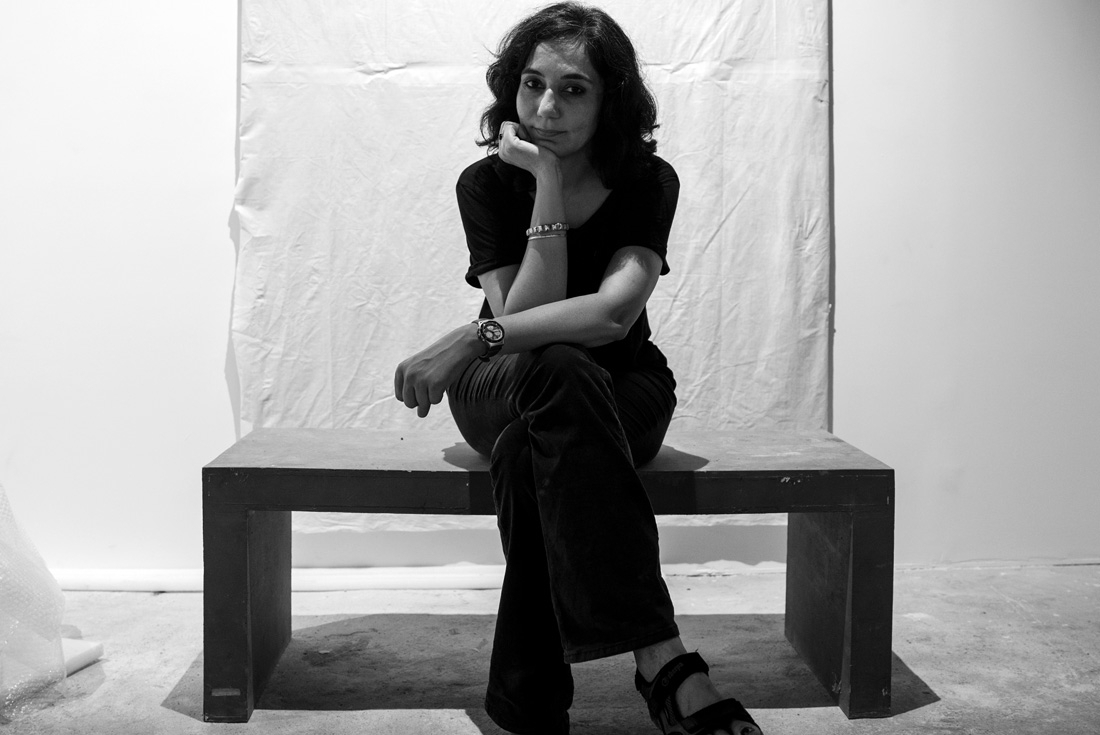 Gauri Gill | Photography: Joseph Rahul
Despite having spent her years of her career using photography to document the lives of her Indian American family and friends, and thereby creating a visual diary of immigrants; or a vast archive of intimate photographs of marginalised desert dwellers; or notebooks reflecting on the 1984 Hindu-Sikh pogrom; years creating prominent, self-reflexive bodies of work that are self, social, political, and art historically-conscious, three years ago, while living in Ganjad in Dahanu, an Adivasi village in coastal Maharashtra, with the purpose of creating work for the local primary school, Gauri Gill came to discover the limits of her preferred medium. The discomfort lay with her experience of the landscape, and her viewing of it as disparate from the eyes of her host, an Adivasi artist, Rajesh Vangad. "I was made acutely aware, once again, of how a place is assigned meaning only by its viewer, determined perhaps by her relative distance or proximity to it; and of how viewing itself is an essentially solitary act, since what we see might be only a projection of what we know, have already seen or experienced prior," she wrote in retrospect, in an essay for Granta.

Vangad introduced Gill to places within the forested landscape that were home to his own memories of his tribal heritage, and she then decided to frame him against this backdrop. The sites on the map were determined by him, while she constructed the cartography. But when she revisited the images while examining her contact sheets, she felt somewhat disappointed by the outcome. "I realized that so much of the narrative that I had received from Rajesh—the great stories, which had made it come alive for me—was missing," she says. The limitation, she felt, was the "unique presence of photography, which restricts what is in the image to 'now'." "How could I convey what happened in those months in the 1970s when the violent mobs of a powerful political party raided the village and the locals fled and fell upon each other in terror; or the particular full moon night in October when a great forest on one hill comes alive, and all the people who spend that night in the forest see shining eyes glitter around them, or even the most dangerous animals are benign when everything glows from the aura of the moon; or the stories of great overlords who came calling in secret to the homes of innocent, hospitable men, bringing gifts and drink and returning with deeds of land; or the mythical stories that encompass everything that has come or is yet to come," she writes.
Gods of the Home and Village. From Fields of Sight by Gauri Gill and Rajesh Vangad, 2014/2016
Gill arrived at a creative strategy for assimilating all that she had heard but was unable to render in her photographs because they existed in the domain of the oral narrative, she invited Vangad to collaborate with her, asking him to inscribe his drawing over her photograph, thus meeting her text with his own. "Or I would construct a photographic scene or set, in which he might stand and speak," she elaborates. Over time, the two spent extensive time in each others homes, and mailed works back and forth between Delhi and Ganjad. Three years since, the collaboration between the two continues. For someone who has spent an incredible amount of time working in villages, Gill's question to herself was whether she could actively collaborate with an artist from a rural context, whether they could have a conversation through the work, with each contributor using the language they were comfortable with and confident in.

Fields of Sight is an eloquent, multi-dimensional ode to the diversity of storytelling mediums, containing within it the richness of the imagination and a diversity of traditions. It encouraged her to look at the photographic image as only a singular, subjective narrative, and to allow it to expose the different realms of truth that are layered within our various experiences of reality. The project stemmed from her conviction in the spirit of collaboration that sparked previous bodies of work, like Balika Mela, What Remains or her 1984 series, as well as the various community projects she has helped engineer. But it also went beyond, in terms of compelling her to document the genre of mark-making itself. "It's been three years since we began collaborating, yet it continues to absorb me. It has opened up another universe," she says. "For me, the world exists infinitely and I draw from it, while Rajesh produces the world from an encyclopedia of forms that exist in his head. That to me is exciting. Because which one is real and which one is not?" she asks.

Factory and River II. From Fields of sight, by Gauri Gill and Rajesh Vangad, 2014/2016
Currently on view at the Kochi-Muziris Biennale, Gill's 2016 series, Traces, that unearths burial sites that are ambiguously Muslim and Hindu within a desert landscape and become so re-immersed into it, over time, that it's hard to separate the grave from the landscape, has a direct link to Fields of Sight. It reveals how photography can make explicit that which has yet to be excavated, that which is either dormant or not obviously visible, but which is ever present as a reality. With Traces, it is the fact of the burried bodies that, in death, while accompanied by a few choice markers of identity, return to the landscape to lose themselves within its expanse. Save for the photograph that isolates these memorials, so to speak, they would have continued to lie, but the image serves as a disinterment, an exhumation. Gill's continuing collaboration with Vangad is similarly an exposure of all that is vital to landscape that is in the realm of history and the lived imagination, that is not accessible to the naked eye. Vangad's intervention completes the image by incorporating into it all that is unspoken but vital to the reality it depicts.


Text Rosalyn D'Mello