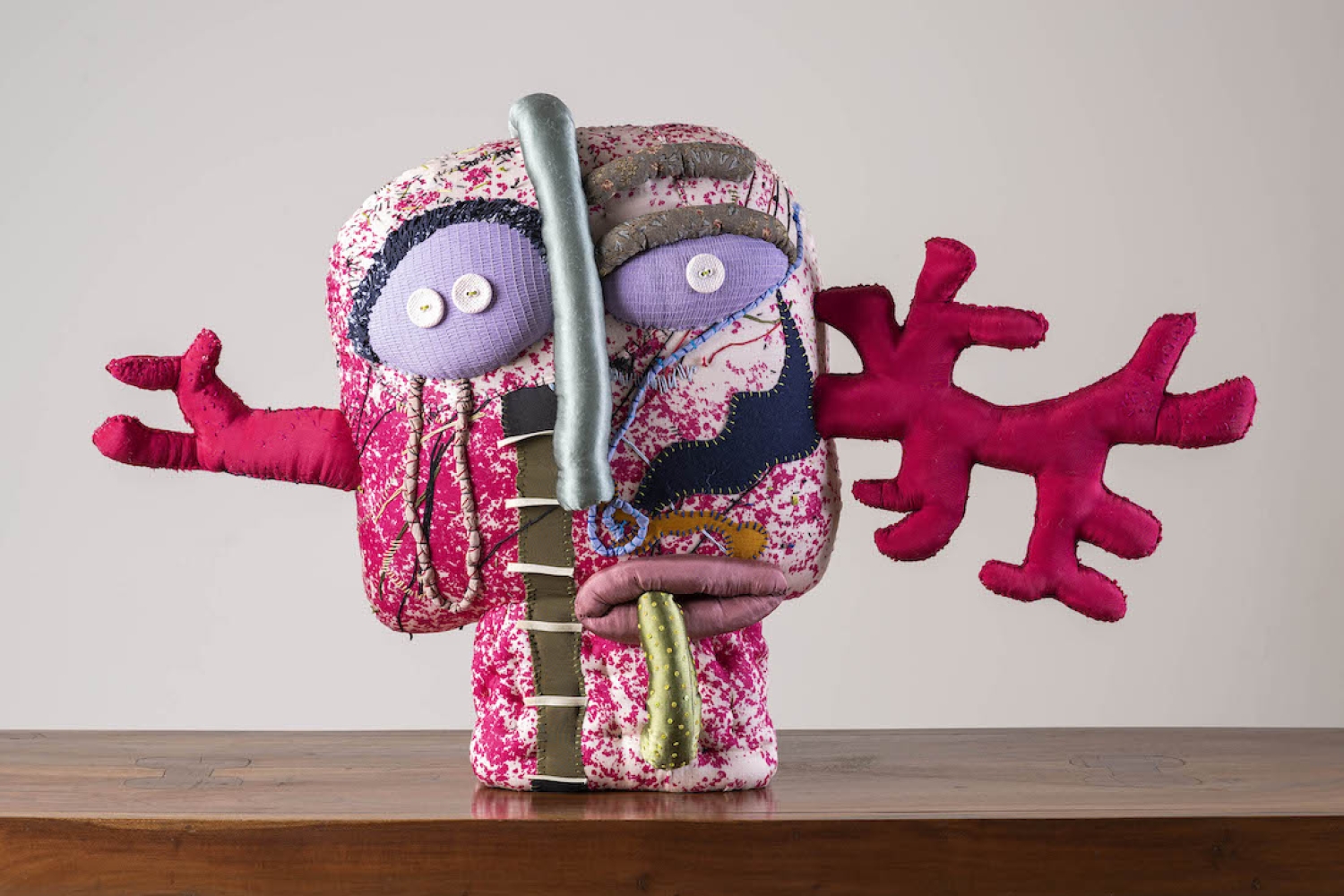 Gurjeet Singh makes soft sculptures that transcend all societal narratives, and question the very existence of notions and structures. More suitably known as SoftGurjeet on Instagram, his work extends his softness and endearing personality to break cycles of hate surrounding femininity, queerness, and more. His philosophy is simple — life is already so hard, why do we make it harder for ourselves? We speak to him to know more.
What does being an artist mean to you?
I've organically developed as an artist. I never imagined my journey would take me where I am right now. I'm the youngest in our family of seven. We're from Algon Kothi, a small village in Punjab, near the Pakistan border. When I was younger, I used to observe my four elder sisters when they embroidered on bedsheets, pillow covers, television covers, and that's what slowly got me interested in fine arts. I knew I wanted to study something similar because I had no interest in any academics. I had to be forced to go to school.
In 2011, I found out through my teacher that I could pursue higher education in arts from a university in Chandigarh. I decided I would try it out. Nobody from my family had done their graduation, they had never even been to Chandigarh. But I got admission for the sculpture stream — I knew nothing about sculpture, I was only familiar with painting as a medium. When I couldn't understand it, I dropped out and completed a diploma in Amritsar, where I gained more knowledge about mediums within painting. After I completed this, I felt inclined to go back to Chandigarh and finish what I left. This time I got into the painting stream and learned a lot more about folk art, miniatures, and Bengal wash technique. All these mediums I had learnt started coming together in my work. I did my post graduation from the same university in Chandigarh, where I made my first soft sculpture. It was a keychain for my friend. And that's how I got the idea to make more of those and explore the medium further.
Why do soft sculptures appeal to you?
I felt restricted when I worked with other mediums. There are lesser possibilities when you can't spontaneously add or subtract elements in mediums like wash technique. It only works if you preplan the entire piece. Moreover, when people look at my soft sculptures, everyone assumes it's done by a female artist. This resonates with me because ever since I was in school, I used to be bullied for being feminine. Now, I can look back on those things and question these notions through my work. This has organically happened through my medium helping me explore and question society.
Even my materials reflect this commentary — I've made sculptures using a women's nightie and titled it Two Men In Love. I attempt to tell stories through my work and hold a mirror to society. I know my work alone can't bring about a change, but I know I need to do my part.
What's your creative process?
Sometimes I draw and then use those drawings as inspirations for my soft sculptures. Or I note down my thoughts and attempt to translate them into my work. But the two dimensional ideas are very different from the three dimensional versions of them. True creativity arises in the process of spontaneity. When I use different materials for my sculptures, I consider their own history and journey. This could be discarded materials from fashion designers or local markets' defected pieces — I relate to these materials and feel like they're filling a void through my sculptures. When I follow my intuition, and everything comes together and looks beautiful, it's a magical moment.
What's the inspiration behind your first solo exhibition, This Is What It's Like To Be Fabulous?
At a time when the world is heavy and serious, I want to put out something that defeats the darkness around us. Through this exhibition, I wanted to make larger points about society in a way full of love and sweetness, and not hate. I don't want to be the one to perpetuate a cycle of hate and bitterness. That's why I call my work a meethi dawai, uska assar khaane ke baad dheere dheere hoga (a sweet medicine, it will make a difference slowly and with love).
Plans for the future?
I want to explore performing arts further and I dream to export my work outside of India as well. I want to continue doing residencies in different cities, to absorb new cultures, and tell new stories through my art. My hunger for new and creative work is insatiable and I feel so lucky to be able to feel that.

Text Nandini Chand
Date 28-11-2022