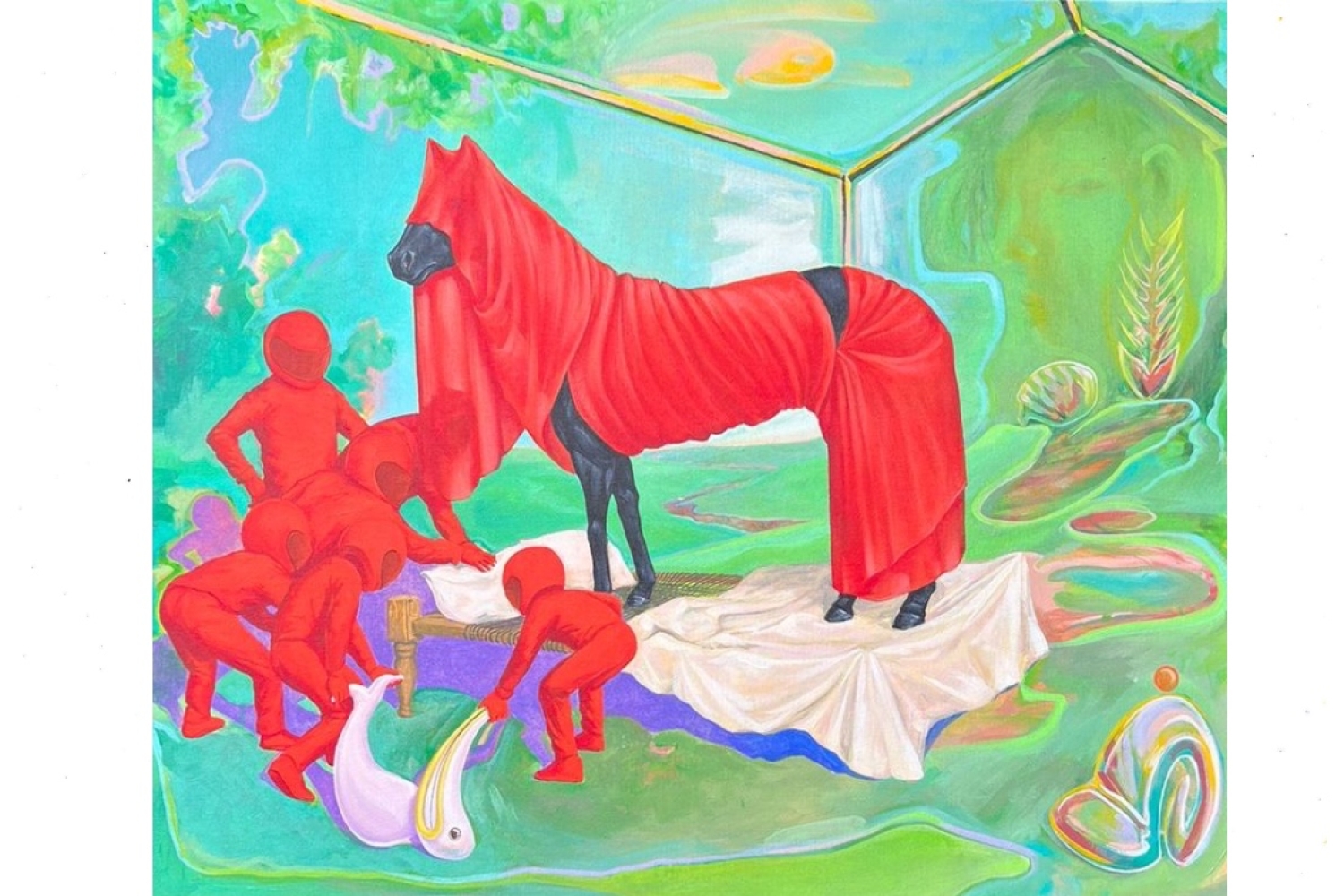 Happy In The Hippocampus by Rohan Joglekar
This collection departs from waking reality, foraying into anomalous dreamscapes. Known for his surrealism, Joglekar dances between acceptable reality and make believe. Characterised by abstractions and peculiarity, Joglekar's work serves to rekindle an appreciation for unbound childhood wonder, awe, and bewilderment. While some of his pieces edge towards the disturbing, the fantastical use of color plays with the mind, making the notably bizarre a source of pleasure.
With his debut solo show at Method, Joglekar completely skips the line and invites us to pirouette into his fantastical world of imaginary characters, places, and scenarios. A nod to the dream inducing center of the brain, the hippocampus, Joglekar reinforces that the strange is not necessarily scary. In fact, it's a place we all deserve to reside from time to time. As we embrace our imagination, it is critical that we observe—and hopefully embrace—without apprehension or preconceived notion. The exhibition will feature Joglekar's paintings on the ground floor, and an immersive installation with his digital works on the first floor - presented in association with Hefty Art.
About Rohan Joglekar
Rohan started his career as a designer at Light-Fish, Auroville. Returning home after a couple of years to pursue the visual arts, he joined the gig economy to create illustrations, murals, sculptures and merchandise while developing his painterly skills with private commissions and personal projects. Rohan now works primarily as a painter from his studio in Goa. Deeply fascinated by nature he draws his inspiration from its complex mechanics. In the styles of magical realism and pop-surrealism his art embodies a self developed technique influenced by an education in sustainable design, love for ecology and popular culture.

Exhibition Dates Thursday, November 10th to Sunday, December 4th
Time Open daily from 11 am to 6 pm except Mondays.
Address Method Kalaghoda, 86, Nagindas Master Rd, Kala Ghoda, Fort, Mumbai, Maharashtra 400001
Website https://themethod.art/