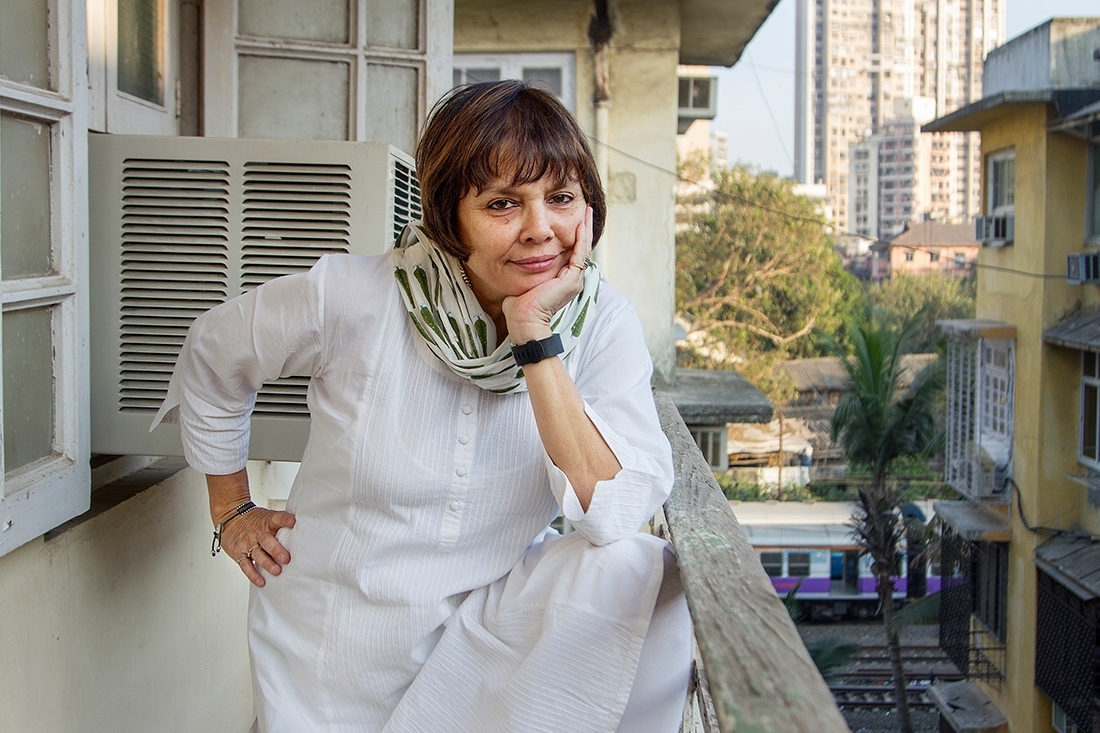 Interview of the Week
Photography by Anshika Varma
Taraporevala's photographs capturing life in Bombay/Mumbai from 1977 to the present day, celebrate the odd and everyday character of a city, as its shape shifted over four decades. With essays by Pico Iyer and Salman Rushdie, as well as a candid conversation with Taraporevala and Siddharth Dhanvant Shanghvi, the works in this book are an original contribution to the social history of one of India's most diverse cities.

At the 2014 edition of Sensorium at Sunaparanta, Goa, Sooni Taraporevala showcased an exhibition that revealed her twin identities as screenwriter and photographer. The art community is well-versed with Taraporevala's sprawling series, The Parsis: The Zoroastrians of India, the result of 24 years spent assembling the first visual documentation of India's Parsi community, but most of her documentary photography beyond that has been less exposed. At Sensorium, curated by photographer Prashant Panjiar, A4 pages of Taraporevala's screenplay for Salaam Bombay, Mira Nair's classic, Oscar-nominated 1988 film, were placed next to her film stills. The idea, according to Panjiar, was that the display invoked the notion of cinema broken down to photography.
Marine Drive, Bombay 1976
Curated by Siddharth Dhanvant Shanghvi/Sunaparanta
Four years later, Taraporevala once again shows work that not only exceeds our expectations of her photographic prowess but reveals the immensity of her vastly unseen archive. Titled Home in the City, and spanning 40 years, from 1976 to 2016, Taraporevala's exhibition at Whitworth Art Gallery, Manchester [March 2017 - Early 2018], which will travel to Sunaparanta [October 2017] features her previously unpublished archival work that is centred on the city of Bombay and Mumbai. HarperCollins India will produce a book bringing together this body of work, with a foreword by the eminent writer, Pico Iyer.
Marine Drive, Bombay 2004
Curated by Siddharth Dhanvant Shanghvi/Sunaparanta
Rooted in the street and documentary photography tradition, this new-old series makes a potent case for Taraporevala's archivist's eye and her tendency to chronicle the world around her through her insider perspective, the same that was the hallmark of her series on the Parsis. While never ostensibly staged, certain photographs feature the spontaneity and instinctiveness with which Taraporevala is able to capture form, particularly that of the human figure, which, in her images is never static but always fluid, always gesticulating, always existing either in relation to the world around it or the primacy of the camera's lens. Even the most recent images have an archival quality about, as if they'd already aged. Taraporevala's intimate engagement with the city is at the crux of this series that captures a sea of moments and the fragility of the crowded megalopolis. The series offers vignettes that attest to the multiple aspects of the city's personality and the cultural diversity of its inhabitants. Where The Parsis was ethnographic yet characterised by the immediacy of the subject, Home in the City offers a delicate departure, framing the cosmopolitan nature of Taraporevala's home city while often isolating the individual within the urban landscape as a solitary being at home with his surroundings.

Text Rosalyn D'Mello

Fact sheet:
Exhibition open to public from 10th to 27th January.
At D - 53 Defence Colony, New Delhi
Monday to Saturday, 11am to 7 pm