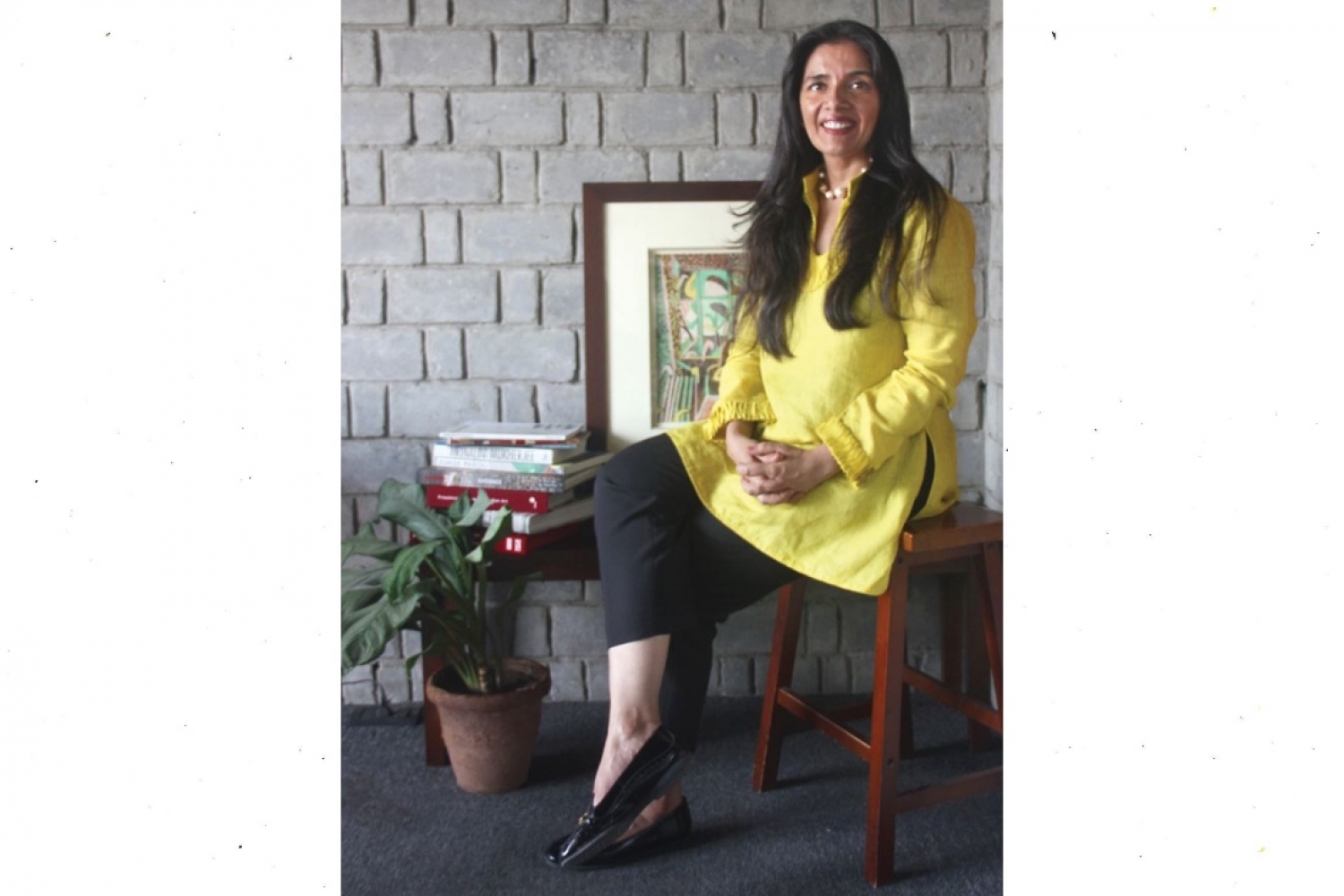 Jaya Asokan
India Art Fair
It is an event that art aficionados have been waiting for a long time, and India Art Fair's Director, Jaya Asokan has pulled out all the stops to make the fair's thirteenth edition a success. Months before the art fair kicks off, I speak to Asokan about what IAF looks like under her leadership and where the Indian art market stands in the midst of the disturbing pandemic.
Asokan is an art-world insider. In the years leading to donning the title of IAF Director, she was heading the fair's Exhibitor Relations, serving as a crucial hinge for the smooth functioning of the large-scale cultural event – one that is loyally attended by international and homegrown galleries, museum representatives, art dealers and collectors, philanthropists and critics. Prior to that, Asokan was the Head of Operations at a premier art gallery in New Delhi and had earlier gained considerable experience at a reputed auction house. All the while, however, Asokan had been operating behind-the-scenes, far from the limelight. Now, she is the face of the country's most exciting art fair, which welcomes the giants of contemporary and modern art universe.
For as long as she can remember, Asokan nurtured a love for the arts. It was ingrained in her by her paternal grandmother, who was immersed in Carnatic music and hobnobbed with veterans like classical music goddess M.S. Subbulakshmi, and philosopher/writer J. Krishnamurti. Asokan's mother too, was "artistically inclined", leading her to grow up in a flourishing creative environment. In college, she enrolled for a fine arts course at Stella Maris in Chennai and later went on to pursue graphic design at Parsons School of Design in New York. The city became her home for almost a decade, where she absorbed its thriving cultural arts scene. "In a sense, it was yin- and-yang," Asokan says. "I studied traditional art till I was about twenty and then it all flipped on its head. In New York, I had a strong exposure to contemporary arts at a global level."
During the outbreak of the pandemic, the art world took a massive hit triggering the shutdown of several galleries, museums and iconic art festivals, including Venice Biennale and Sharjah Biennale that had to reschedule their dates. Back home, India Art Fair was unable to hold an iteration in 2021, while Kochi-Muziris Biennale pushed its dates by two years. The latter will now be hosting its fifth edition in December 2022.
Having said that, the art world has quickly adapted to the challenging circumstances. It took a step back, assessed the existing lacunae and become more digitally savvy. "For most galleries and art events, it has been a good time to regain control of the market," notes Asokan. "It has given them time to work on their programs, interact with their artists, speak to the collectors to see how their expectations have changed and you know, really up the ante when it comes to digital engagement. This whole digital revolution in the arts which we are seeing right now, born as a result of Covid, has truly changed the game."
The art fair too, has amped up its digital profile, shifting its identity from a four-day physical experience to one that has a year-round online presence. It is doing so by regularly holding virtual workshops and live walkthroughs, like the exhibition, Lokame Tharavadu by Bose Krishnamachari, which was held in collaboration with Kochi Biennale Foundation. "It's important for us to keep our audiences engaged and our artists relevant through the year," says Asokan, who sounds clear-eyed and precise about her goals intentions. In addition, IAF's revamped website serves as an important go-to resource that publishes succinct, yet visually-engaging editorials on all-things-art. "Whether it's locally or internationally, we are finding that more and more people are coming to us and we are keen to build a strong digital foundation," she says.
With seventy percent space dedication to South Asian galleries and museums, championing regional art has always been in the fair's bones. It has also seen its share of enthusiastic participation from prominent art galleries from other parts of the globe, including the David Zwirner Gallery, New York and Neugerriemschneider, Berlin. However, with travel restrictions easing up slowly and visas judiciously being handed out, certain galleries may not be able to attend IAF 2022.
But Asokan remains unfazed. She seems solution-oriented—someone who tries to find a silver lining in challenging situations. "It has made us look inwards, locally, in-and-around the region for art and that's what our focus has been for this edition. We are always excited when new galleries open in India, and this is a great opportunity to bring more of them into the fold. This time, for instance, we have five participants from the Indian gallery scene who haven't been in past editions," she says. The list includes Vida Heydari Contemporary Gallery from Pune and Kolkata's Gallery Art Exposure. Asokan is quick to point that they are also encouraging participation from tier-2 and tier-3 cities and are "open to presenting new talent in this edition".
One of the fair's highlights is, of course, BMW's iconic Art Car. In the past, IAF has exhibited a variety of "rolling sculptures" from the series, including four-wheeled masterpieces by artists such as the iconoclastic Andy Warhol and Jeff Koons, known for creating enormous balloon animals made of metal. Till now, however, no artist of Indian roots origin has been able to offer his/her rendition of the Art Car. Under Asokan's leadership, IAF has now collaborated with its principal sponsor on a new initiative that is "envisioned along the lines of the BMW Art Car Project," she says. "It's an all new property and commission, specific to BMW India and India Art Fair."
The Future is Born of Art Commission has been introduced with the aim of awarding a young Indian artist by giving them the opportunity to design a the BMW car wrap. This year, the first all-electric BMW iX will sport artist Faiza Hasan's design. The car, which will be on-view at IAF 2022, will later travel across the country, exhibiting the artist's "voice and vision for the future," says Asokan.
With only a week left for the India Art Fair to open its doors to the public, the team is busy fine-tuning last minute details. Given the uncertainty of our times and the rising global strife, Asokan's team has had to plan ahead "We have had to have a Plan A, B and C for everything. The real challenge has been distilling the ideas down to what is practical, possible and feasible, while keeping it exciting in a year like this," she says. "But overall, it has been good in the sense that it has shaken us out of a rut, because one doesn't want to get into a formulaic way of thinking either. We just hope that everything falls into place."
India Art Fair will be held from Thursday, 28 April to Sunday, 1 May 2022 at NSIC Exhibition Grounds, New Delhi.
Words Radhika Iyengar
Date 28-04-2022