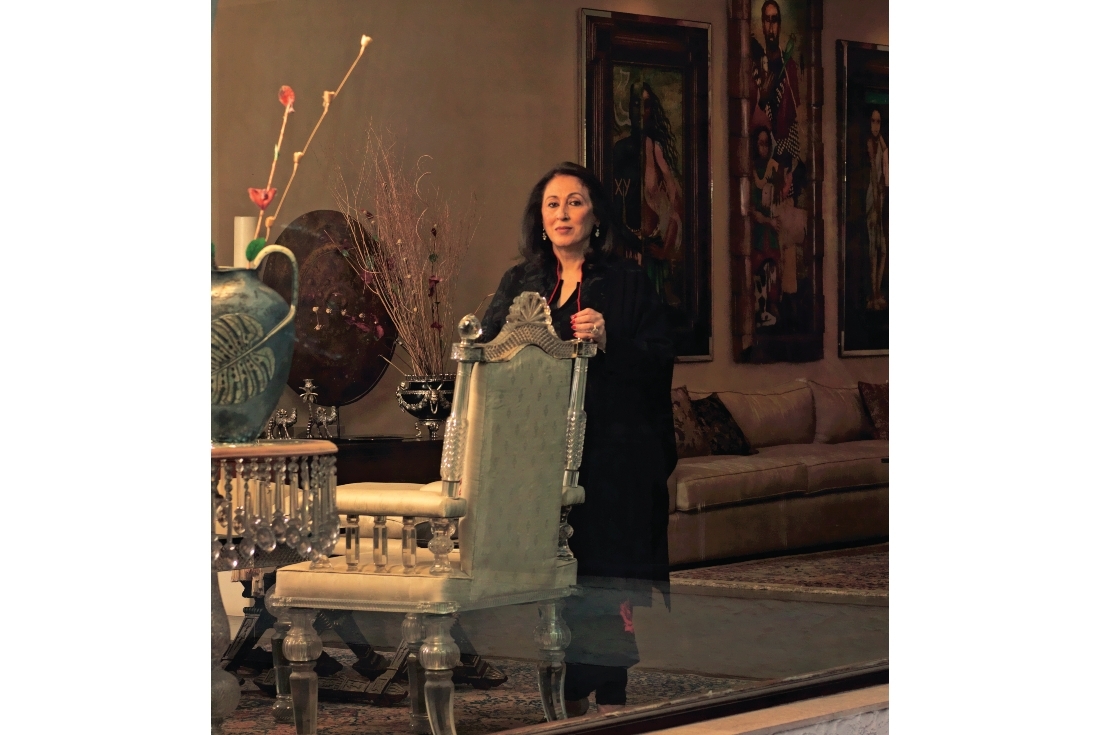 Photography: Bharat Sikka
This year, the Kiran Nadar Museum of Art celebrates ten years, as the first private museum of art exhibiting modern and contemporary work from India and the sub-continent. A non-commercial, not-for-profit organisation, it has consistently exemplified the dynamic relationship between art and culture through its exhibitions, publications, educational and public programs, exposing people to various tracks of cultural activity and art in a variety of forms. With this commitment to art, they have also ventured to respond to the ongoing pandemic with various online programs, including their Art x Design Series this month.
We spoke to KNMA's Founder and Chairperson, Kiran Nadar, to know more about the museum's journey, its new digital ventures, art during pandemic, and more.
When did your romance with Art begin and after all these year what is your relationship with it today?
My affair with art started in the 1980s, when I was doing up our house. I had interacted at length with M.F. Husain, who was commissioned to create paintings for our home. I also commissioned works from Manjit Bawa, Rameshwar Broota and Krishan Khanna, all of whom I got to know personally. That's how the romance commenced — seeing how an artist works, how an artwork develops. Over the years, emphasis shifted from buying artworks for my home to seriously collecting the pieces that spoke to me.
As my compilation matured, I pondered over the fact that the works were often being stored away and not displayed, at times I hardly got to see many of these incredible creations. The thought for a museum was conceived with the idea that art should be available for all to enjoy and gain appreciation for what it is.
My relationship with art is ever evolving, I have developed my eye for it over many years and decades of experience. I firmly believed that art should be purchased because you love a piece, it should be something that you connect with at many different levels and something that arouses strong feelings within.
Art is an experience — when is the last time you were completely engaged with a piece of art? Also at a personal level what kind of art absorbs you?
I am engaged with art on an almost daily basis, I am constantly looking at works, be it in my own collection or works that are sent to me for viewing. I enjoy looking at artworks in auctions, catalogues, exhibitions and even other peoples collections. Places like The Met or MOMA, or actually any of the museums abroad, always draw me in. My engagement with art is a daily event.
While I have many interests in art and lots of different art appeals to me, today I have a special liking for Raja Ravi Verma's works, who is possibly one of the most celebrated Indian artists. His works always invoke strong feelings when absorbing the intricate details. In addition to this, I am also looking at miniature paintings in a different light.
As you celebrate 10 years of KNMA, could you tell us how the museum's vision has evolved?
What started as a museum with a view to sharing the collection for others to appreciate and enjoy, has now become a passion to bring art to everyone. We want to instil an appreciation for art in children and adults alike. We have plans to build a stand-alone museum, that will be not just an art museum but also a center for culture. The idea behind this is to grow appreciation for the arts, be it fine art, performance art, music, culture and so on. The building itself will be a noteworthy, as it has been designed by famed architect Sir David Adjaye, whose work includes the iconic Smithsonian's National Museum of African American History and Culture in the U.S.
The resilience of art and creativity during these tough times has been unparalleled. What do you feel the role of art is or has been in our current situation?
I think art has always played a major role in any crisis, it helps people feel centred in this time of isolation, and also in expressing their thoughts about the current situation in a more creative way since artists are forced to work with only the material they have already. Today a lot of people have much more time and have started looking at the virtual space and following museums online. With such easy access, people are experiencing and exposing themselves to more art, perhaps more than they did in terms of actual visits to museums and galleries. Of course, the effect of this increased exposure and interest may be that as museums open, they will gain increased popularity as people seek to view in person, works that they have seen online. With The Met and MOMA re-opening, with all the museums in Chicago open, even in Europe, things seem to be bouncing back. In fact, in Chicago, they are getting about 50% attendance, but with health and safety protocols in place, they are only letting in 30%.
KNMA has responded to the pandemic with varied ventures and initiatives, based in the digital space. Could you tell us a little bit about them, especially the upcoming KNMA's Art x Design Series?
KNMA put together a full online program for children and adults to help keep busy during the lockdown. This includes downloadable colouring worksheets of noteworthy and famous artworks for both kids and adults, virtual tours of our exhibitions and artwork, we held a mask making competition for kids called 'Mask-a-thon'. There are also DIY online instructional videos with easy do at home art projects, Art Prompts online workshops that bridge art with other subjects such as history, science, et cetera, and our Saturday workshops continue to take place online.
We have also started holding online exhibitions to engage with our audiences. For example our latest exhibition City Tales, explores the changing landscape of cities over the years. Before this we did a re-presentation of Rameshwar Broota's retrospective in a digital format. We have also recently completed an online mini-series called Art x Fashion which explores how some of India's greatest designers and fashion insiders have been inspired by art and how it has influenced their work. Our next series is going to be Art x Design which will engage with leading architects, lighting designers and interior designers. We are very excited to explore the intersection of these various creative fields and hope that it helps the creative world to explore new and different engagements, and of course reach out to new audiences and perhaps create that spark of interest in the arts.
What does change look like in the art industry and what changes need to be made? Furthermore, when museums and art galleries re-open in India, what do you think the new normal will be like?
I think that virtual formats are something that are here to stay. The pandemic has affected us all in a number of ways, both big and small. For us at the museum, it has pushed us to explore new boundaries and embrace the idea of virtual museums and online exhibitions. It has also challenged the creativity in all of us, encouraging us to come up with different ideas and ways to connect with our audience.
When we do open, it will be keeping in mind government norms as well as directives from international museum bodies for hygiene, health and safety protocols.
Lastly who are the artists you are excited to explore next and what is your vision ahead?
The vision ahead currently is focused on the new standalone building, which has been delayed due to the pandemic and lockdown. I am excited to reach the end of that journey, where we can explore so many possibilities. Another new interest that I have started to develop is tribal art and craft, I am now looking at it in a different way.
Text Shruti Kapur Malhotra