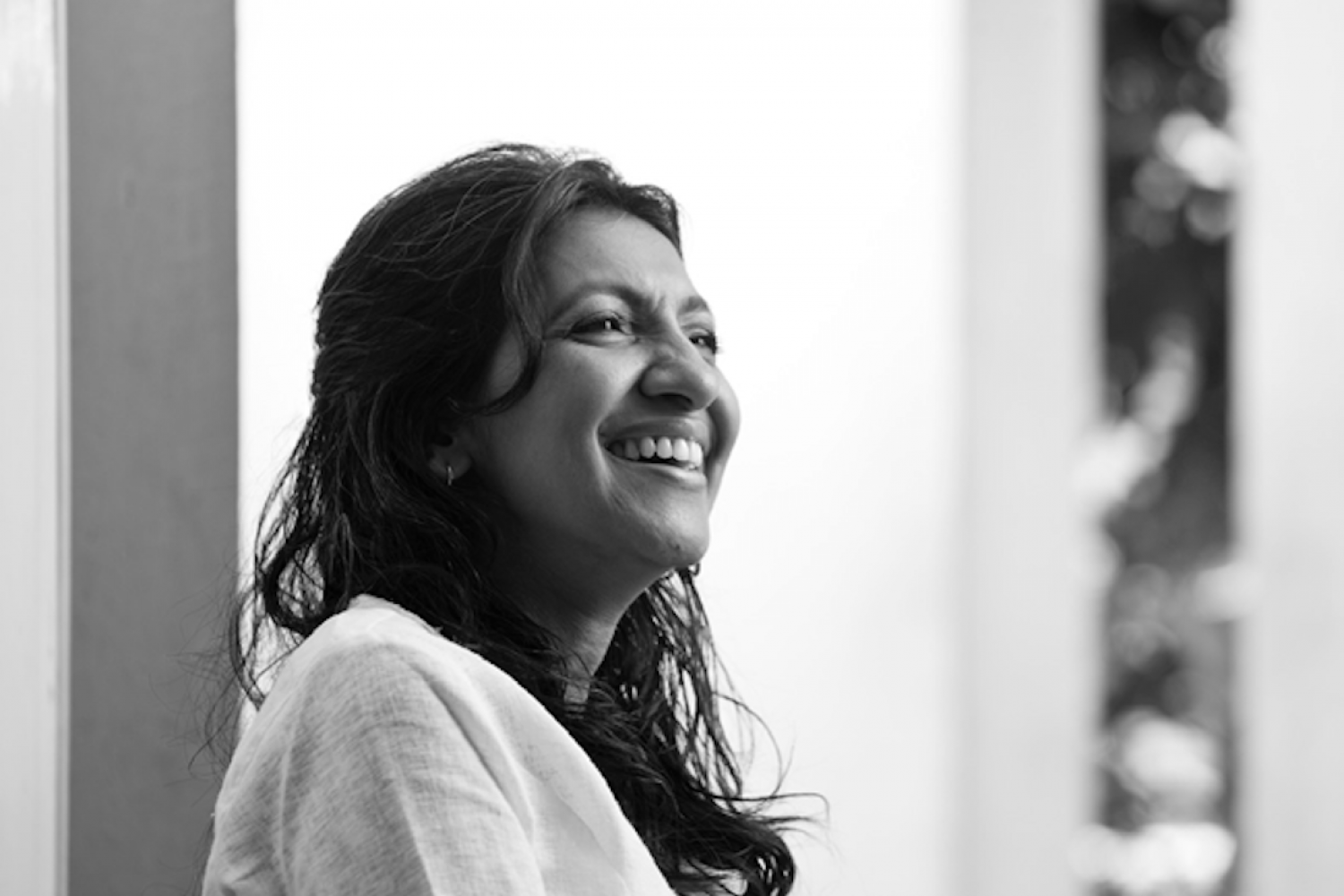 This interview was initially published in our Bookazine. To read more such articles grab your copy here.

For a quarter of a century, architect Nisha Mathew Ghosh has been trying to find solu- tions for how to preserve ecology through conscious architectural projects. Co-founder of Mathew and Ghosh Architects, her practice, in her words, is moored to the "conceptual and strategic posturing of architecture with respect to water, energy, forest and earth". Conversations around sustainable designs have become even more crucial in the midst of the on-going pandemic and global warming.
For this year's London Design Biennale, considered as one of the most celebrated design exhibitions across the world, Ghosh designed the India Pavilion. Her installation titled, Small is Beautiful: A Billion Stories was an attempt to chart home-grown knowledge systems, particularly stories of grassroot endeavours that inspire and advocate ecologically supportive designs for a promising future. Platform spoke to Ghosh about her role as the designer-curator of the India Pavilion. Edited excerpts.
Could you describe your proposal for the India Pavilion?
Developing countries are at odds for clean water, clean air, clean earth and forest balance for urban mass. This project makes a plea for and a reference to the power of the Small,the Local and the Connected as a significant alternative to bring a critical mass of ideas that can forge change for 21st century India. This project documented and mapped for the first time, an atlas of connected ideas that have the potential to amplify to large-scale impact on the landscape of implementation. The scope and scale of these ecological experiments, as connected trajecto- ries, can recreate the tapestry of socio-cultural change needed to bring a paradigmatic shift in lifestyles.
From scientific research, architecture, textiles and cleaning brownfield to community movements, state-of-the-art manufacturing, water experiments to craft and so on – seminal ideas slice across time and spatial domains to coalesce into a body of collective knowledge. This was our blueprint for 2021. We hoped that this exhibition will be a catalyst to build ecosystems of collaborative design expertise that harness the power of design to address the critical needs of India and the world today. This long glance at ideas that have developed in our country in the thresholds between design and ecology across various domains and disciplines were categorised for the exhibition via these key ecological concepts: Water (ocean thoughts), Air (breathe freedom), Energy (power shower), Forest (tree rest), Earth and brownfields (terra bride). Resonance is a possibility of stretching down time. It is across generations. Resonance results in multiplication and has trajectories that become new ideas and new entities.
Could you talk about your monumental installation, 'Small is Beautiful: A Billion Stories'? What materials did you use to build it?
The installation makes references to clean energy and clean air. It is a two-winged structure, inspired by the form of a windmill blade as well as the traditional Indian fan or punkha that was manually moved to bring breeze. A mnemonic subtle reference to the diagram of the 'Vitruvius' figure during the process of a visitor engaging with the pulling of the wings down (via a pulley and counterweight system), confirms the notion of an intentional will or choice via man's action, that is vital.
The structure is entirely made of dyed natural bamboo, harvested from the north eastern part of the country. It is dyed using natural pigments and is clad (for the part of the wing-blade) by retrieved textile artworks connected as 'feathers' (little scraps of fabric that make a compelling story – retrieved and turned into works of art and beauty, preventing its leaching or chemical dyes reaching water sources/oceans) – nuancing the idea of wings, which can be read as 'in flight' or soaring up, towards future. It is a coming together of art, craft, design, music and technology to reflect a resonance of ideas developed for an ecologically resilient India. The installation was conceived by me with early iterations in bamboo and textile. The last iteration has been developed in the maker-studio of Sandeep Sangaru, which is where we will also make the structure. I wish to acknowledge his role in building this, as well as Soumitro Ghosh for his advisory role.
Did you incorporate digital technology in the installation?
No, it was a very analog-type experience – almost primitive. This was intentional. However, the content stories under the categories of cleanWATER, cleanAIR and so on, were digital. The 'atlas of connected ideas' was presented via a projection that kept run- ning on loop. There were also three large sculptural haptic or digital books that docu- mented ideas in the space of Water/Air/Energy/Forest/Earth and brownfield.

How did you prepare for such a large-scale art event, in the middle of the pandemic?
It was busy to say the least – to multi-task endlessly from design to organisational chores to writing request letters for funding and so on. But things thankfully, shaped up. A compact but great team was one of the blessings duribng this time. We also collaborated with a few key teams/consultants outside the office and all of this was online.

What kinds of stories did you choose to be a part of the installation?
We categorised stories across disciplines to fall under water, air, energy, earth and forest. This was the structure of the show and an architecture project could be seen alongside a product or a community initiative. Some, among all the exciting stories, were the design of a smokeless chulha in the mountains, the Ice Stupa Project, products made from industrial soot, upcycled ceramic waste, building circular projects, architecture strategies in different zones and more. This was just the tiniest peek into the present innovation scenario.

Why have these stories been important to demonstrate a bridge between design and ecology?
As urban entities grow via rural migrations, which cannot be stemmed, the quality of life in our urban agglomerations deteriorates. This is primarily because of a systemic disregard and erosion of the natural ecology of a region. In India, the crisis has reached alarming proportions. Our children will inherit a polluted air system, an unclean water hierarchy (from urban collection points to streams, rivers, oceans), an Earth that is contaminated with chemical residues so that growing vegetables is hazardous and a landscape with no trees. The genesis of the idea was a plea to rally ourselves about these natural God-given systems and via Collective Collaborative endeavour to press in for larger systemic change.
Ideas, if nurtured, can soon become a billion ideas. The careful nurturing of these can, with hard work, establish the critical mass needed to bring systemic change. The exhibition and its invited launch at the London Design Biennale was the first rallying cry to map, document and take stock, both as citizens and global thinkers, with a local eye. The exhibition was the first step to bring all the hero stories of the Indian ecology across the nation. On a global platform, it presented India as a thought leader and shared practices across knowledge domains in the area of design thinking about ecology. At a national level, as the exhibition toured, it brought inspiration and advocacy for a new generation, a new treading of ground and a new hope for all of India collectively as one effort.

Could you walk me through the degree of research that was required for the selection of grassroot-focused stories?
We began collecting stories from the design and start-up world in the domain of sus- tainability in November 2019. This also included mapping community initiatives and large-scale manufacturing initiatives. In addition, we also sent out a call for Architecture and Landscape Architecture entries and made our final selections. There has been suchan excitement in the documenting of these stories, even as you imagine a future where every voice in the space of innovation in sustainability, is a potential change-maker. We do hope that later we will be able to delve into the depth of each story recording and be able to generate discussion and an exchange of ideas.
To what extent can sustainable architectural practices and the use of natural resources aid in mitigating the environmental crisis?
It becomes vital for a critical inspirational advocacy for sustainability to go around the globe many times over. Every domain of knowledge needs to relook at its practices. Being both rooted, local and embedded within the recognition of an ecological system is vital, but that is not the end. A stimulus to build a genuine innovation capacity across disciplines is the fundamental building block. For an architect, it has to begin at the posturing of the built artefact on the landscape in response to the larger ecology and then move on to the logic of materials used and possible innovation that takes the material to the next level. A cutting-edge scientific exploration in developing new materials is already underway in labs across the world and this is where innovation has to move parallelly.

Text Radhika Iyengar
Date 03-01-2022