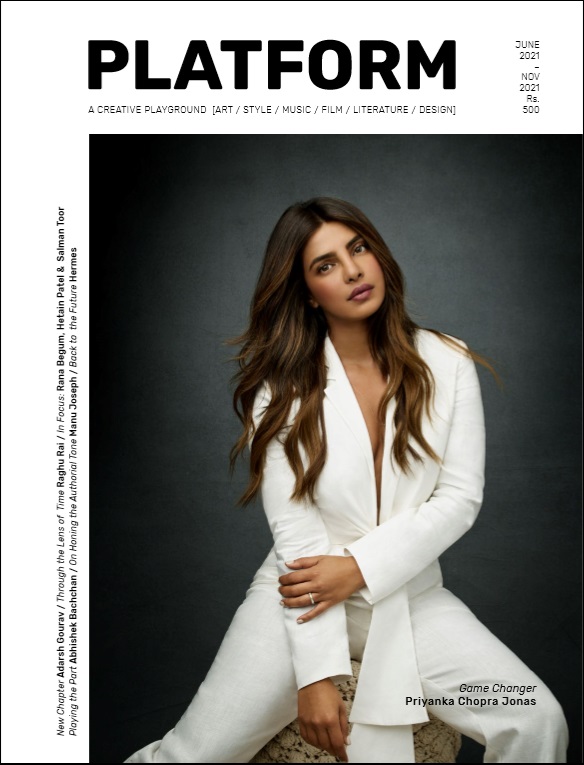 ---
Browse
pg. 020

Dialogue 1

New Chapter: Adarsh Gourav

pg. 024

Dialogue 2

In Focus: Rana Begum, Hetain Patel & Salman Toor.

pg. 044

Profile 3

Manu Joseph: On Honing The Authorial Voice

pg. 050

Art

Nafas: Arshi Irshad Ahmadzai

pg. 056

Photography

Sheetal-Savio Diaries

pg. 082

Music

Nisha: A Place Called Belonging

pg. 092

Design

Siddhant Agrawal

pg. 128

Spaces

The Connaught

pg. 134

Eat.Live.Drink

The Parsi Kitchen: Anahita Dhondy

pg. 138

Name Place Animal Thing

Raghu Rai: Through The Lens of Time

pg. 144

3 Minutes

Abhishek Bachchan
---
June 2021
From the time we printed our last issue, a lot has changed and at the same time, a lot has not. We are now in 2021 and still in the midst of the pandemic. Many of us are still working from home. Concern and uncertainty are ever-present, but the one factor that has kept us going is the undying support from all those who, in their own way, have come forward to help.
Our cover story features one such force of nature, who goes beyond her act. She is not only an on-screen performer but a philanthropist, a fighter and unapologetic for all her choices. She lives on her own terms and does good by them. Priyanka Chopra Jonas is undoubtedly one of the most important and influential public figures from india. She takes us through her lifes journey with still so much more she wants to explore and achieve. Much like our erudite eclectic aficionados mentioned here, she also carries the banner of creativity not being trapped or running dry in the slipstream of this deadly virus.
We have Manu Joseph who breaks down his process of adopting different skill sets for different writing genres and gives us incredible insight into how he hones the authorial voice. Artists Rana Begum, Salmaan Toor and Hetain Patel deconstruct their own artworks that have kept viewers intrigued through and over time we feature Adarsh Gourav, through whose stupendous performance as Balram in the oscar nominated film white tiger, left film enthusiasts and critics amazed. Adarsh shares anecdotes and learnings from his very enriching experience. Master photographer Raghu Rai takes us down a path of his life, sharing intimate photos that hold a special place in his heart and talks disarmingly about the photography of today. And it is Abhishek Bachchan, who delights us with his quick wit and some truths about spending two decades in films, from the industry that is home to him.
One of the most anticipated new literary voices of 2021, writer Anindita Ghosh walks us through her process and what inspired her debut book,
The Illuminated
. Sheetal Mallar, in collaboration with Savio Jon, captures beautiful and candid portraits of her friends and her community in goa.
Social Design Collaborative
shares the process behind
Modskool
, a modular school for farming communities in Delhi that can be quickly built up and dismantled. Artist Arshi Irshad Ahmadzai shares her beautiful visual journal, the isolation diary that started last march, just at the beginning of the lockdown. She expresses her thoughts, anxieties, love, despair, through her art. The issue celebrates and applauds many such interesting talents and their craft.
Lastly, I would like to introduce you to our new digital zine, EZ Platform— a monthly creative capsule, launched recently. So, more engaging artistry, more promising talent and more inspiring stories, coming your way, every month.
Shruti Kapur Malhotra,
Editor-in-Chief
---
---
---
Rakesh Book Stall

+91-40-23229089

Besides Skyline Theatre, Basheerbagh, Hyderabad, Andhra Pradesh, 500029

Siri Book stall

+91-40-49648925

Plot No 205C, Laxmi Plaza, Addagutta,Pragathi Nagar Road, Kphb Colony,, Hyderabad, Andhra Pradesh, 500072

Swathi Bookstall

+91-40-23511967

No. 10-2-825/9, Beside Swati Tiffin, Mehdipatnam, Hyderabad, Andhra Pradesh, 500028

Taj Mahal Pan cabin

+91-8121844939

Beside tajmahal hotel,, Narayanguda,, Hyderabad, Andhra Pradesh, 500029
---