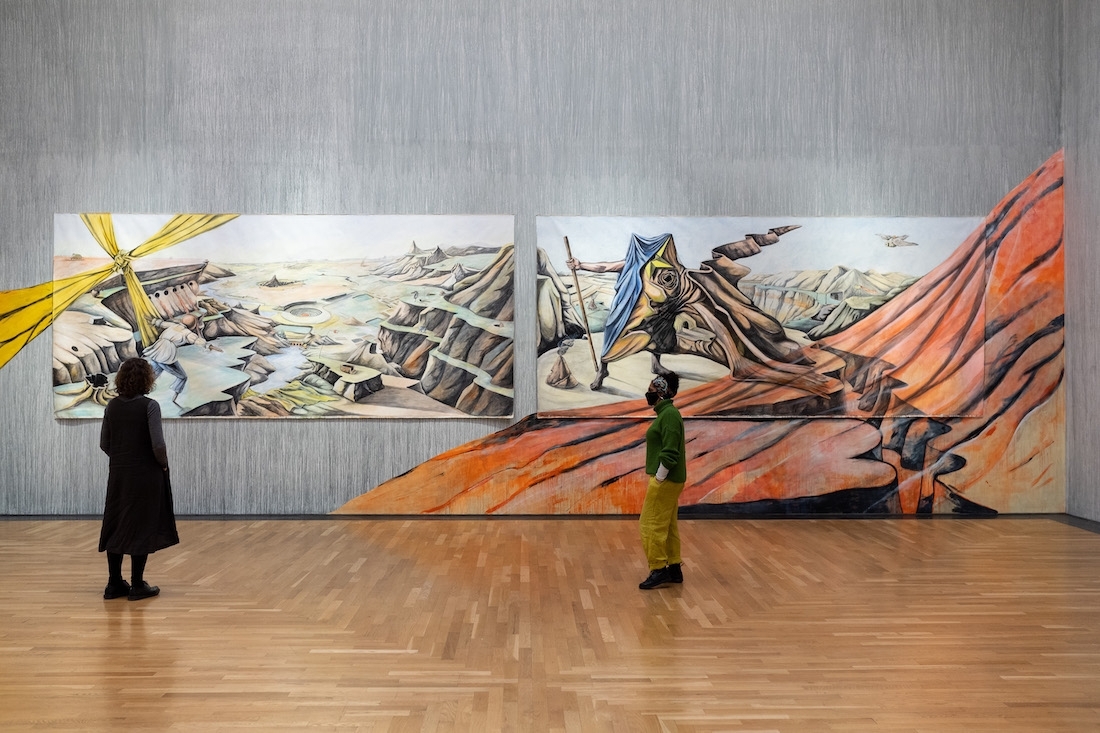 Artes Mundi- Polly Thomas
The jury for the UK's largest international contemporary art prize Artes Mundi 9, has unanimously decided to award the prize to all six artists shortlisted this year in recognition of this time of exceptional social and economic upheaval and to acknowledge the outstanding quality of their individual practices, and the powerfully relevant work that has been either newly created or reconfigured especially for the exhibition. Artists: Firelei Báez (Dominican Republic), Dineo Seshee Bopape (South Africa), Meiro Koizumi (Japan), Beatriz Santiago Muñoz (Puerto Rico), Prabhakar Pachpute (India) and Carrie Mae Weems (USA).
The jury for Artes Mundi 9 comprises Cosmin Costinas, Executive Director and Curator of Para Site, Hong Kong and Artistic Director of Kathmandu Triennale 2020; Elvira Dyangani-Ose, Director of The Showroom gallery in London; and Rachel Kent, Chief Curator at Museum of Contemporary Art Australia. The six shortlisted artists were originally selected out of more than 700 nominations from 90 countries.
The jurors commented "Reflecting on 2020 into the present, this has been a time of enormous social, political and economic upheaval, and as a jury, we have reached a collective, unanimous decision to award the Artes Mundi 9 Prize to all six participating artists: Firelei Baez, Dineo Seshee Bopape, Meiro Koizumi, Beatriz Santiago Munoz, Prabhakar Pachpute and Carrie Mae Weems."

The Artes Mundi exhibition and prize takes place biennially, running a sustained programme of outreach and learning projects alongside the public exhibition and prize giving. Previous winners are: Apichatpong Weerasethakul (2019) John Akomfrah (2017), Theaster Gates (2015), Teresa Margolles (2013), Yael Bartana (2010), N S Harsha (2008), Eija-Liisa Ahtila (2006), and Xu Bing (2004). the 4th Kochi-Muziris Biennale (2018).

Prabhakar Pachpute (b. 1986, lives and works in Pune, India) has exhibited extensively with solo exhibitions at Experimenter, Kolkata (2013, 2017, 2020); National Gallery of Modern Art, Mumbai (2016); AsiloVia Porpora, Milan (2018); and Glasgow School of Art (2019); Clark House Initiative, Mumbai (2012). He has also participated in group exhibitions at Van Abbemuseum, Eindhoven (2013); Kadist Art Foundation, Paris (2013); MACBA, Barcelona (2015) and was part of the 31st São Paulo Biennial (2014); 5th Fukuoka Asian Art Triennial (2014); 14th Istanbul Biennial (2015); 8th Asia Pacific Triennial, Brisbane (2015); and Dhaka Art Summit (2018); 2nd Yinchuan Biennale (2018) and Work by all six of the winning artists is currently on display at National Museum Cardiff and Chapter until 5 September 2021 with a screening programme of additional works by artists at g39 from July to September.