Rahi De Roy vividly remembers her time in Assam, where her friend would tug her along to a grove when the artist needed to calm her nerves. Amidst the canopy of trees, with the light filtering through and gracefully creating shadows that enveloped her visage, Rahi found her peace. Flowers, twigs, clouds and fishes are now common appearances in her art, as she is guided by the path paved by J. Krishnamurti, constantly interpreting and reinterpreting nature. We explore her artistry, journey and creative process below.
The Artist
I spent the first half of my life travelling around the country quite a bit with my mother. She's a very adventurous person and she even chose the name 'Rahi' for me, which means the one who walks the path — a traveller. I joined Sahyadri School, which was a boarding school when I was ten years old. It's a beautiful place on a hilltop, with the Bhima River flowing by, and it had a very warm and friendly atmosphere for a child to grow up in. Creativity was really encouraged and I involved myself completely in what I loved to do, like reading a lot of stories and poems, and even making some of my own, writing and directing plays with my classmates, and spending a lot of time hanging around the Art Room. Both my parents are artists as well, so I suppose the Art Room gave me a feeling of being closer to home. After finishing tenth grade, I shifted to Rishi Valley School near Bangalore, another wonderful and warm place that gave me a lot of confidence, and remains close to my heart.
The Journey
I have been drawing, painting and writing for as long as I can remember. I distinctly remember when I was five years old, my mother gave me this diary, to write and draw my thoughts in. I was quite an intense child, and would spend hours scribbling away on the pages. It gave me a way to express myself, to experience the magic of creating something from nothing. At school, I was always involved in creative projects and that sort of became a part of my identity, eventually nudging me towards choosing a creative profession. Of course, both my parents being artists, and being based in Baroda, which has a vibrant cultural scene, meant that I had a lot of exposure to different art practices, and many artist friends as well! After school, I joined the Faculty of Fine Arts at MS University in Baroda and thus began my formal training in visual arts.

Affair with Nature
I've always shared a very close bond with nature and the natural elements. I think that's partly to do with my schools, which were not only situated in gorgeous locations, but were also guided by the philosophy of J. Krishnamurti, who places a lot of emphasis on closeness with nature. I've also tagged along to a lot of beautiful places with my mother. In fact, both my parents have this special relationship with nature, which may have been influenced by their time at Shantiniketan. I remember when we were living in Assam, there was this older girl who would take me to a grove on campus when I needed to calm down, and tell me to close my eyes and feel the light and shadows on my face. My maternal grandmother studied botany, so there are lots and lots of connections in that way. I think that apart from the experiences you've had and the memories, inspiration is primarily about how you feel, and plants and animals always make me feel like reaching out and responding to their beauty, in my own way.
The Colour Palette
I take a lot of time with my colours. It's something that gives me a lot of joy and satisfaction. Even working digitally, I'll pick and choose and match them until I feel that they look right. Colours are so closely related with emotional responses that I think they can be an integral part of setting the mood or atmosphere for any work, be it painting or performance. And I love their poetic associations as well, the melancholy of a blue, or an overwhelming red as a life-force.
The Sensibility
'Grace' is a word that my friends often use to describe my work, and I think that's something I aspire to be as well. A sense of completion, a sense of satisfaction, disparate things coming together and holding each other. With my illustration work, there's also an element of humour, some little details that make me smile as I draw them. I want people to feel something when they see my work, so tactility and emotional expressiveness is also very important to my practice.
Creative Process
Each project has a different requirement and I really enjoy turning my 'process' on its head and starting from scratch each time. I love planning and ideating, and breaking things up into schedules is exciting. But I've also done the whole spontaneous, splashing-paint-on-a-canvas jig. For me, the process is usually fraught with a lot of anxiety, which is something I'm slowly learning to cope with better. For longer projects there's usually this crisis point, where it feels like everything is out of control, and then something kicks in, some kind of instinct that ties in all the different elements, which is the heart of the project. I've recently been enjoying working with other people, and rediscovering the energy of collaboration. Once I figure out the pulse of what I want to create, I let my process be shaped by that.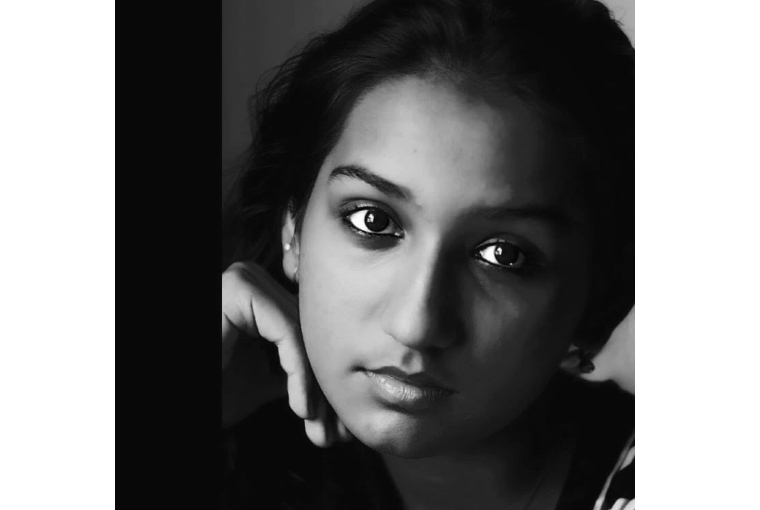 Photography by Sumanta Mukherjee
The Pandemic
In the beginning there was a lot of confusion, especially because I was supposed to graduate, and the crisis across the world, was on quite a devastating scale. It really felt like the world was ending. Personally however, this time has proved to be very significant. It has helped me settle into a rather sweet rhythm of life and work. It has given me this cocoon to create in, and shaped the start of my professional life.

Text Janani Venkateswaran