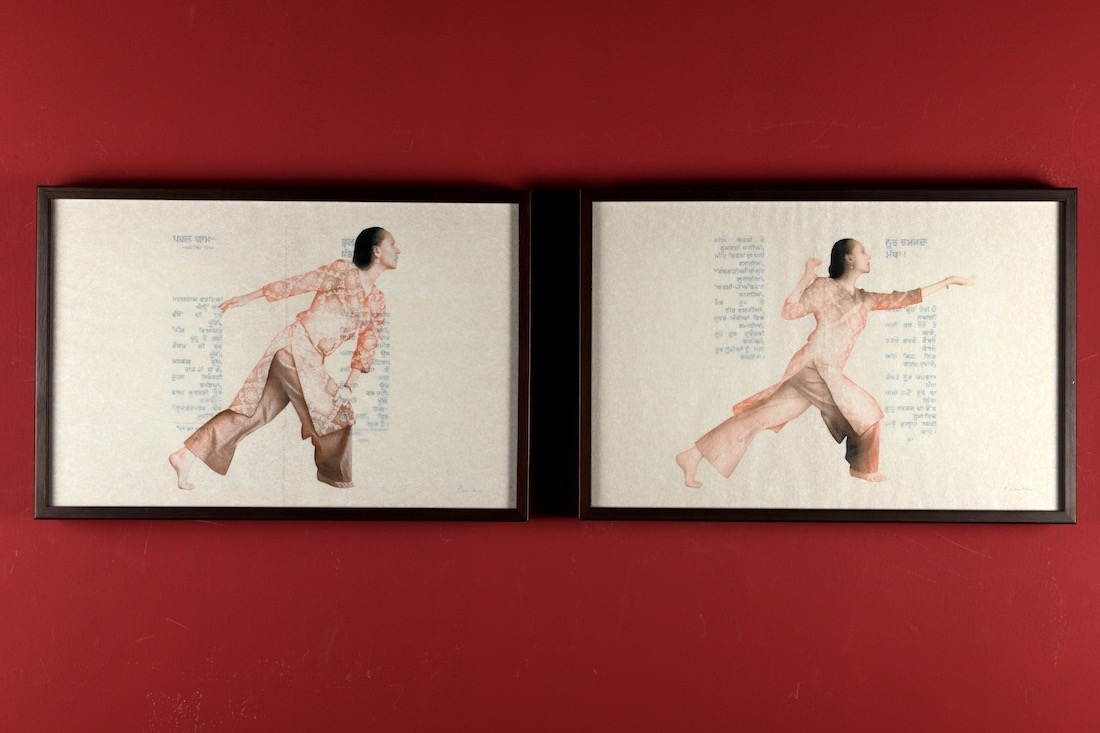 Photo Courtesy - The Gujral Foundation
Remen Chopra W. Van Der Vaart
Memory's cut; Its Deep Embrace
We got the chance earlier this year to visit Remen Chopra W. Van Der Vaart's exhibition, Memory's cut; Its Deep Embrace at 24 Jor Bagh. An India Art Fair 2020 collateral event at The Gujral Foundation, the exhibition was a unique, immersive experience of visiting someone's private archive of objects, memories and experiences. A personal story of growing up in different cities — Rawalpindi, Shimla & Iran — with diversely different cultures, resulted in expressions of nostalgia and reflection. The experimental site resulted in a wonderful showcase of artwork that was deep and layered. Remen used various media, from objects (passed down to her by her grandmother), sculpture, mix media, to poetry, maps and writings. She questioned her understanding of culture, heritage, lineage, space and time through the works and in turn, made you question your understanding of the same. We connected with her to know more about her process, Memory's Cut and how the quarantine has affected her practice.

Was it difficult to make and showcase work that is so deeply rooted to you, your identity, culture and heritage?
It becomes important for me as an artist that my works speak of an applicable root, and in conserving it as a nostalgic memory. I believe that traditions and beliefs comprise the history of our family and community, and are our heritage that is passed on to us becomes a lens to the world around us — which is constantly being reflected in one's findings and experiences which tend to shape one's imagery. The diverse cultural heritage allowed me to explore the layered histories and uncover these layers through a selective process of memory. In this exhibition, I delved into the history of personal spaces and its memory using writings, maps, objects, poetry and sculptural works to respond to the emotion and idea of home.
Does using different media come naturally to you or was it something you had to work on?
The notions of tradition, individual and collective identities are continually being forged and negotiated both temporally and spatially. The multidisciplinary approach helps me in communicating and in developing these potent narratives. It allows me to unfold this non-linear relationship of multiple histories across space and time. I delve into the history of objects and spaces which once lived, through multi-layered artworks that create contrasts of real and endorsed time.
How did reflecting on your life and journey affect you?
Form, order and patterns serve as lifelines that ground us and make us feel safe. To piece together these lived tales, the objects become traces of a journey. It becomes like footprints and fossils of time. Mapping their patterns creates a picture of the moving time frame. The patterns define the exchanges and the inheritances of things, and communicate to us the idea of a lived time. So I began a journey of finding myself through the objects and spaces of a known place, which I started to call the homing root.
How was your experience of converting 24 Jor Bagh into a personal space, filled with memories of home?
It was a wonderful journey to convert 24 into a series of personal spaces that encapsulate memories of home. The curator, Reha Sodhi's ability to visualise the potential in spaces is incredible, which made the dialogue around morphing the building, an inspiring one. I do believe we were able to encapsulate the tenderness of memories of 'home'. Feroze's inspired vision for The Gujral Foundation has always pushed everyone associated with it, to really push the boundaries of what can be done with art when spaces and ideas are used creatively. The team's sensitivity towards the artist's needs — practical and creative — is a testament to their unwavering commitment to contemporary art.
To what shore would you cross, Carpet and Recycled Wood;
How has the quarantine affected your work?
There is a process of simplification going on within me. The quarantine period has made me realise that when there are fewer choices, the mind somehow is more at peace. For example, when I go out to buy groceries, I realise that there are only a few choices and there is far less confusion. In this simplicity lies a freedom. This delayering is going on outside of me as much as it is inside of me. A chaotic situation in the world is making me go within to search for a pure state of existence, to help me to come to an understanding. I am sketching a lot these days and I am simply allowing this process to happen rather than to conceptualise it. I am letting my being flow, heal and surrender to this inner process. I am really enjoying how the most simple things give joy and how this simplicity can heal one's inner being.
Have you created any work during this period that reflects our current, global situation?
I am working on a lot of sketches, of which I do not know whether they will translate into a work of art. That is not important. The process is what is important. I am allowing this perceptual shift of feelings and impressions of simplification, stillness and healing to respond through me. Mapping and laying out sketches in a very intuitive manner to feel what I feel without giving it an attachment of thought or concept.
Text Samiksha Sharma
Photo Courtesy The Gujral Foundation