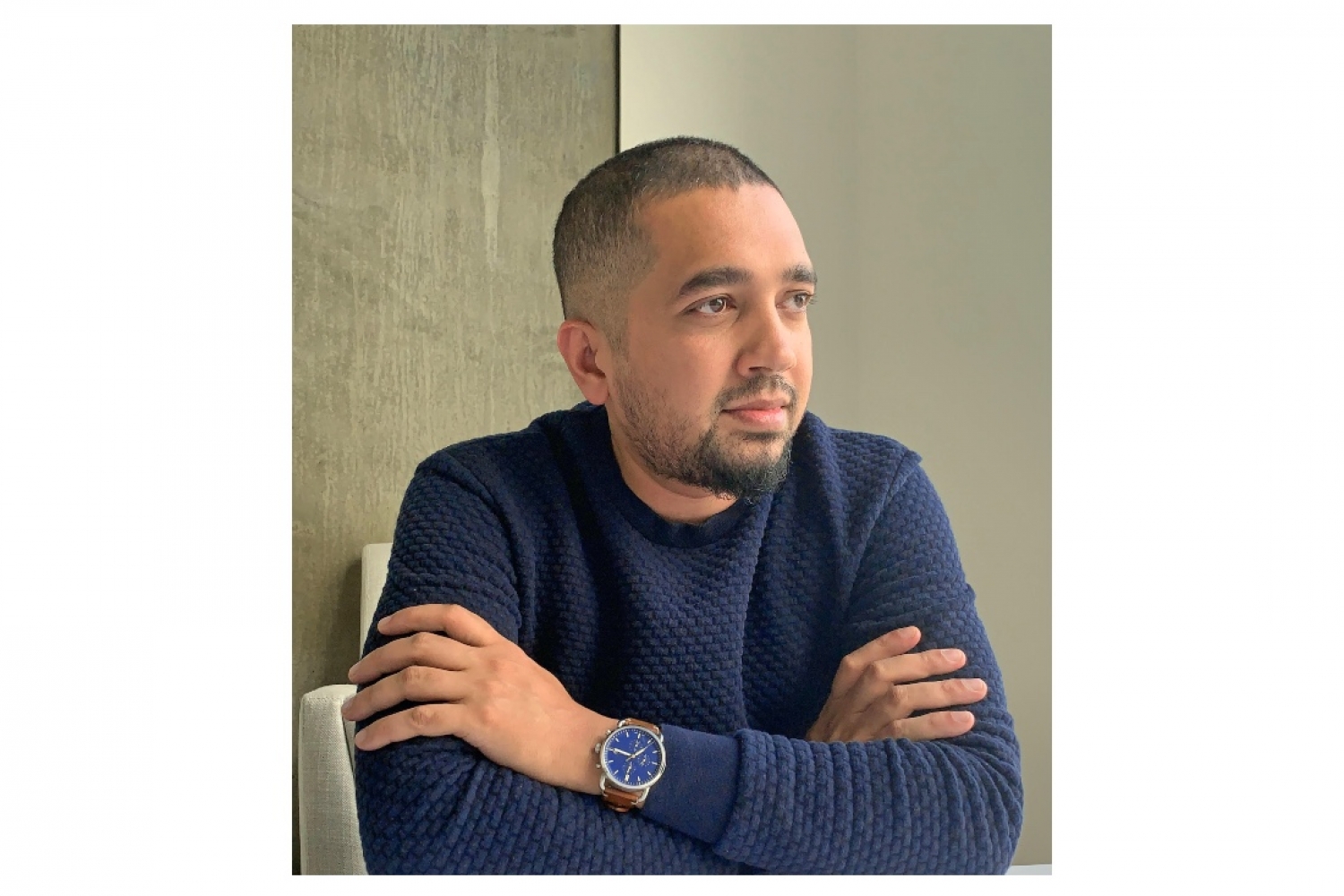 A digital artist/designer based in Portland, Reshidev RK's striking and unique work is inspired by contemporary discourses and rendered in the colourful style of his home state. He was born in Kannur in Kerala and discovered a passion for art very early on in life. This passion translated into a living as Reshidev is currently working as a Senior Designer at the Global Headquarters of Weiden & Kennedy. His home city, the architecture, the colours and his culture, have shaped his visual language. Browse through his social media handle and you will see a riot of colours, with strong elements from down South. He expressed his love for his city and culture while modestly mentioning how his artwork, God Made Man Made God, inspired from a folk art form, just settled for a huge figure on the NFT market. We got on a quick call to talk about his work, inspirations and the future.
Can you tell me a little about your growing up years?
I am originally from Kerala, the Northern Kerala, from a district called Kannur. I was born and brought up there. I studied sculpture at the Trivandrum Fine Arts College. I wanted to study further and pursue post-graduation but somehow I couldn't get enrolled. Then accidentally, I moved to Bangalore. I just went there with my sculpture work, a bunch of photographs, that's it. In the beginning, I had no idea what I wanted do with my life in Bangalore. But all my friends were into advertising, so I applied to an agency as well. They liked my sculpture work so I got hired. That's where it all began.
Can you tell us more about your journey in the advertising industry?
What usually happens in advertising is that one does all the layout and stuff but I didn't know any of that. I didn't know typography but I did know illustration, so I tried to use that in every project I received. Everyone liked that and the company started using my illustration in campaigns. I worked at my first agency for three years. It's an agency called Happy. They really supported me back then. After that, I got an offer from Weiden & Kennedy, propelling my move to Delhi. That's when things really changed for me. I had my own little Malyali group back in Bangalore, but here I made contacts from within the industry. I worked on some really good projects like for Indigo Airlines. We did all of their packaging, in-flight magazine and other stuff.
I was in Delhi for seven years, after which I decided to quit because I thought I was becoming too comfortable by working in the same company for so long. I wanted a change. So, I thought I'll quit and create some art, but right before that I applied to Weiden & Kennedy's Portland headquarters, just for fun. I knew I wouldn't get in because it's tough. However they liked my work and I got through, so that's when I moved to the States.
What inspires your art?
Mainly my hometown. My hometown, Kannur, is full of culture. If you see my recent work, there is an artwork called God Made Man Made God, inspired from an art form back in my hometown. I used to go and watch folk art every year. A festival full of colours — red, green, blue. So I was always fascinated with those colours and textures inspired by my culture. Most of my artworks have central elements and lots of things are happening on both sides. If you see Kerala architecture, most of the houses are very symmetrical. All that really inspired me. Composition is very important for me. My work is always very well-balanced.
As an artist, do you feel responsible to keep your art relevant?
It's not necessary for me to be honest. My artworks come from my experiences. The Way Out, the artwork, came from my experiences of the pandemic. It's very difficult for me to describe my work, that's why I am visual person.
Do you have a creative process?
If you take The Way Out, I did one portrait. I had a vague idea in my head as to what I wanted to make. I was not really clear as to what elements I wanted to use. But when I do portrait, I just start adding things. Those ideas come spontaneously because I didn't really research for them.
What's next?
I'm doing one really big mural for Delhi office as they've moved into a new space. I'm creating a digital version so someone will be painting that onto a wall. The artwork isabout perspective, ideas, how people think, sit, ideate and create.

Image1: A day in the life of...
A mother's care is insurmountable and unchallenged. It's the most tender yet most powerful emotion. Mothers are considered the primary caregivers in cultures all over the world. So much so that a mother's aura is recognised not just by her own child, but also by others around her. Growing up, I've seen mothers to be a singular source of solace and safety. And I wanted to convey the same with my work. Even though it's impossible to capture the whole of her world in one image.

This article is an all exclusive from our September EZ. To read more such articles follow the link here.
Text Hansika Lohani Mehtani
Date 04-10-2021