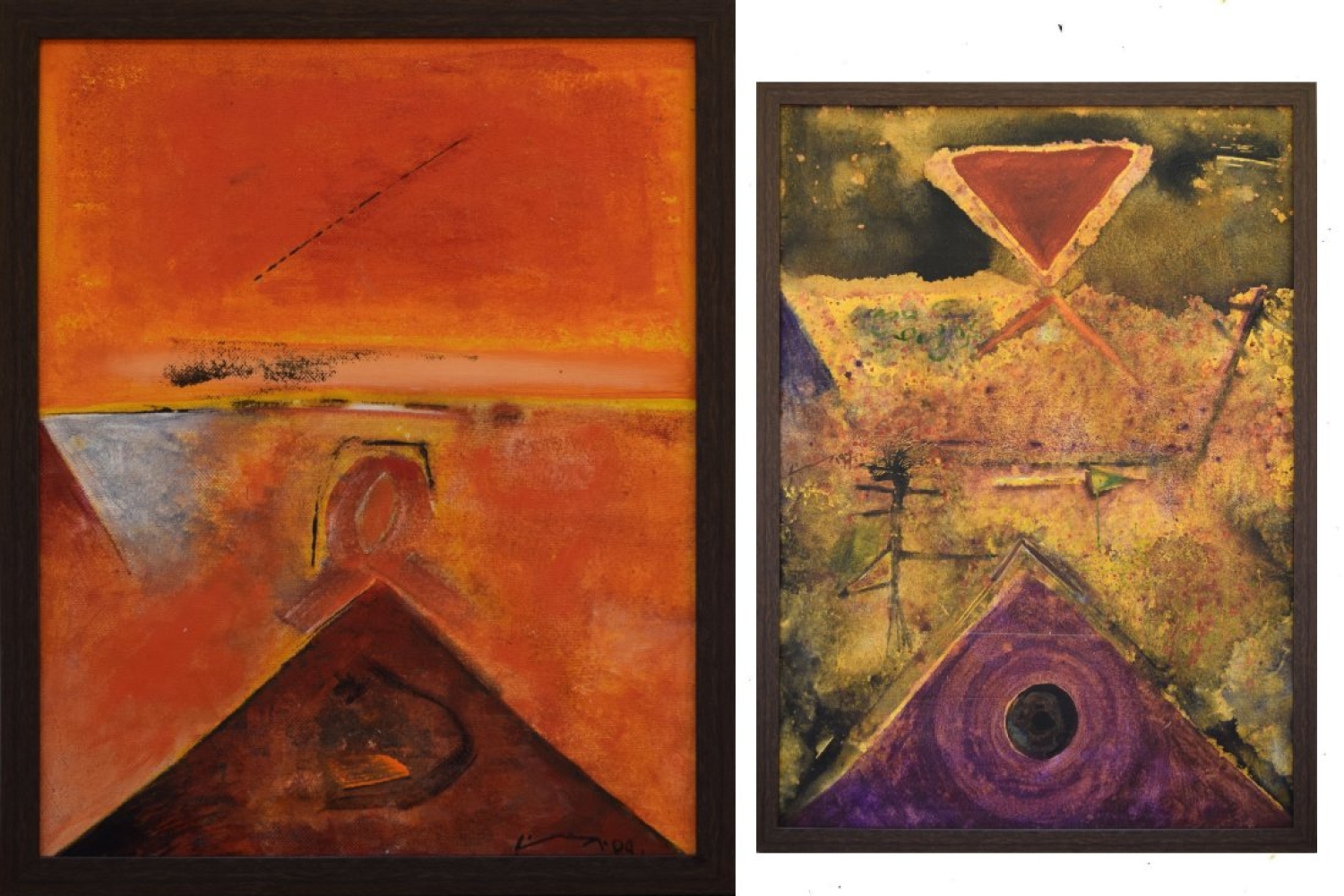 L:Vijay Shinde, Untitled, 2010, Acrylic on canvas
R: Vijay Shinde, Untitled, 1997, Acrylic on canvas
Sense, Symmetry & the Sacred
Tao Art Gallery is back and brings forth the powerhouse of talent by exhibiting the works of two celebrated yet distinctive contemporaries from 1958s' - Vijay Shinde and Harshavardhana Swaminathan. The artworks will be on display until Thursday, 15th June 2023. This exhibition explores the inherent human culture that has had a sacred sense of symmetry since ancient times, emerging from specific patterns, be it in iconic architecture or within the human mind spanning across cultures and generations or simply out in nature to keep getting replicated by humanity subconsciously.
Vijay Shinde, whose early works were deeply inspired by the rich Indian ethos, philosophy, and values, an expression that connected the heaven, earth and the divine forces driving them, and then later went on to talk about the spirit of 'awakening'. He always believed that without an awakening or an internal urge to change bitter things, things wouldn't change. He was a vital propagator of hope and held goodness, humanity, and human values in the highest regard. He felt the pain of these values deteriorating, somewhat reflecting in his work, but ultimately trusted hope – as a solution to mend it all.
S. Harshavardhana, a self-taught artist, has been inclined towards tribal art and symbols and worked on abstract geometric forms, primarily inverted triangular structures. Best known for displaying his creative work in heavily textured yet coloured canvases, Harshavardhana has carefully restricted colour areas that violently cut into one another, resulting in brilliant artistic forms that blended in and, in a few apparent scars, giving a distinctive character to his works.
Vijay Shinde, Untitled, 1997, Acrylic on canvas
Sanjana Shah - Creative Director of Tao Art Gallery, adds, "It gives me immense pleasure and pride in curating an experience that puts together the work of two unique artists, who were connected with the 'symbols and patterns' to weave an almost trance like process, a kind of deep meditation for any artist. Achieving nuance and intensity through their depictions and being rarely quiet will trigger an extraordinarily soulful and liberating outburst of emotions from within for each of its viewers, creating symmetry and the much-needed sense. Supposedly leading one into introspection, echoing total contrast, yet creating a sublime symmetry, the works of Vijay Shinde and Harshavardhana Swaminathan trigger a sensible, sacred space within."

Date 01-06-2023