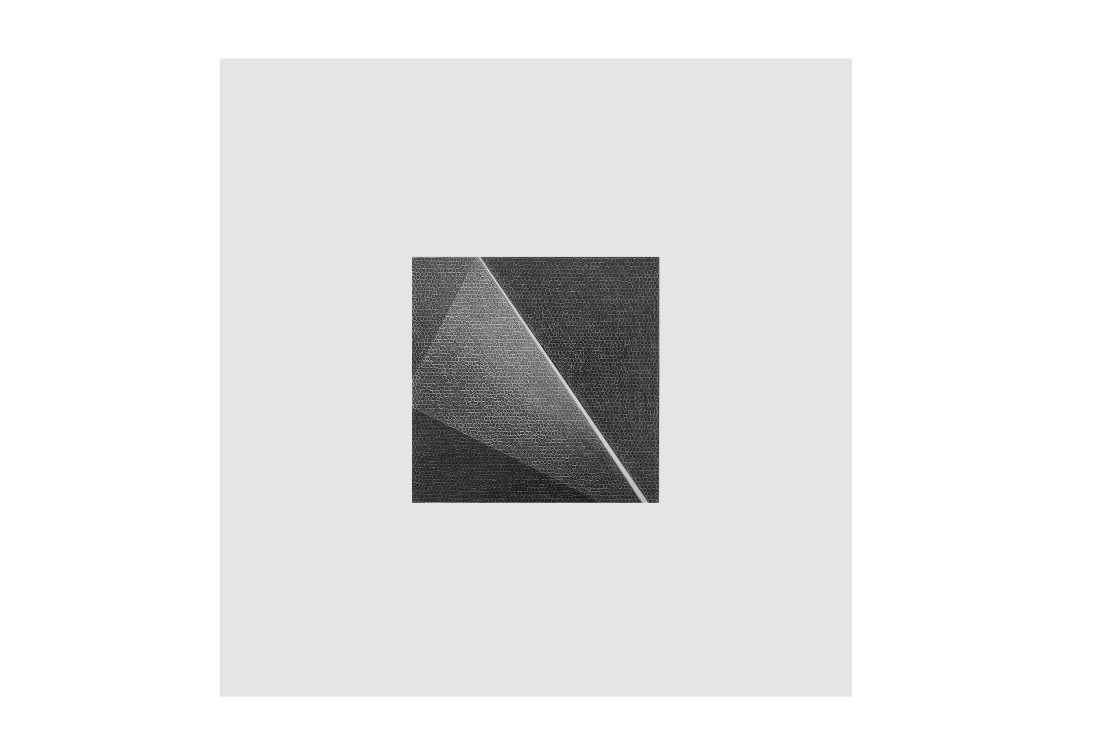 Vipeksha _vedanas small 9_21x21 inches 2020 pencil on paper
Shadows in the River of Time
Sabbe sankhara anicca. This teaching from the Pali canon of early Buddhism assures us bleakly that all created things are impermanent, shadows in the river of time. As are we ourselves, with our tangled desires, anxieties, hopes and dreams. And yet, as the practice of vipassana or mindfulness demonstrates, we can find a way beyond the ceaseless rush-hour traffic of thoughts and sensations. By bearing detached witness to their ebb and flow, liberating ourselves from their affective and cognitive claims, we might achieve inward stillness as well as a balanced relationship with the world.

Vipeksha Gupta's exquisite works in her debut solo, 'Oscillations', re- cord such a cultivation of mindfulness. Her formal choices attest to a meditative absorption in the rhythms of process, and demonstrate an elegant economy of means. Her works are achieved sometimes with graphite alone, sometimes through a combination of graphite and charcoal. The palette is a spectrum of greys laid, flecked and scintillating, across the paper surface. At one end, they gather into deep densities of black, evocative of jet and carbon. At the other end, they open up to a dawning white, calibrated between shade and glare.

Vipeksha's method oscillates between the incremental and the unpredictable. She generates her graphic surfaces through the reiteration of microcosmic units into patterns while dynamizing them through striking gestures of rupture, incision, schism, or slippage. She evokes tablets of epiphany, creates folds and hinges of light around which darkness pivots and ripples. Her approach might be described as minimalist, with this proviso: like most forms of minimalism, its austerity is deceptive. On closer engagement, it reveals an understated sensuousness, an invitation both to touch and gaze.
Vipeksha _vedanas small 2_21x21inches 2020 pencil on paper
How do we contextualise Vipeksha's work? Her art is nourished by several lineages within global abstraction. We find, here, references to Malevich's dance of the black square, mediating between image and absence; to Barnett Newman's zip, a revelation of light ripping through a field of colour to confront the viewer; to Fontana's incision, slashing through the flatness of the everyday to offer a glimpse of infinity. Within Indian abstraction, Vipeksha stakes a persuasive claim to that extraordinary lineage best embodied by Nasreen Mohamedi and Mehlli Gobhai – artistic imaginations preoccupied with subtle geometries of repeated mark and resistant void, the archetypal play of illumination and eclipse, the fluctuating relationship of consciousness to a cosmos that is both manifest and inscrutable.

The Artist
Vipeksha Gupta is a Delhi based artist whose artwork takes a critical view on the concept of looking inward for finding peace and the whole science of spirituality. It is a combination of fine art and the art of living finely. Her arrangements are schematic; inviting the viewer to move into a space of deep contemplation .It is a process of metamorphosis that begins when the soul awakens to its spiritual essence. After graduating in History Hons from Lady Sri Ram College, New Delhi, Vipeksha worked as an artist at the community studios of Triveni Kala Sangam New Delhi from 2010-2017. She has participated in prestigious shows like India Art Fair 2019 & 2020, represented by Blueprint12; 'Out of Your Shadow', 6 women artist show at Gallery Espace in collaboration with Blueprint12, 2019; Delhi Contemporary Art Week 2018 represented by Blueprint12.

She won the drawing award at the Annual Art Exhibiton 2016-17, Sahitya Kala Parishad, and at the 88th Annual Art Exhibition AIFACS 2015. Some group shows her works were part of have been VAMA, women's artists' art exhibition organized by Sahitya Kala Parishad, AIFACS New Delhi 2016 and in 2013 at IGNCA, Annual Ravi Jain Award 2014 Dhoomimal Gallery New Delhi, Confluence Art Konsult New Delhi 2014, Youth Festival Delhi 2013 organized by Delhi Government of Art Culture and Languages and many more. Besides this she has attended Workshop on Dokra art by Mr. Purnachandra Pradhan Organized by JSPL and Swayamshilp at Crafts Museum New Delhi 2015 and Workshop on Ink wash of Chinese Tradition By J.Raj Dassani, organized by Rasaja Foundation, 2016 New Delhi. Her works are in the private collection of Indian art collectors and buyers. The artist lives and works in New Delhi.

Text Ranjit Hoskote
Date 2-02-2021
Vipeksha Gupta_Vedana_I_pencil on paper_34x44 inches_2020