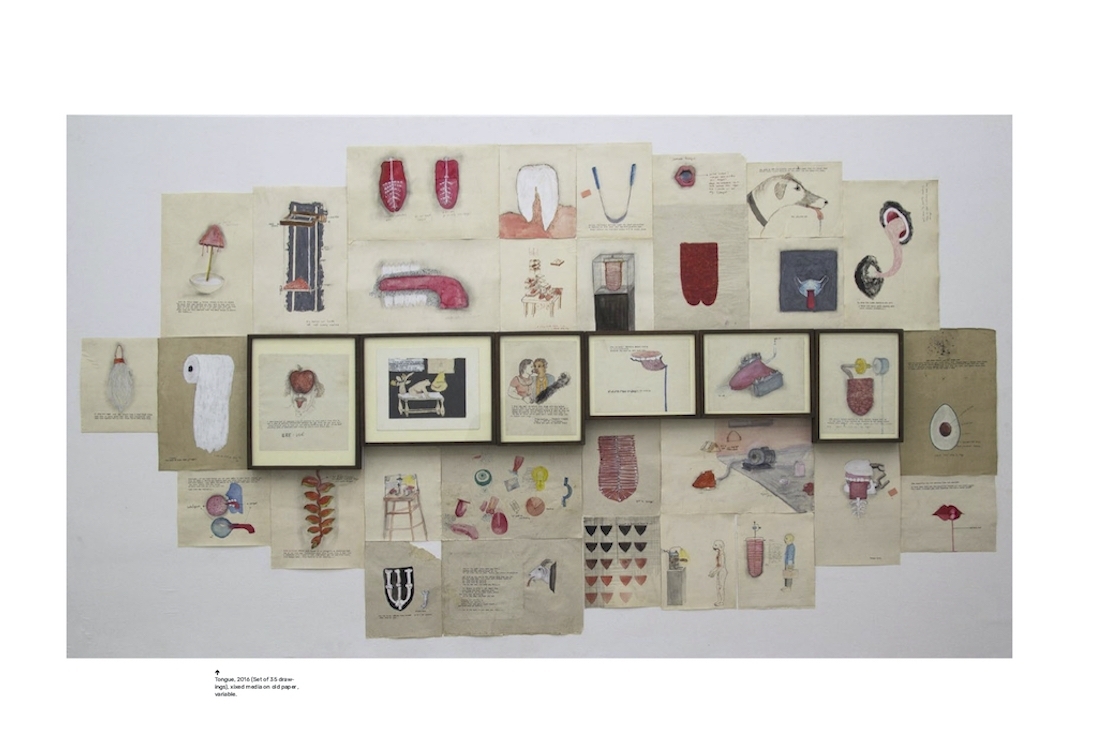 Shailesh B.R.
Notes To Self
Shailesh's visual language has an aura of iconography, with his ritualistic art practice of drawing and collage work that invokes, mimetically, the act of forming connections between disparate observations, thoughts, moods, feelings – the internal world – and objects, places, animals, stories, food, landscapes – the outer world. While he strives to represent an immedi- ate reality conjured through contemplation, his bent of mind evolves in a conversational way by scruitinizing the concept of thought in metaphorical, mythological and political terms, and then presenting it as an amal- gamation of the monotony of routine activities and its minor but crucial elements in a political context. These preliminary drawings often ideo- logically serve as blueprints to explore the kinetic and sculptural nature of the imagination.
This exhibition includes an assortment of works from Shailesh's 2019 series Eclipse, which deals with the phenomenon of existence and the overshadowing of one, caused by the intrusion of a third party that impels the artist to consider his immediate surroundings as well as the world at large, taking the descriptive form of a variety of objects and places – fruit and vegetables, sea and mountains, volcanoes and ant hills, etc. The exhibition also includes work from his most recent solo exhibition The Last Brahmin, which opened in Nice in February 2020, in which Shailesh explores the complicated construction of the Indian caste system and Brahmin ritual in particular. Primarily concerned with the ownership and dissemination of spiritual knowledge, an apparent birthright of the Brahmin caste, Shailesh considers the role of technology and machinery in replacing the human mind and system to answer philosophical ques- tions. The exhibition further includes a latest body of work titled Vasanta the artist is developing in response to the lockdown, while still in Nice, in which the anxiety and unrest from unknowing await answers and clarity in the form of spring.
BIOGRAPHY
Shailesh B.R. (born 1986) received a bachelor's degree in fine arts, spe- cialising in painting, from the Chamarajendran Academy of Visual Arts, Mysore, and has a post- graduate diploma from the Faculty of Fine Arts, MSU, Baroda. His practice revolves around the nature of processes – of philosophical thought, art and rituals, expressed through a visual vocabulary that makes the viewer reimagine the purpose and function of routine objects. His works are playful reconfigurations of philosophical thought through mechanical means. His drawings (which unapologetically reject any grammatical precision) question the staunch formalism associated with art and use the premise of honest artistic wonder instead to explore how errors can be made in how he sees, perceives and defends his ideas.
Shailesh's solo exhibition Tarka was held at Vadehra Art Gallery, New Delhi (2017). Shailesh has participated in various group shows and has received the Inlaks Fine Arts Award and was also invited to Sandarbh Art Residency, Partapur, as an artist-in-residence. In 2016, he was awarded the FICA Emerging Artist Award and travelled to Switzerland for a residency. The artist lives and works in Vadodara, Gujarat.
Notes to Self
Vadehra Art Gallery