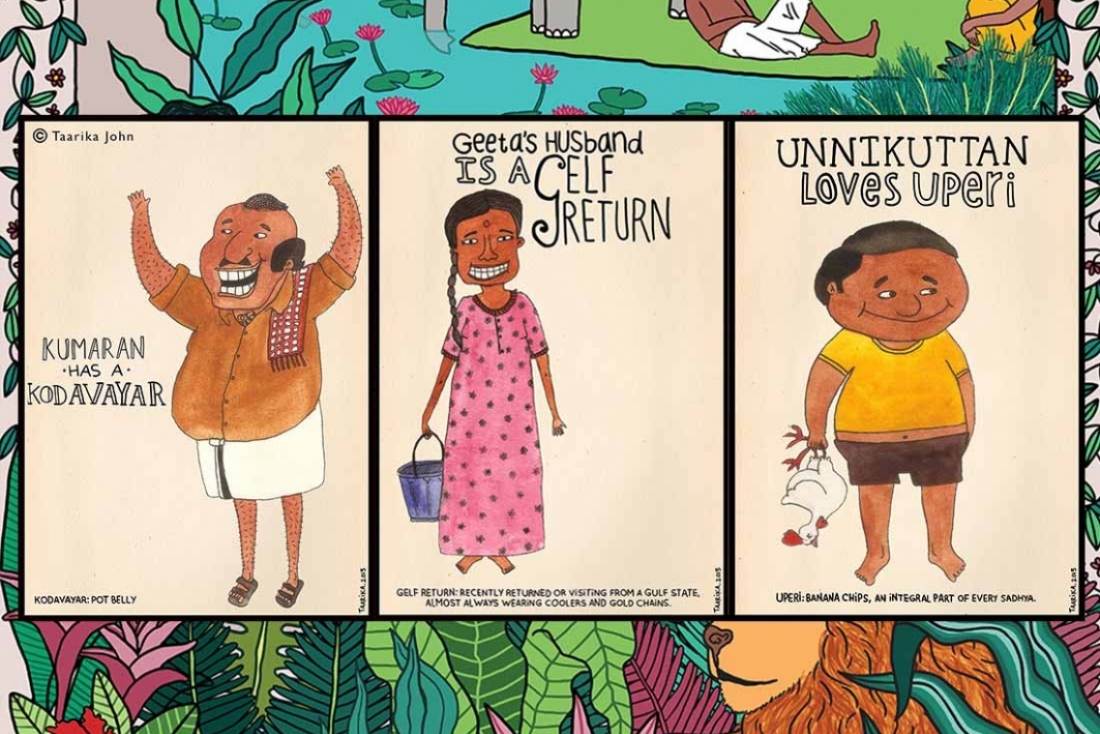 From 'The Malyalee Alphabet' attributing each alphabet to a Malayalee character.
She is a self-confessed 'people-watcher'. Whether she's at home or outside on the streets, she is curious as to what the other earthlings are up to. This observation and reflection informs her creative process and inspires the work that she does.
"There's something endlessly fascinating to me about watching people go about their routines", informs Taarika.

This explains why the main feature of her work is character narration, and her biggest strength and they coexist - the curiosity and character representation feeding each other. If she doesn't have a sketchbook with her, she writes a short note on her phone and later they spur her imagination. "The Paris Travelogue Series (one of her works) started pretty naturally, as I was on a rather long visit and wanted to give myself a daily drawing exercise. I ended up with sketchbooks full of characters that I later developed into a series. I've been keeping travel journals ever since," explains her.
Taarika John is a Cochin-born visual artist who has been practicing her art independently in Bombay for the last four years. As an artist who is creatively sensitive to the environment, especially the people, she finds Bombay as a medium of storytelling, a lively environment that is a breeding ground for diverse stories and characters, that provides a support to her imagination. "It's been four years now but not a day goes by that Bombay doesn't surprise me."
Having studied Graphic Design and Visual Communication at Srishti School of Art, Design, and Technology, Bangalore, she realizes that art has always been part of her growing up, a companion.
"My mother would bring home these huge sheets of paper from office that were printed on one side, so I could draw on the other. I was also obsessed with books and read nonstop. So, Amma (mother) would set me these little holiday projects on weekends and school holidays to keep me occupied and off her back. She would assign a topic - Ancient Egypt, tribes of India, all kinds of things - and I would have to research and put together a little book for her. All the content had to be paraphrased, all the images had to be hand-drawn - looking back, I'm surprised that I didn't realize what I wanted to do much earlier in life." It was a strong foundation to what she does today.
"I'm so inspired by everyday life."
Intrigued by oral histories and personal stories that have been passed through generations, her fear is not being able to document the little anecdotes and humors of life that she feels she would lose otherwise.
"I think that there is great power in storytelling. There is so much that we can learn about ourselves, others and the worlds that we occupy from something seemingly simple and immensely enjoyable. This year, I hope to explore these themes within my work and find ways to document and share these stories with the public."

The Creative Process
"I really enjoy every part of the creative process, even the stressful parts."
Her work can be said as a response to a thought or an idea that has been lying around in her mind, and its always a different approach. And the journey to finding a satisfied clear vision is an instinctive response or a result of exploration with the idea. Conceptualising and stabilizing the idea takes the longest time she says and the actual production and drawing phase is the most fun as her mind is at ease and can just zone into the process.
"I can't rest until I'm sure that it's the right way to approach and do justice to a piece."

The Technique
Explaining her art as a very personal process, the main elements of her art she says are line and colour. With digital mediums, she uses Photoshop and Wacom Intuos drawing table. With 'traditional' mediums, she narrates using different pens - brush pens, felt tips, fine liners, thick crayons and soft pencils. "Lately I've been trying to dabble with gouache and watercolours, as they're mediums I feel that I haven't explored enough."
Collaborations
Having done a lot of collaborations with organizations and for events has taught her the value of the client and providing justice to what the commissioned piece is supposed to represent. Naming a few collaborations are Adidas Originals India, Red Bull, Le Mill (concept store in Mumbai), Roadster (clothing brand), editorial illustrations for Homegrown (digital publication focusing on youth culture in India), and Gaysi Family (an online forum for the LGBTQIA community in India).

Her recent collaboration was with United Nations Human Rights Commission and Mummy Daddy Media called #standup4migrants - a series of animated videos narrating stories and conversations with migrants from around the world, released as part of International Migrants' Day. She was commissioned to visualize and create the illustrations for these videos.
The video below features American comedian Hari Kondabolu and his mother Uma Kondabolu talking about their experience as immigrants.
More videos can be found here.

Gaysi: Queering Monuments
She collaborated with Gaysi to create a series of illustrations centered around queering Indian monuments and public spaces, which were published on their website and social media platforms.
See more here.
L : Red Fort.
R : Taj Mahal
Homegrown
Various editorial illustrations created in 2016 for Homegrown, a digital publication based in Mumbai that focuses on contemporary youth culture in India.

Illustrated Glossary of Female Masturbation.
Vice India
Editorial illustration created for an article published in Vice India.
Personal Work
Samples from self-initated projects.

The Malayalee Alphabet: Illustrating a different Malayalee character for each letter of the alphabet. See more here.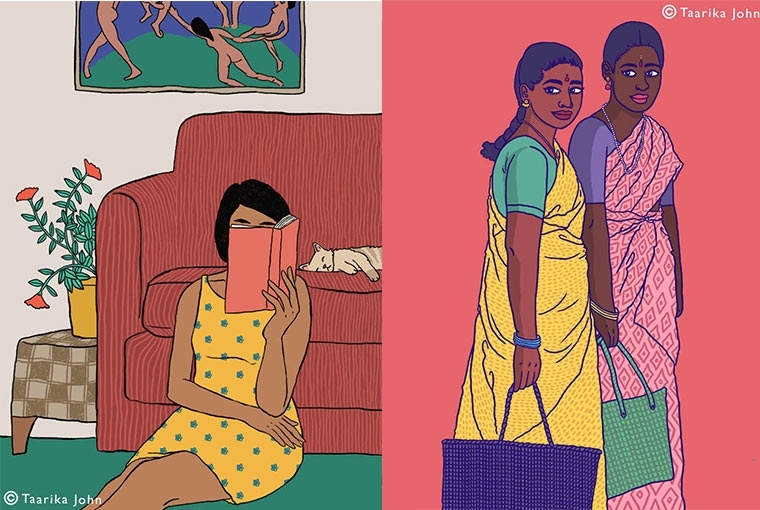 L : The Reader
R : Ladies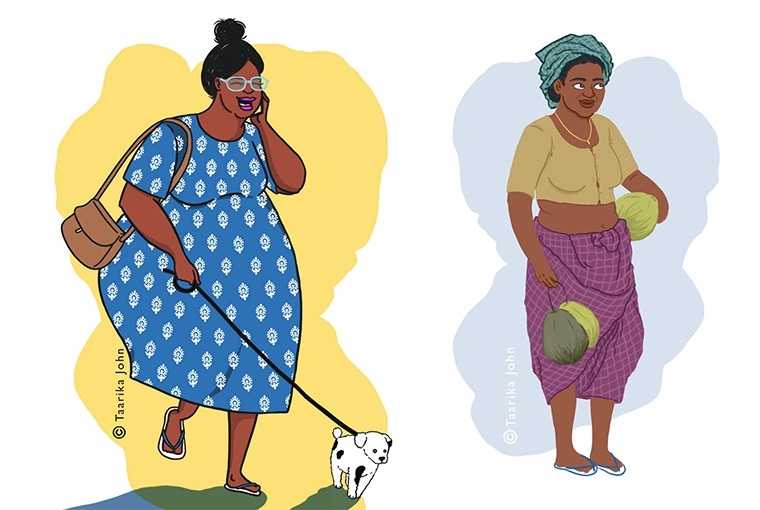 L : Bandra Aunty (ongoing project)
R : Toddy Tapping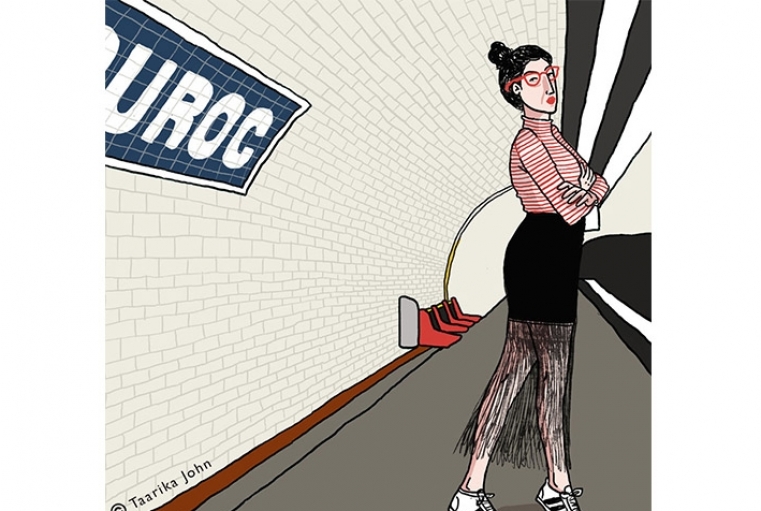 The Paris Travelogue Series
The Secret Garden Mural
Dimensions: 17.8 ft x 7 ft
An avid traveler, Taarika is excited whenever she talks about travelling. She holds her parents quote in her heart "Seeing the world is a privilege to be earned yourself, not something they just give you. As kids, we would complain that they didn't take us along on their trips, but it gave us something to work towards." She tries to experience as much local culture as she can wherever she is and this has helped her in her creative imagination – in forming and expanding her diverse characters.

Taarika who is excited and nervous about her first solo show in Cochin at the end of this year says, "A lot of my work has to do with people and the human experience, so it's always great when it resonates with other people. I love hearing how a particular piece may have reminded them of something from their own lives, it's always nice to feel connected to others through shared experiences."
Well, Good Luck!


Website: http://taarikajohn.com/index.html
Behance: https://www.behance.net/Taarikajohn
Instagram: @taarikajohnart
https://www.instagram.com/taarikajohnart/
Facebook: https://www.facebook.com/taarikajohnart/

Text Tony Jacob