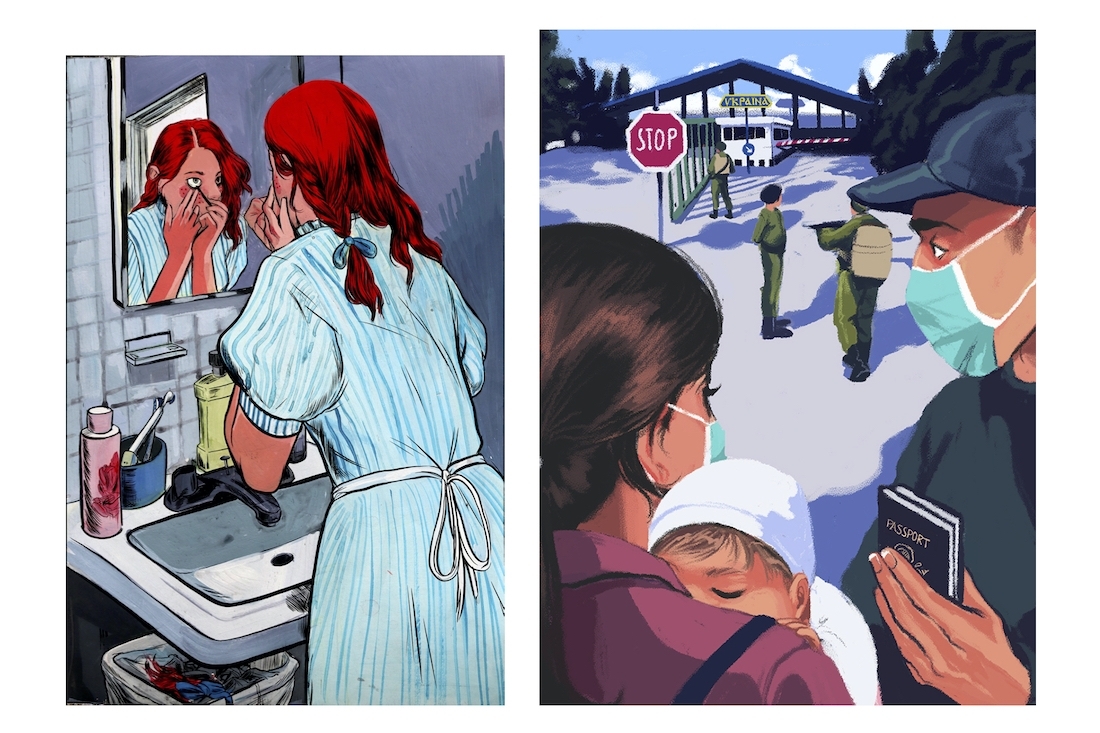 L: Wendy ; R: Stranded babies of Coronavirus
Striking shades of blue and vermillion envelope most of Tara Anand's artworks. Tigers majestically waltz into the frame every so often, and other times, women are depicted in a seemingly dystopian society, which seeks to represent an exaggerated but honest version of reality. Tara Anand, who was introduced to art history at a very early age, has always held feminism and pessimism dear to her illustrations, and recently, the environment has made it to this list as well. We connected with the artist to explore her journey, artistry and popular motifs.
The Artist
I grew up in an incredibly creative environment, my mother is an artist so I was introduced to painting very early on, as most children are. The difference is that my early artistic endeavours were being shaped by someone with an art education and years of working and experimenting in many disciplines. We're also very big on books at home, which is how I got into illustration. I was always attracted to children's book illustrations and sought to replicate styles I liked or illustrate my own nonsensical stories. I'm currently at the School of Visual Arts in New York, in my third year of my BFA in illustration. The school and the city have both been an invaluable resource to me as well as to my work.
L: Tiger in traffic ; R: Tiger makes it home
The Inspiration
When I was young, Sheilah Beckett's very traditional, very pretty fairy tale illustrations were a staple. And I had loads of books from Tulika Books, which had more locally inspired, experimental or strange styles. Hand-painted children's book work kept me going until I was about 12 and discovered anime. I also read a lot of graphic novels — Jillian Tamaki, Emma Rios and Wes Craig were some of my favourites. Most importantly, like I said, I grew up with a mother who was an artist and introduced me to traditional art and art history very early on. Lately, I've tried to get a handle on exactly what influences me conceptually. However, the things that push me to make a piece of work are always medium related or formal elements.
The Creative Process
I usually start with a formal element that interests me, or a composition I've seen that I want to draw on. Then I build the narrative into it, based on what I've been thinking of or have been wanting to draw at that period. For the latter, I maintain a list, just incase I figure out a way to depict one of them. The physical process varies from medium to medium, but when working in colour, I work most like a painter, laying out forms and colours in blobs, before refining the shapes and then adding finer line-work on top.
L: House on Fire ; R: My First Period
Themes and Projects
I love longer projects, books or stories to illustrate. I'm a big reader so projects inspired by literature are always most fun for me. I really enjoy how niche the subject matter can get. It allows me to not only build on my repertoire of useless trivia, but also to research and learn to reproduce the sense of so many places, people and scenarios. So any project that allows me to sink my teeth into the subject matter like that is one I'm interested in! I love drawing tigers so if the project allows me to include them as a motif that's a definitive plus.
I also love to work with real stories, and female driven narratives excite me the most. One of my favourite art historians, Linda Nochlin, says that to pretend that there's a whole parallel world of female artists that could rival their male counterparts is ignorant, but I like to believe that there's always been an equally thriving complex female world. I think that there's value in telling women's stories even if they aren't those of participation in male-set up and driven systems. I identify as female, so it's natural that I am drawn to narratives where I can identify with the person involved. I am also surrounded by amazing women, who all have amazing stories to tell, many of which are unheard. So it's nice to be able to contribute to creating the narrative of women's lives and participation in society through my work.
The Pandemic
I've definitely been able to work more merely because I can't leave the house, and that takes away so many time consuming activities. During the school year, while I'm in the U.S. and in college, I can't pursue professional opportunities. Being home has really allowed me to take on many projects and learn from these experiences. I've had to get more creative with materials because of the lack of access to some of the ones I like and am familiar with, and I've definitely been able to get more comfortable with digital media than I ever have, learning to produce effects that I am satisfied with.
Text Janani Venkateswaran