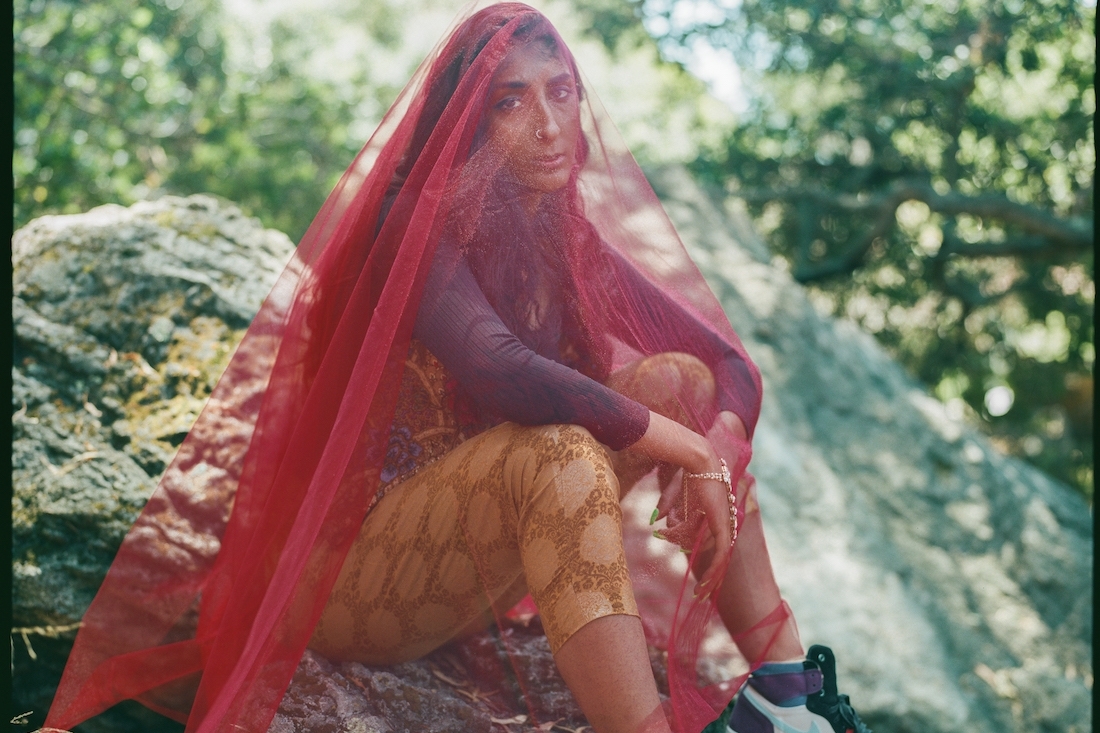 Photography: Simrah Farrukh
A still from Expectations
The South Asian Gaze
Simrah Farrukh
There's a certain way in which we're taught to look at the diasporic community. The Bollywood-esque picture painted for us has always been a very white washed version of their struggles. Very rarely, the mainstream has been able to capture the tussle between immersing into a new culture as opposed to holding onto one's roots.
It may be 2020 but racism is still alive and kicking. Drawing attention to this is budding photographer Simrah Farrukh. The young Pakistani-American's lens is giving South Asian women a platform to tell their own stories without being treated as exotic objects to be consumed by the Western gaze. I reached out to Simrah to know more about her journey and her work.

How did your relationship with photography begin? Is it rooted somewhere in your childhood?
I started taking photos when I was 14. What started it all was when I rediscovered my father's film camera, that he used to capture me and my brother's childhood with. Around the beginning of my photographic career, I had also taken a trip to Pakistan where both my grandmothers' shared hundreds of old black & white family photos with me. My dada always used to make my dado dress up in different outfits and would do mini photoshoots of her. As a 15 year old this left a great impact on the way I photograph my own subjects. I often look back at these photographs whenever I'm feeling unmotivated or in a creative rut. I always find something new to look at and study the emotions and expressions in them.
What is it about the brown female subject that interests you the most?
I see power and strength in South Asian women. We are delicate, yet strong and this is alluded to in my work with the juxtaposition of soft, dreamy tones and confident, resilient expressions and poses.
What does your creative process look like? Tell me a little about your series on colourism. How did you ensure representation didn't turn into exoticisation?
Research. It's important to do your research when making art. Without research you are susceptible to making a lot of mistakes. My research includes reading journal articles, listening to others about their experience and looking at recent artworks, based on the topic. I did the colourism series in my sophomore year of college, so for me that was the first project that could go wrong if I made any mistakes and it was certainly terrifying since the cancel culture on social media was just becoming a thing. No matter what, some viewers are going to exotify oriental cultures, but to be sure that I did not exotify them using my own lens was to introduce the women and tag them, so that viewers could see them as people and not as models to exotify.
Tell me about your photo series Expectations and what propelled it? Does it stem from personal experience as well?
This series is about the expectations Pakistani and other South Asian societies have from women, to be a certain way. My personal fashion style is a bit tomboy-ish and I grew up with older brothers, and as much as I loved playing with my Bratz dolls, I also wanted to partake in their Dragon Ball Z fights. The red tule in the photos is meant to symbolize society attempting to cover up a woman who might act or dress a little more masculine.
Your series, Daughters, has a fairly positive outlook, it has a happy premise. Have you also considered shooting the anxiety that plagues this relationship, especially in the diasporic community since different generations form their identity through different perspectives?
I have thought about the outlook of the project, and I plan on continuing this series and including women who have lost their mothers, who don't have good relations with their mothers, or any mother daughter relationship on the scale of positive and negative, simple and complicated. I am grateful that I come from a healthy home, but I also recognised early on that this is not the case for everyone. My art isn't meant to focus just on me, it is meant to focus on different stories.
What projects are you working on next?
I have a lot that I am working on. Right now, I am interested in the intersection of photography and anthropology. The South Asian diaspora is so vast and although we come from the same subcontinent, there is much diversity to be shared. Bollywood drowns itself in homogeneity and creates a false understanding of what the diaspora looks like. So currently, I am doing a lot of research on anthropology and how I can incorporate those concepts into my photographs.
Text
Unnati Saini