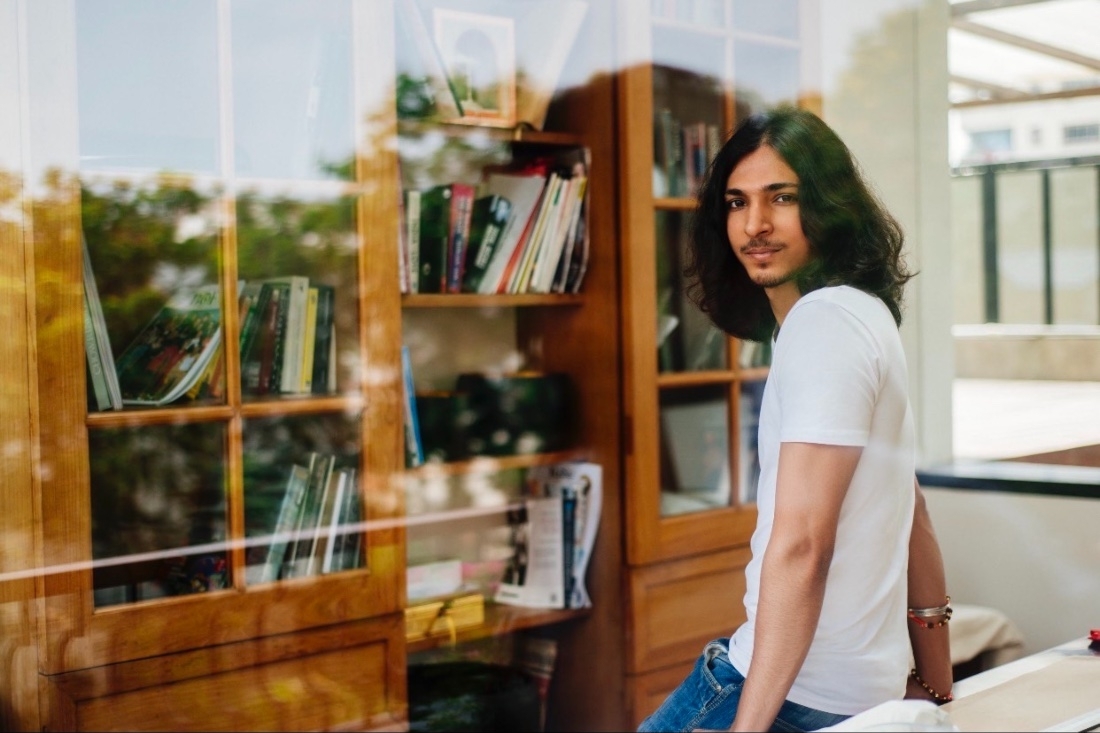 'Growing up surrounded by the arts, especially textiles and embroidery, has helped me develop a certain aesthetic when it comes to the way I see and create things,' says artist and fashion entrepreneur Viraj Khanna. As he extends his creativity to various other mediums, he has now debuted with his solo show of art and sculptures, titled What My Mother Didn't Teach Me.
Giving us some insight into Viraj's show, Somak Mitra, the Director of Gallery Art Exposure tells us, 'His sculptures are quaint, with a unique presentation of bold colours and extremely expressive faces and figures. His works have a very distinctive feature, at first there is no relatability but when observed for a long time, you sense various emotions and human conditions. As an artist, his works seem liberating to himself, and to the viewers as well. The art world needs more of such contemporary practice to put India on a global map. As a gallery, we would love to encourage and represent such young talent.'
We connected with Viraj to know more about his aesthetic and craft.
Tell us a little about your debut show What My Mother Didn't Teach Me?
The whole thing began during the lockdown, when I was trying to make collages as content for our fashion page. I never thought I would branch out separately, away from clothes, into sculptures and paintings. The transition has been very interesting since everything I make is still used in many different ways — in the form of prints or embroidery — in our AK-OK line.
This show is about the human condition. I am portraying my view on society. I think that human beings are inherently imperfect beings, but we spend our lives trying to be perfect or look perfect. Basically, we are putting on a face quite often and that is what I am portraying in different ways.
You have grown up surrounded by art and design, how easy or difficult was it to find your own voice/ artistic sensibility?
Since I have been surrounded by art and design for a long time, I think it has helped me develop a certain sensibility. When we make embroidered clothing, there is a constant process of experimentation. We are always combining various different elements, in order to create these astounding pieces, and that has helped me learn how to 'put things together.' Honestly, it wasn't difficult to find my own artistic sensibility since I used the same process and transcended into different mediums.
You engage with mixed media, sculptures and create collages. What kind of meaning do you look for in images?
I create figures or structures using various related or unrelated elements. By elements I mean different objects. Each object has a story to tell and the combination of each object creates a whole story for me. Basically many stories, when put together, create a complete picture. When I put a certain figure or a structure together, every element has a story to tell. The combination of them showcases a journey or the combination of experiences in one's life.
Can you deconstruct your practice and process?
Everything starts with a paper collage. This is the way I am able to express myself best. Once I am able to create a basic layout, I develop them into sculptures. I cut up magazines and encyclopaedias, and take out all the elements which have a meaning to me or would help me express myself. Then I select and put them together to create the story I want to tell. Then this prototype of sorts leads to everything else.
You have been part of the fashion world and now you are entering the art world. As an artist, what is it you wish to communicate through your art?
Through my art, I wish to communicate that people are inherently flawed and it is okay. In the end, everyone is beautiful in his or her own way. There isn't a need to constantly fight it or try to present an opposite picture. Everyone has their own experiences in life and grows from them, and there is no need for comparison. I think that there is beauty in the imperfection!
Lastly, boundaries are blurring and we live in a hybrid world of creativity now. Where would you like to see yourself in this ocean, celebrating all forms of the arts?
I am open to every opportunity and experience that comes my way! I think it would be too soon for me to decide where I would like to see myself since I am constantly evolving everyday. But I would like to keep learning and gaining experience in different forms, and constantly experimenting with different mediums.
The show can be viewed online here.
On Display | 14th March – 22nd March 2021
Venue I The Loft, Quest Mall, Kolkata
Text Shruti Kapur Malhotra
Date 15-03-2021