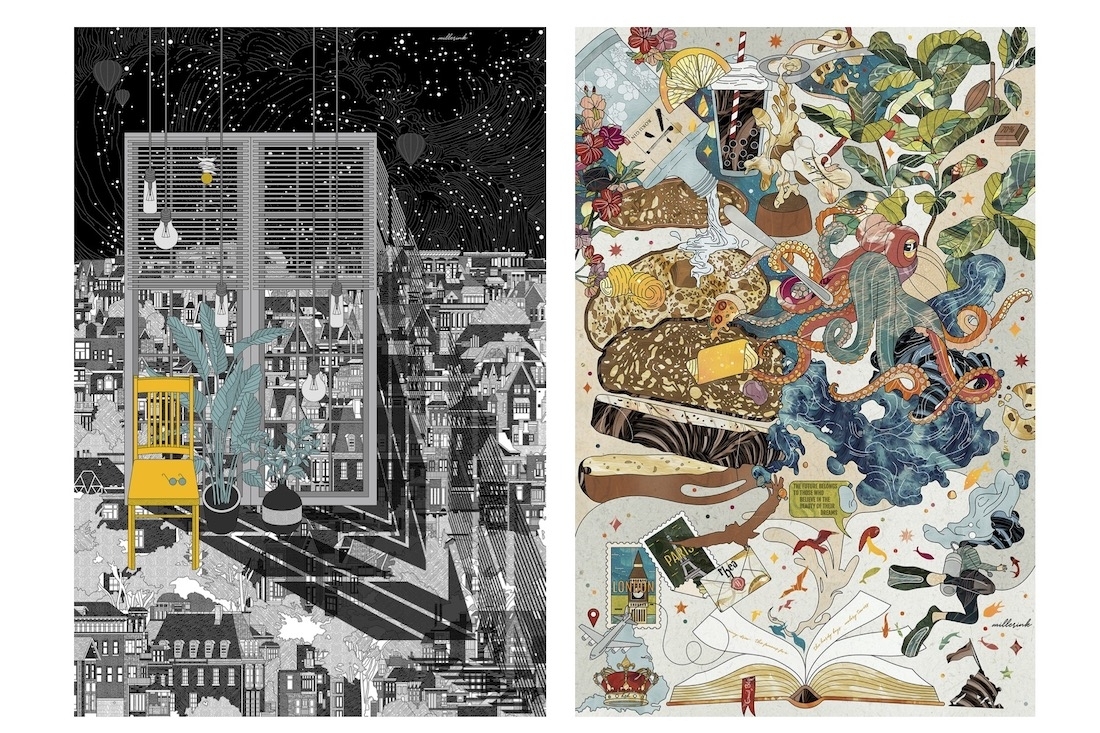 L: Living Windows II ; R: Alisha Commission
Architect, illustrator and graphic designer Aashti Miller, jokes that her works are detail (dis)oriented. And details are what strike you when you first see her art. As a licensed architect in India and USA, Aashti's artwork is a blend of her love for spaces, places and faces. She is the force behind MillerInk, a graphic design and illustration studio. It is through this endeavour that the architect and the illustrator in her find themselves bound in the many layers of her prints. It is possible to stare at a single piece of her artwork for hours and still find a new element, waiting to be unpacked. Her drawings deconstruct familiar spaces, adding fluidity to distinct lines.
In a delightful conversation, she shared with me some details of her journey, artistry and more.
Tell us about your early years. Have you always been interested in art and architecture?
I was always interested in art and design. Having grown up with an architect father and a fine artist mother, ensured that I was always surrounded by creative thinking. What attracted me to Architecture was the idea that I could unite my passion for science and art. I do not think Architecture is either of these disciplines, but it borrows the spirit of both in a unique way. What surprised (and delighted me) when I started my course, is that so many students pursuing the major, did not have a specific idea of what they wanted to do in life. Much like me, they came in with an inkling of what they liked, and so were using their time in school to figure out the best path forward. I tried to maximise my time in that environment to re-learn how to see the world through a completely different lens and how to uniquely represent it on paper.
How do the worlds of art and architecture lend to each other?
It has been eight years since I started studying Architecture. Today, I am a licensed architect in two countries (USA and India), and I continue to actively work on projects in both. One would think that this means that I am certain of the path that I am on, but I will always view my choice to pursue design as an ongoing experiment because one form of design can never exist without another. I started MillerInk in an attempt to find order in this chaos — by formulating an equation between the two fields of design that have always attracted and confused me. I am just starting to learn that it is the collision of these two worlds that leads to the most unexpected and compelling results.
How has interlacing art and architecture influenced your work?
I do think the amalgamation of art and architecture is something unique I am able to bring to the table. I have been able to borrow from both fields to make my work more interesting, cerebral, challenging, and fun. I always knew that I wanted my artwork and illustrations to be heavily influenced by my academic and professional background, but when I first started MillerInk, most of my work was a little aimless and reliant on cues from my social media following and followers. Once I built a community of fellow artists, creative enthusiasts, and new friends, I was able to collaborate with some wonderful organisations and clients, who began noticing stylistic consistencies in my work that I was not aware of myself! This really did help me find my distinct voice in a critical yet productive environment, by pushing me to embrace the lack of control.
Your works are extraordinarily detailed. Can you deconstruct your creative process for us?
I think the only thing that I can say for certain about my style is that it is very detail oriented. I have spent over an hour drawing a single plate of food or a plant that is visually about 2% of the total composition. Spending this time, focusing on the details, may seem fruitless to some, but I believe it is what defines the little style and/or aesthetic I do have — I like to believe that I am detail dis-oriented! Because of how intricate each piece of mine is, most people assume that my creative process begins with sketching. However, I have never been good at this (I believe that sketching is one of the most critical and underrated creative tools in an artists' arsenal).
To start, I typically pick one theme that stands out to me and just begin drawing from there. Other elements almost always are born out of this starting point. I usually end up revisiting this first element at the end of the drawing process as well to ensure the story is complete. I see this whole process almost like a game of Legos, where you do not have a template of what the final assembly is going to look like — you have a bunch of pieces that fit together somehow, you pick a place to start, build a foundation, and then slowly, organically, and almost magically, the entire composition evolves and is completed.
You reimagine space, often adding a cultural dimension to it. Is there a story behind this?
I feel that all Indians have a unique ability to reimagine space. You see it when the 'fruitwalas' occupy a sliver of space between a road and a building wall with an umbrella and stacked boxes. You see it when balconies are repurposed as storage spaces for forgotten bikes and exercise equipment. Even the fact that we describe cross streets by where a renowned 'paan' shop is located, is evidence that we, as a population, have redefined spaces culturally. So, there is no single story behind me doing this through my work — it is just a reflection of what has always been happening around us, every day, by everyone. I love it when people comment that my work reminds them of a special place in their lives (especially ones I haven't even visited or seen before). It's a sign to me that the work I am putting out there is resonating with my audience.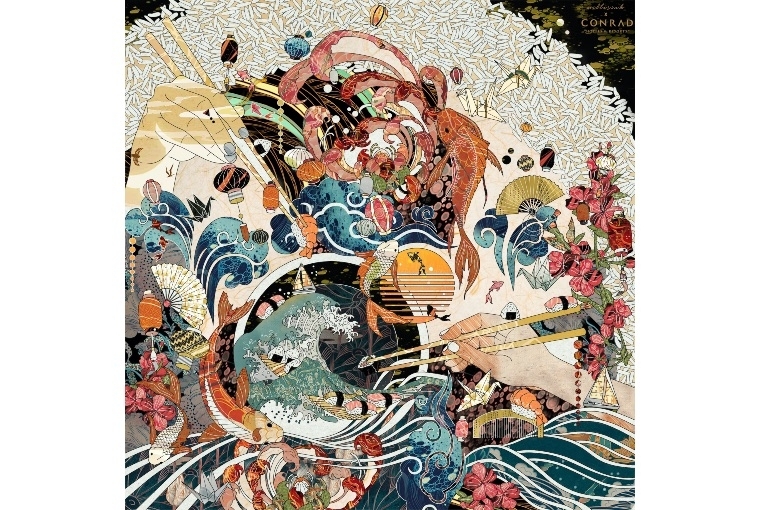 What is your favourite medium of art?
Even though most of my work is digital, my all-time favourite medium to work with will always be the drafting pencil and pen. When I was young, I always struggled with painting — I was never comfortable with the lack of control over my output. When I began studying Architecture and learning how to draft, I discovered that drawing by hand can both be precise and organic at the same time. I spent countless hours hunched over a drawing board and straightedge on the floor of my college dorm room, teaching myself how to draw, redraw and layer, to create work that was surprising and informative at the same time.
Whether in the arena of art or in life, who, or what, are some of your greatest influences?
This may sound cliched, but my parents have always been my greatest influences — unusually, in the arena of life and art. As a child, I had the privilege of always being exposed to creativity (even when I hated it!). While my mother raised my sister and I, our home was her studio, and so I was able to watch her paint every single day. Our floor was always splattered with paint (which she would eventually scrape off and reuse in her work). My father built his architecture practice from nothing, and his hard work and perseverance have influenced my work ethic tremendously. Even when we travelled, my mom would be painting abstract watercolours in our hotel room, and my dad would be sketching up floor plans on paper napkins at a restaurant. Like many Indian parents, they are extremely critical, and like many Indian children, I am always trying to improve my skills to impress them (a next-to-impossible feat!).
Tell us about Millerink. What was the ideation and inspiration behind it?
After graduating from architecture school, I started working at Pickard Chilton (New Haven, Connecticut) as an architectural designer. I was lucky enough to find a workplace that encouraged me to simultaneously pursue my specific passions within design (graphics and illustration) and broaden my architectural education. My mentors and colleagues were encouraging, warm and familial, which created a very open learning environment. This was especially important for me, being so far away from home. While working there, I spent most of my weekends drawing for design competitions, creating wild and speculative illustrations that trod the fine line between architecture and graphics. Although overwhelmed at times, I was never uninspired or creatively stagnant. When I moved back to India in 2020, I wanted to pursue my explorations even further and so I started MillerInk. Within a few months, what started as a fun side-project, has grown beyond my wildest expectations. I have had the opportunity to work with some amazing clients on some of the most interesting projects.
What has been your favourite project/collaboration so far?
I designed special edition medals for the marathons held in four major Indian cities in 2020-21. This project was my first chance to work on a design with such national impact and exposure. I feel that it was the perfect amalgamation of architecture, graphics, product design, and illustration. I especially enjoyed the process because the concept was based on humanity rising beyond the odds in these challenging time. Inspired by the Indian symbol of the 'Ashoka Chakra', the medal serves as a symbol of hope, faith, and perseverance. The design consists of two interlocked rings of spokes, which are mathematically increased and decreased to create a mobius strip like form, further reinforcing the concept of unity and non-duality.
What has it been like to create within the ambit of a pandemic? Has your relationship with your work changed in any way?
I am usually inspired by spaces, places, and faces, so there is usually a bit of each of these in everything I create. Being at home during lockdown has limited my access to these, so I am looking forward to the day when we can interact with and learn from our environment more safely. Even before the pandemic, I was working from home (and I have always been a homebody) but adjusting to a new worldwide mode of working was extremely challenging from me. It has resulted in the complete blurring of the boundaries between profession and vocation, which has been beneficial to my evolution as a designer, but has been difficult for me as an anxious creative.
According to you, what role does the artist occupy in society today?
As humans, we will always be driven by our senses; any and all forms of art are able to engage our senses in the most primal and visceral ways. The fact that millions of people can listen to a song and cry because they think it describes each of their lives perfectly, is proof of this. Growing up around art, I have always thought that the visual arts can evoke the same reaction. All artists want is a reaction and social media has made that so much more achievable.
Lastly, what's next for you?
My answer to this is short and simple — working only on projects that I am passionate about and not for the likes, shares, follows, compliments, or money.
Text Devyani Verma
Date 22-7-2021