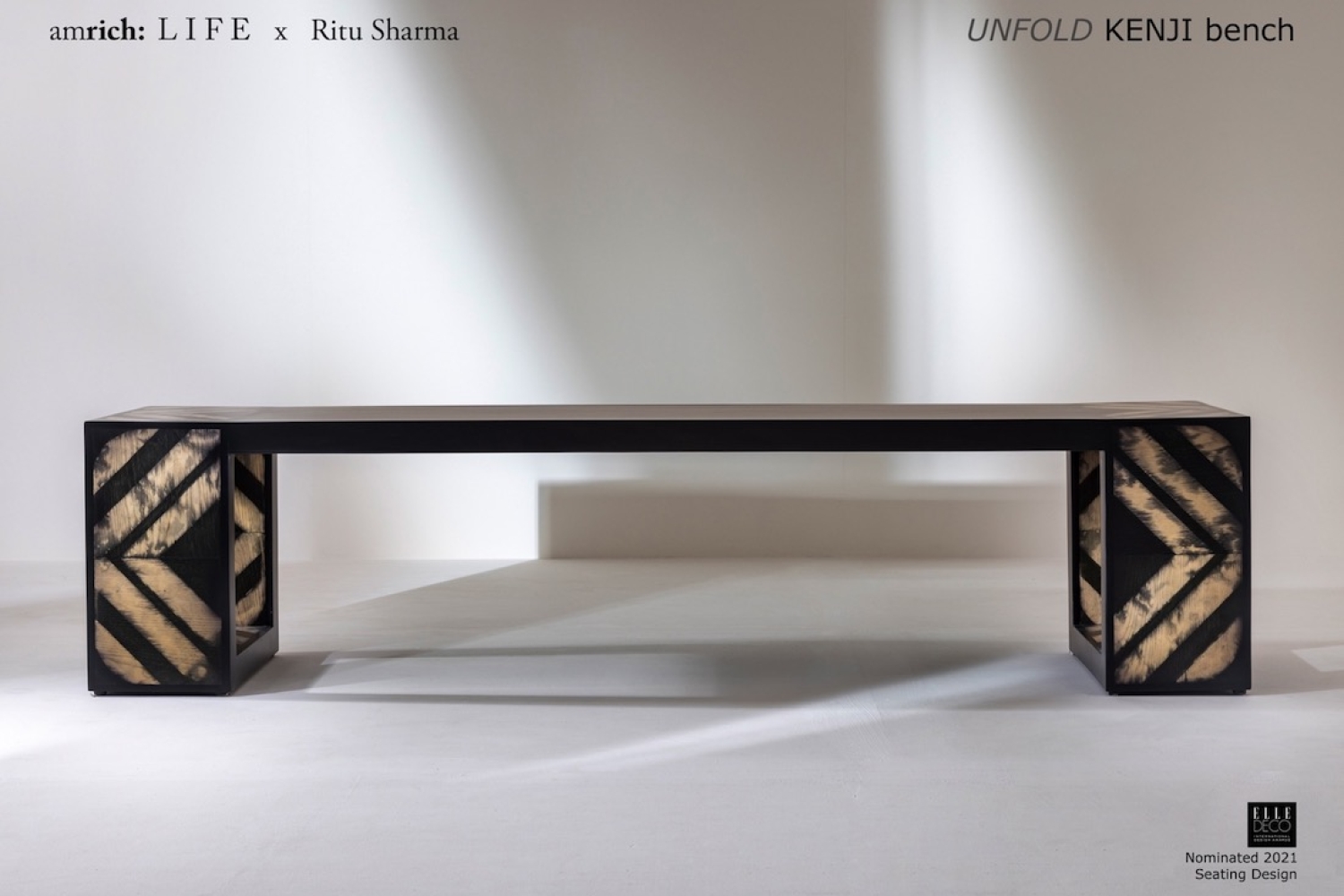 amrich: LIFE x Ritu Sharma
ABOUT THE COLLECTION
UNFOLD draws inspiration from the ancient Japanese resist dyeing technique of Itajime Shibori or clamp resist dyeing, applied to hard surfaces to create one-of-a- kind statement bespoke furniture pieces. Traditionally the technique involves the folding of fabric in specific manners and clamping it between pieces of wood/board (clamps) before immersing in dye. The fold of the fabric and the type/shape of clamp used, gives the resist dyed textile its pattern on unfolding. Working with waste material sourced from workshops years of research and development with a variety of wood, technical knowledge in collaboration with skill, gave rise to a new dimension of the craft and its application. Experimenting with the organic textures of wood and layering it with pattern and colour through the resist dye technique gave rise to exquisite interactions of the grain with the dye — bold patterns, which seem to emanate light as layers of dye interact with the natural texture of wood. Geometric patterns bleed out in a subtle haze or leave a crisp line, showing the varied characteristics of the dye on the wood surface.
This achievement of patterning on wood through resist dyeing, further pushed us to create unique furniture pieces, which celebrated the patterns in minimal and elegant avatars. Detailing of manually fitted polished brass adds another element of interest to the pieces. The idea of offering functional art in the form of bold statement pieces of furniture to the world was carefully unfolded.
ABOUT THE LABELS
The amrich: clothing label was born out of two NID graduates', Amit Vijaya and Richard Pandav's passion, more than a decade back, as a statement on the luxury of hand-made and the richness of Indian artisanship. Working closely alongside a variety of skilled artisans and retailers from around the country, amrich: has strived to constantly upgrade skills and opportunities of artisans on the one hand, and create awareness and appreciation of the crafts using design as a bridge between the producers and the end consumers.
Ritu Sharma is the founder of SOL STUDIO (an interior and furniture design studio) and brings with her a rich experience in the field of furniture design. Having worked with solid wood extensively for the last decade, she has designed furniture for various retail brands, interior spaces and architects. While collaborating with her, who is also a friend from NID, the idea of amrich: LiFE - UNFOLD was born. With a focus on conscious design and detail, the studio aims to challenge and combine traditional manufacturing techniques with artisanal talent and craftsmanship to create modern products with a soul that seamlessly fit into amrich: LIFE.

This article is an all exclusive from our August EZ. To read more such articles, follow the link here.

Date 18-08-2022