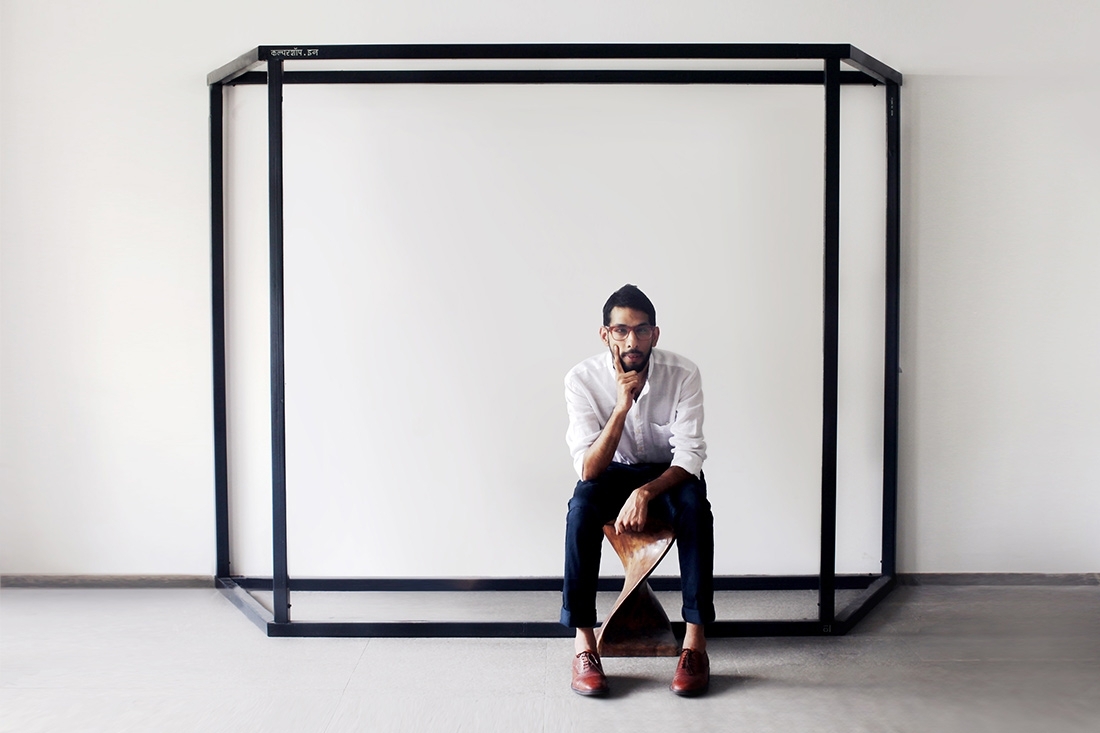 Two twenty-foot high walls on either side decked up with hand picked graphic artworks and shelves decorated with an array of fashionable merchandise - a view of the new 'Art Concept Store' by Kulture Shop that is no less than a modern art gallery. A curated collective of Indian graphic artists, the vision behind Kulture Shop is simple; to make art a part of our daily lives. Co-founder and curator gives us a brief insight into what makes Kulture Shop a one stop junction where art, design and culture meet.

What is your first memory of art?
I grew up in a small town in Zimbabwe, called Bulawayo. Round the corner from my dad's store was the National Gallery of Zimbabwe and I remember being very young and walking through the space which housed a mix of traditional African crafts, sculpture, workshop spaces and a small selection of contemporary art which was updated often. It was an extremely inspiring experience to see artists show their work and be appreciated and loved.

How did you discover your love for graphic art?
As long as I can remember I was always drawing or making something. Eventually I was pulled into designing most of my dad's flyers with hand-drawn illustrations and photocopied hand set type. I even ended up designing a shoe at one point, which went into production while in my early high school days. Unknowingly, it was the first time I saw my own drawing being used as a communication tool and then an actual product.

How did it lead you to Kulture Shop?
While in London curiosity in identity lead me to the tail end of the Asian underground movement around 2003. Exposed to a new British Asian attitude, I found a renewed sense of self confidence, a collective consciousness through urban tribes and a sense of pride to be different. I quickly started working with a wide range of musicians, producers and creators across album artworks, branding, illustration and evolving event identities. During this time I observed that the graphic art and design scene in India was disjointed and largely held together by the advertising industry. As an artist and curator I was soon enthralled in new conversations and debates on how to change the design landscape and provide Indian graphic artists globally a chance to flourish.
For me design and art are vehicles to help me understand this crazy changing world we live in. I wanted to see a fresh visual conversation take flight of what is today's India, what is our place in it, where is it going and how graphic art/design could distill these conversations into their most simplistic form to produce art that could be accessible to all. Kulture Shop was setup as the platform to achieve this.
Art Concept Store at Kala Ghoda
With over 80 artists and counting, how is the list curated?
In the early days of Kulture Shop, we had found it quite difficult to find Indian graphic artists with a unique style and perspective. Over the years the design scene in India has exploded and now there is a rich wealth of young talent out there. We have looked at close to 1500 artists through curation. Some of the things we look for are originality of work, a unique visual style, cultural relevance and technical as well as conceptual refinement. All the artwork curated on the platform has a story behind it and the artists are our heroes.

What's different about the new store?
With the new location at Kala Ghoda we wanted present an "Art Concept Store" where affordable art is available on high street and endorse the idea that art is part of our daily lives. The space will host art & visual culture events such as exhibitions every two months.
While Kulture Shop Bandra is our base and serves as an open studio and shop so visitors can see show the studio, artwork and products all come together. Over the years the space has evolved and taken on new forms as we hosted exhibitions, events, added new team members, artists and products.
As a curator, what advice would you give to young and aspiring graphic designers?
Avoid getting lost in style, trends and social media likes. I always tell myself to not be afraid to experiment and make mistakes. To get a better understanding of how the scene operates, join a creative agency post studies and learn where you see yourself in it. Lastly, keep making and creating everyday.

What else is in store for 2018?
We are extremely excited to introduce a whole new host of artists on the platform and expand our core curation of graphic art, illustration, mixed media, typography and patterns to new cities. We are also thrilled to mix up the Kala Ghoda store and utilize it as a hub for artist talks, events and exhibitions and open space for all creatives.

Text Garima Gupta