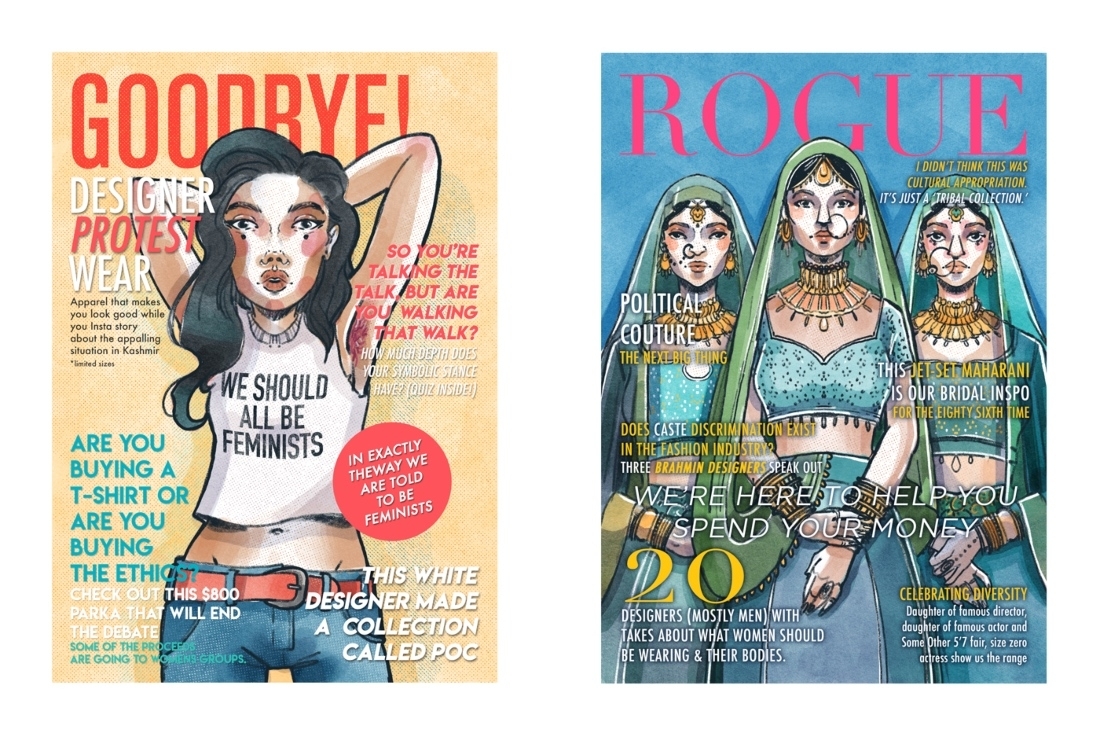 The Artist
My first introduction to illustration was my aunt, she used to work at an advertising agency in Delhi. She used to live with us at the time and, like all advertising agencies, a lot of the work came home with her. I used to sit on the floor near her, while she was working and do my own thing — on reams on computer paper and using her art supplies. I don't think I had a massive epiphany, per se. I just started drawing and trying to make my own (terrible) versions of the things I was reading or seeing. There were a lot of comics. I used to staple sheets together and start drawing anything that came to mind, cover pages, speech bubbles, adventures with friends, and a lot of dinosaurs! It just sort of grew organically from there. My work's always been narrative based — there's always been a potential beginning, or/and end — and once I saw more and more comics coming in (all the Batmans and other mans), then going for a talk by Orijit Sen on River of Stories, I wanted to make sure it was something I'd end up doing.
I get influenced by a lot of things — Quentin Blake initially, then a barrage of DC/Marvel illustrators (I'd practice by trying to replicate their pages), Becky Cloonan, Sophie Campbell, Alan lee, James Jean! Video games, concept art. Books I'm reading, photos, Guillermo Del Toro's general aesthetic, and a lot of Manga!
The Art
You know that quote, 'inspiration is for amateurs, the rest of us just get up and go to work,' that's my creative process. I used to do this thing where I'd just roll an idea around in my head for days, antagonising over it, and then not really have anything to show. Now I just sit down and start drawing immediately, it might be two drafts, or a 100, but at least I'm not going to be staring at a blank sheet of paper. It's given me a little more spine when it comes to having more faith in myself as an illustrator.
As far as my artistic sensibility is concerned, I'd like to call it anxious. I'm always anxious — about the work I'm doing, work I did, work that has to be done. I think it comes with the territory though, being hyper critical of what you're producing and putting out there. It's gotten a little better over the years, but I think my forever lurking existential crisis is the reason I keep pushing myself more and more. I'm scared of going stagnant. I'm worried that one day I won't be excited about the work I'm doing.
Pig Studio
It's been pretty organic. Almost everything I've worked on is a labour of love. For the most part — and now that I have the privilege to — I work on projects that I'm interested in, that talk about subjects that I care about, have substance to them, with people I want to work with, and I can learn something from. If I'm not being commissioned to work on things that I like, I try and create that sort of content myself — much like it happened with Custom Cuts, or the work I produce for The Health Collective or The CARAVAN, or even the little doodles I do about life. It's brought about a lot of awareness, empathy and growth, creatively and personally, and has given me a clearer idea of the work I'd like to do in the long run.
The Pandemic and Beyond
I work out of the house, so not a lot has changed for me. Personally, I'm generally pretty reserved and okay with spending time alone, so the lockdown didn't get to me that much. It has been interesting though, the sort of forced 'slow down' the pandemic has brought about. Usually I'm a 100 miles a minute sort of a person when it comes to work, but — and I'm sure a lot of creatives have experienced this over the last 5 months, like projects falling through, or getting postponed, or losing funding — the lockdown gave me a little bit of open time, and I didn't know what to do with it. I still don't. I think there's a reason my breaks only last a couple of weeks — any longer and you start climbing the walls a little. It's going back to 'normal' slowly, is it a new normal though? Not for me. I'm probably still going to be chasing payments and telling myself that a meeting, or nowadays a Zoom call, could have been an e-mail.
My work consisted of kids' books for the last year, and there's still quite a few of them, which has been great. Also a few comic projects here and there, that'll always be a favourite medium. That's just for the next few months, which is about as far as I can predict in terms of future projects.