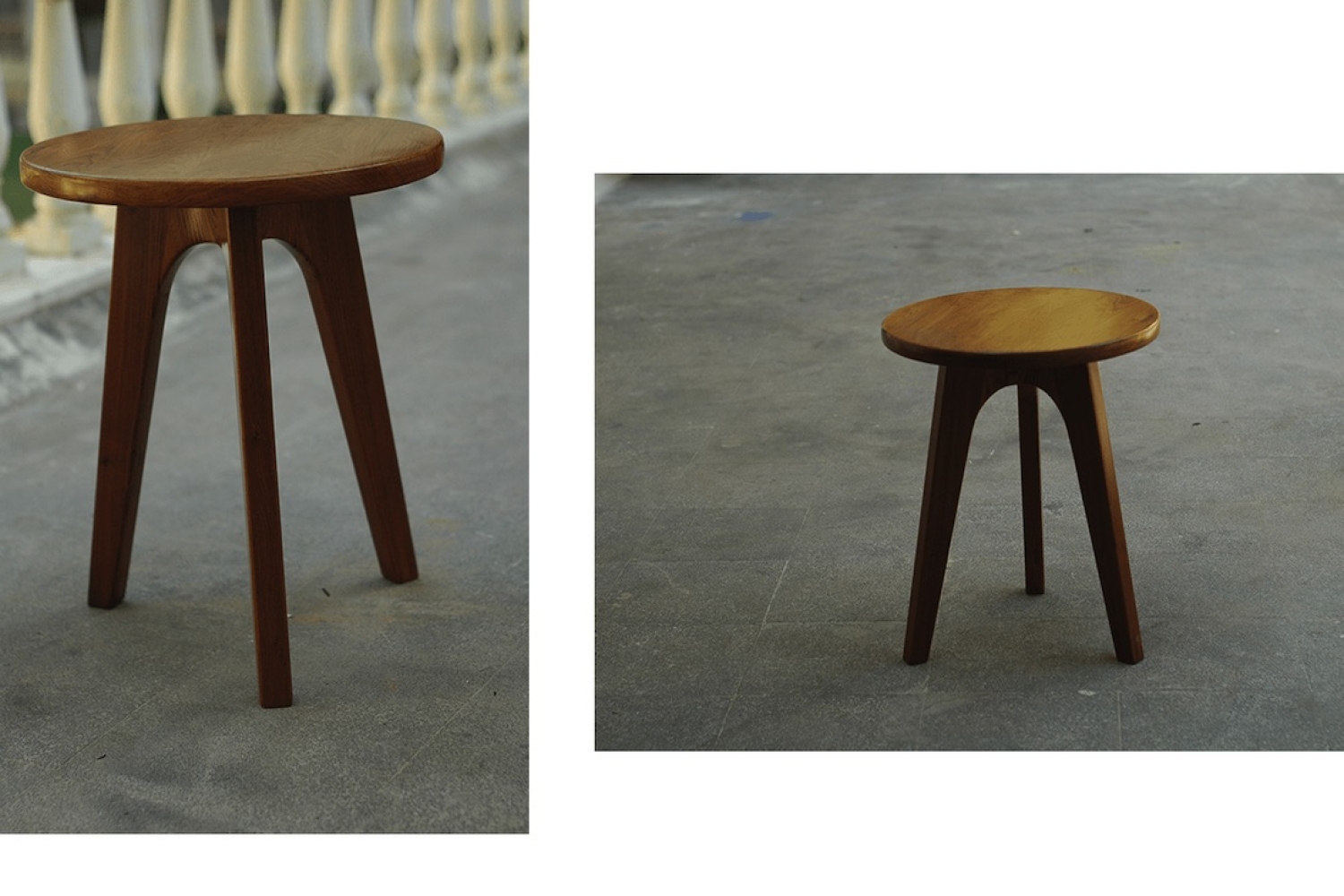 Veeram Shah
Design Ni Dukaan
Veeram Shah conceptualised the practice Design Ni Dukaan in his hometown of Navsari, a small Parsi town in South Gujarat. The son of an antique furniture collector, Veeram spent a considerable amount in his hometown deeply understanding and documenting the pieces while understanding wood work along with the carpenters on ground.
"Along with this, we immersed ourselves in dialogues about music, art, literature. We wanted to create a base and a direction for our thoughts on design and life in general. Having studied in Pune, I was introduced to architecture by Girish Doshi of Navkar architects who had worked with B.V. Doshi for seven years. He runs an informal office from his home where the focus is on an all-round understanding of art-design-architecture. This very seamlessly became a part of how the studio evolved. Modernism was something I explored in college because of Girish Sir and is something I am still trying to study further. The simplicity of Satyajeet Ray's Pather Panchali still astounds me. The simplicity of storytelling and yet creating such powerful characters with minimal resources has struck a chord with me every time I have seen the film."
Below, Veeram lets us in on what design means for him, and more.
The Inspiration
Music has been an important part of the journey. Having spent a lot of years in Pune, I was exposed to Pt. Bhimsen Joshi and Pt. Kumar Gandharva. Classical music is very difficult to redefine as it has strict rules and structures, the way Kumar Gandharva played within these boundaries and yet defined his original style of recitals, has always fascinated me. I also take inspiration from a lot of high fantasy fiction and science fiction. In general, I don't believe that developing your own design process or direction should be restricted to "Design" only. This process is a complete circle of life. The narrative "is" the journey, the people you meet, the books you read, the music you hear, the places you explore.
This holds the same for how we run the studio. We have a very small studio which is an extension of my home. The studio works on the principle of having no boundaries in terms of cabins, age, gender or designation — you are valued by the work you can produce or what you "create". I run the studio like a finishing school, where we iron out all the bits that colleges fail to impart to us. We've had students from all over the country becoming a part of our family. We do not have any official timings for the studio and it is an ongoing, perpetual lab where thoughts flow and dialogues happen. These are enriched by all the other musicians, artists and thinkers that we host.
The Practice
Design ni Dukaan, founded in 2013, colloquially means, 'a shop for design'. We are a multidisciplinary studio based in Ahmedabad, Gujarat, focusing on the concept of design in totality and without distinction. As a studio, we deal with design sans scale. This includes architecture, interior design and furniture design projects. We are a community-based practice devoid of the conventional cabins and designations. Our practice is in a constant state of evolution in terms of its structure and the collaborations. The only constant is, likeminded people and their thoughts converging to evolve a singularity — Design.
We believe design can never exist or be created in isolation. Rather, it is a collective expression of a person's experiences, from the profound to the mundane. The studio has designers of different backgrounds coming together and celebrating "design" or the simple act of "creating".
The practice is divided between the studio and the workshop. Both these entities work in cohesion to translate our ideas into functional forms. Every person, from the principal to an intern, the carpenter and the artisan, holds equal importance throughout the process. As an essential element of running this practice, intellectual discussions are only valid if the technicalities are resolved. 'Creating', hence, becomes a collaboration between the designer and the artisan, between the intellectual and the craftsmen.
The Purpose of Design
Design is not a profession for me — it is my circle of life. Design cannot evolve in isolation. It defines who you are as a person, the clothes you wear, the way you talk. It builds your character. I always look to sources beyond design to help me create. It is complicated to put into words, but art, music, literature, cinema and people have always helped me shape my forms. It is a slow process, and it is meditative, inwards looking. It is like the form of a raga. An aalap, where you are getting into the mood of the raga, by the time you come to the bandish, you are one with the spirit of the raag, and the taans that follow come very naturally. You start slow, and you come to a peak, and it is then that you are one with it.
The Process
We stress on being fluid — to create a collection of forms, shapes and experiences that shape the space and get shaped by it, with different elements coming together to create a distinct narrative. We work closely with our artisans at different stages of the projects, resolving and refining the details. Design is a way of life and this is why we look to various aspects for inspiration. Music, literature, art and cinema serve as our muse and become a seamless part of our process. Our intent lies not in creating to impress or impose, but rather to engage and exemplify daily experiences. To feel the intangible from the tangible.

This article is an all exclusive from our April EZ. To read more such articles, follow the link here.
Words Unnati Saini
Date 27-04-2023