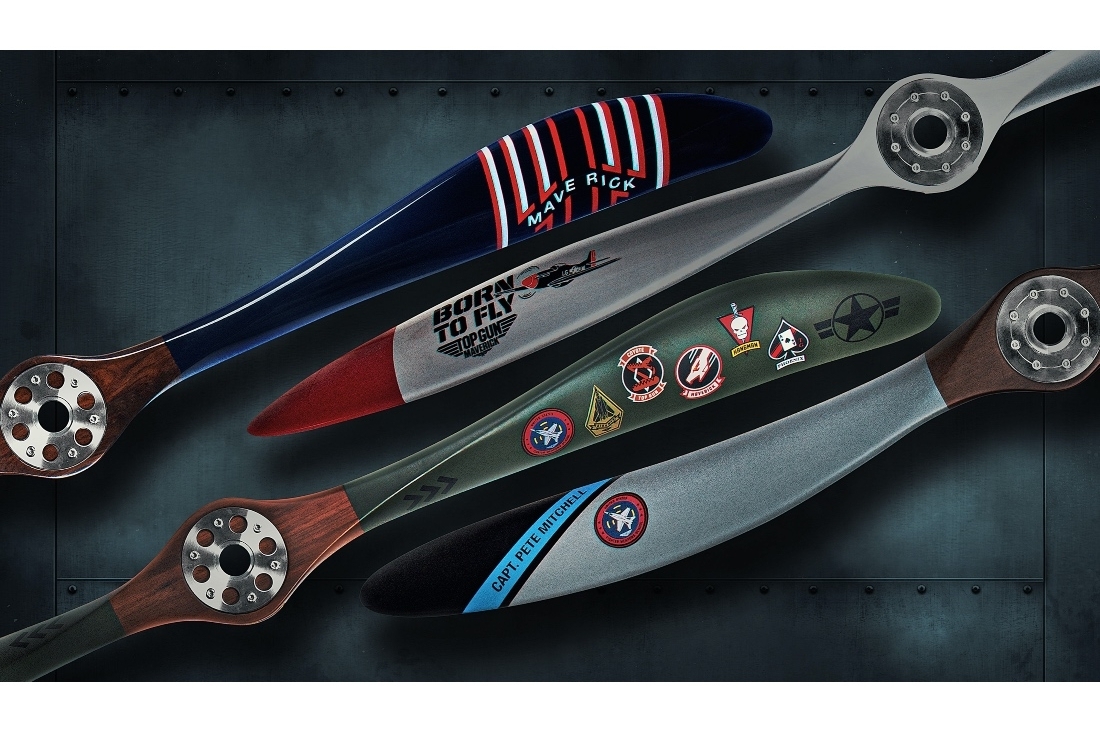 WoodFeather is a Mumbai based luxury aviation décor brand founded by Akshay Sharma. Inspired by his own passion for flying, Akshay conceived the brand in 2015 with the dream of every home having a propeller with its own story. Each piece is carved from a solid log of vintage wood and is entirely handcrafted by artisans. Offering a unique character, superlative design and high finish, WoodFeather's collections are sought after by aviation enthusiasts and luxury homeowners alike. WoodFeather is now also collaborating with Paramount Pictures' TOP GUN franchise, to launch a very special limited edition of exclusive handcrafted propellers for the much-awaited sequel. With this association, WoodFeather becomes the only luxury brand from India to be accorded exclusive global rights by Paramount Pictures in re-defining 'Aviation Art'. We're in conversation with the founder Akshay Sharma, who is also an artist, a pilot and a marketing whiz running a food business.
Tell us a little bit about yourself and how were you led towards WoodFeather and aviation design?
My love for the skies and fascination for airplanes is as old as I am. But making propellers was never something I had planned or imagined. WoodFeather's creation was more an accident than by design. It started when I wanted a propeller for my new home and couldn't get one on this side of the world. After several failed attempts to source one I decided to just make one for myself. With no formal experience in woodwork or product design, I still took up the challenge. I had many admirers for my experimental piece in my living room so I decided to do a better job of it. Before I knew it, my interest in perfecting the design and trying new ones had become a goal. At one point, when I had made a dozen experimental designs, it began getting buyers. That's when I realised that if made right, even something as quirky and uncommon as a propeller could make for a great statement piece, and that's when WoodFeather was born. In the last four years the brand and our products have taken quantum leaps, winning hearts and accolades worldwide.
Tell us a bit about the collaboration for Top Gun with Paramount Pictures?
Like every kid from the 70s, I grew up as a fan boy of Top Gun. Top Gun influenced much of my love for aviation in my formative years and Maverick, played by Tom Cruise, was a role model in many walks of life. Eventually, getting my Private Pilot's license was a big step in cementing my love for airplanes and subsequently WoodFeather became my way to take the spirit of aviation into people's homes.
On 27th June 2018, when the trailer of the sequel Top Gun Maverick was released, it got me excited beyond belief. My first and instant thought was, what if I could make a Top Gun x WoodFeather propeller? Of course the possibility seemed almost impossible for an iconic brand like Top Gun to want to partner with a modest little brand like ours. But the connection between the movie and product was undeniable and motivated me to push my luck. I knew there was a minuscule chance of this partnership materialising but there was still a chance I was happily willing to take. And the moment I shared the idea with Paramount's Indian team, they instantly saw the value in this unique partnership. However, the call was to be taken by Paramount Pictures HQ in LA and Tom's team gets involved in all partnership decisions too. It took almost a year of discussions to cement the contract and I was in absolute disbelief the day I received the signed copy.
What had seemed a distant dream or a fantasy was happening for real. Paramount Pictures had seen value in this association and awarded WoodFeather the exclusive Global rights to make the official Top Gun Propellers. I cannot express what the marriage of my brand with Top Gun meant to me. To see the WoodFeather logo sharing space with the Top Gun logo, which I revered all my childhood, is beyond words. Almost 18 months later I still feel the need to pinch myself to realise that it has actually happened, for real!
What is it that informs your practice at WoodFeather?
Firstly, each design is born from an inspiration, which is expressed in the propellers shape, size, finish, colour et cetera. It could be an airplane, a character, a place, a sport or just about anything. Our designs resonate with different aspects of our clients' personalities, thereby becoming an extension of their persona instead of just another artefact. In fact, I insist that every client must personalise their piece so it is uniquely theirs and has a story of its own. It could be dates, names, logos, quotes or just about anything that is of importance or memorable to them. That's what turns the artefact into an heirloom. As far as finish and quality are concerned, there's no room for a second best. Our pieces are entirely handcrafted so it takes our highly skilled workers several weeks to make a single propeller. But the quality shows in the exquisite finish of our designs, which is what earns the piece its WoodFeather badge.
What does your creative process look like?
Much like most things art, the design ideas stem from just about anywhere and anytime. I start with putting pencil to paper and sketching my imagination. I like to innovate with at least once aspect on every design, which is why each design is unique. Once the design, material and finish details are locked, the stencils are made and the woodwork begins. After achieving the desired shape, which is carved from a solid log by hand, the next stage is about achieving the right colour/polish and finish. This takes several weeks and sometimes up to 10 coats of sanding, paint, polish and lacquers. And finally the embellishment of the design with metal tipping, hubs or stickers, as the design may demand. Finally, a last quality check by me, before it is packed and shipped to the client. The entire process takes 5-6 weeks and is done entirely by hand, which earns the piece its 'Handcrafted by WoodFeather' badge.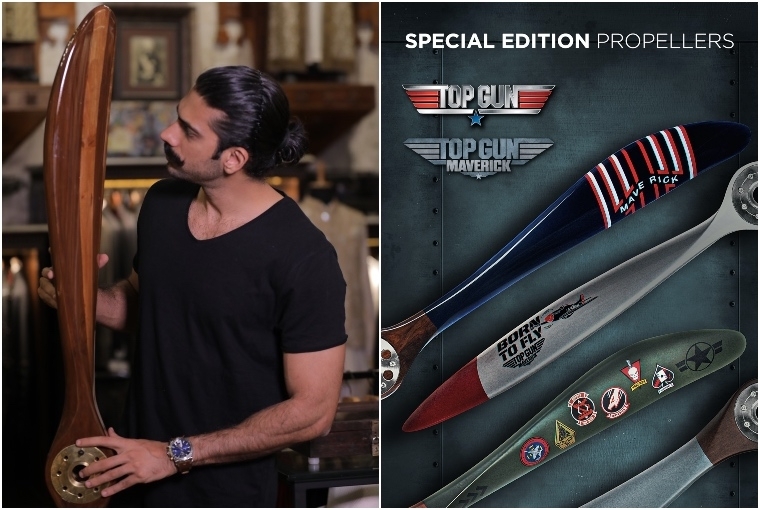 L: Founder, Akshay Sharma
How does sustainability find a way in the WoodFeather blueprint?
It's important for us to be responsible towards the environment, given that we use natural wood to make our products. To ensure we are not encouraging felling of tress and deforestation, we use only reclaimed wood and felled-wood from licensed sellers, mostly the former. This ensures that we are re-using much of the wood, which has been in use for many years. Most of the wood we use has been earlier used in construction of buildings, bridges and other structures, and may be well over 100 years old. Also, all other materials used for paint, polish and lacquer are branded goods of the highest quality and do not pose any environment or health hazard.
Finally what was it like during the lockdown and what's coming up next?
For a good six to seven months we did not earn a single rupee. However, with zero orders and workshops shut, we still managed to sustain 100% of our workforce. And finally, September brought good news and since then, business has picked up again. The biggest challenge during the lockdown was mobilising the workforce to return. The Top Gun deal had been signed in June, when the country was in the thick of the lockdown, yet we had to start production immediately at a much larger scale than before. Since ours is a highly specialised craft, which needs experienced hands, we were exploring ways and means to get the work done remotely from the villages where our craftsmen were, and making logistics and material available to them was near impossible under those conditions.
Thankfully for us, the movie release got postponed to 2021, which gave us some breathing time before the workers could return. All in all, 2020 has ended on a big high for us as we announced the Top Gun partnership in December. And with fans worldwide waiting eagerly for the new Top Gun Collection that launched recently, we expect 2021 to start with a bang too!