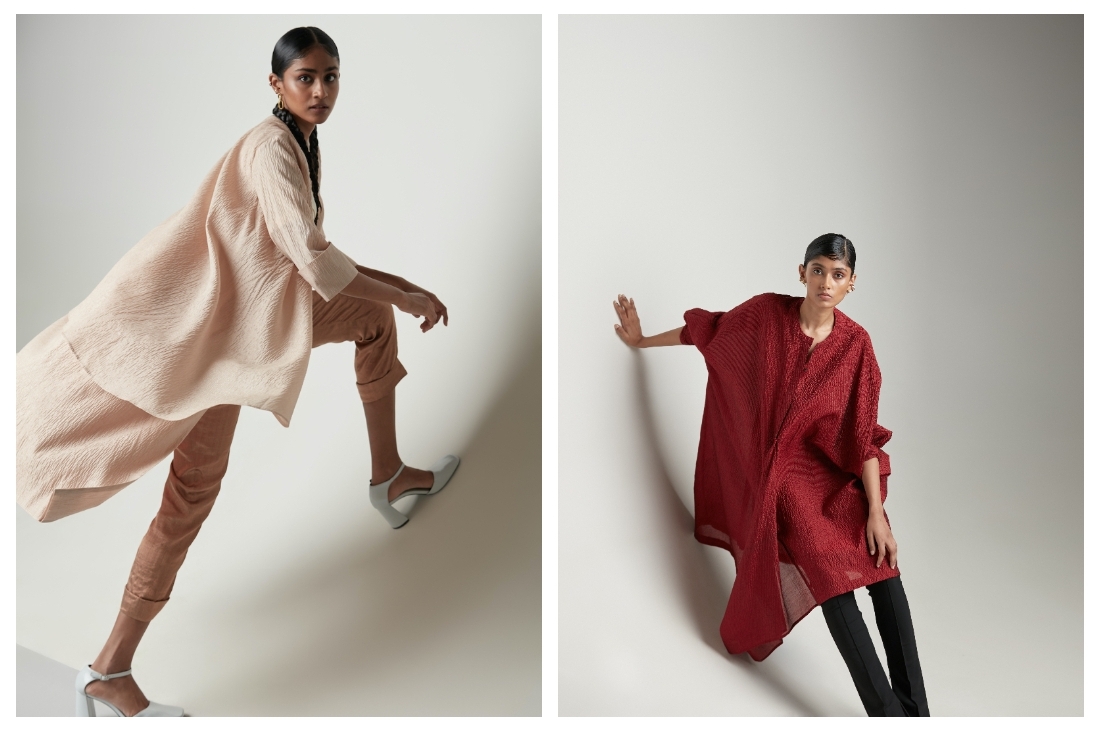 With designs created for the woman of today, Alamelu aspires to become India's pioneer luxury label for the design-oriented connoisseur. Alamelu's first collection, titled Architexture, features a line-up of modern silhouettes, that have been engineered for effortless elegance and crafted using the finest silk, both woven by hand and on cutting-edge mechanised looms. The collection reflects a modern Indian design sensibility, with an international outlook.
Alamelu's creative director, K. H. Radharaman, who is also the founder of The House of Angadi, aims to break away from preconceived notions of what is considered 'Indian' fashion and design. After two decades of pioneering Textile Design work in both the Indian and International markets, Radharaman — a self-taught textile engineer and designer — brings together his expertise in both traditional and modern textile techniques to offer contemporary garments for the multi-faceted, global woman of today. One of Radharaman's most significant sources of inspiration is architecture. When he decided to create a new label encapsulating his passions, he turned to the Modernist movement as the creative pivot for Alamelu's debut collection. Aptly named Architexture, the collection is an effortless, timeless line up of ready-to-wear luxury separates.
We spoke with Radharaman to know more about the label and its debut collection.
Do you remember your very first interaction with textiles?
I come from a family of master weavers, who functioned as court weavers to several Royal families of India. My family has been in the business of textiles in one form or the other for over 600 years, and hence I have had the privilege of being exposed to textiles from a very young age. I grew up in Chennai and my father would often take me with him on his trips to our integrated handloom unit located in the Tanjore district of Tamil Nadu. Those visits are my first memories of seeing handlooms and experiencing the processes involved in making beautiful handmade silk fabric and saris. I used to trouble my father with an unusual number of questions as a young boy, and even had the temerity to make suggestions of my own!
My first exposure to sericulture was probably at the age of five on one of my father's trips to Bangalore, and then to a silk-rearing village in Karnataka called Sidlaghatta. I remember these trips very fondly because I would binge on the famous custard ice creams at our favourite restaurant, the Mavalli Tiffin Room, in Bangalore, and then board the evening flight back to Chennai. Back then, I did not ever imagine that I would continue to walk in my father's footsteps.
How do you think you have evolved as a fashion designer/spokesperson over these years?
Growing up, I always aspired to be a scientist or an entrepreneur. I had a passion for experimentation as a child and conducted many disastrous 'experiments' at home with chemicals and our household objects, much to the disapproval of my mother. This passion stayed with me till my college years at Cornell, where I pursued Engineering. My love for India brought me back after my studies, and I fell in love with the subject of textiles after a series of lengthy conversations with my grandfather during spring break. Even though I come from a textile family, I learnt by hands-on experience, often travelling second-class by train to the remotest craft clusters of India. Those early years gave me experiences like none other.
After launching my retail venture, I started my own textile mill at the age of 28. That was a life changing experience for so many reasons. Interacting with an international clientele and working with some of the great minds in design has had a huge bearing on my work. These experiences, combined with my yen for experimentation, gave rise to my first design label, Advaya, under which I design pathbreaking textiles for the Indian market. With Advaya, I was able to break many moulds and redefine entire genres. My first innovation — the Linen Kanjivaram — was an outcome of my experiments on the loom and is a source of great satisfaction.
My evolution as a creative thinker is an ongoing one. I don't believe in the status quo. I have a need to keep moving forward. This restlessness gives way to many creative outcomes, the latest of which is Alamelu, our first ready-to-wear label designed for an international audience.
How challenging was it for you to translate Indian textile and create a market for it in the west?
My father was one of the pioneer exporters of textiles from India to the West as far back as the 1950s, so the exposure to international trade was always there. That said, he had already retired from active business by the time I ventured into the industry, so I had to learn many things from scratch. Our export business is largely a B2B setup, where we cater to international design houses mostly in Europe and America, in both fashion and home textiles. My whole career has been about swimming upstream and nothing illustrates this greater than the launch of my international business.
I was 26 when we decided to set up a state of the art mill in India in 2006, and by the time we implemented the project in 2008, the world was a very different place. The day of my first client meeting in New York was a day that is etched in my memory. It was the day after the collapse of Lehman Bros, and there was a pall of gloom like I had never experienced since 9/11. I learnt every lesson the hard way, and my clients were good teachers. Obviously, the early years were a struggle and I will admit that there were days when I wanted to just give up. Notwithstanding this, I would still say that the ability to translate Indian textiles to suit the international market was not as much a challenge for me as it was for my father's generation, when we as a country were deficient in the most basic infrastructure.
Let's talk about Alamelu and the starting point of starting a ready-to-wear label?
Although the idea of the label took form over a year ago, Alamelu was born out of The House of Angadi's legacy in textiles, which goes back over 600 years. It is also the outcome of my design philosophy and a culmination of many ideas that have built up over the past year. Over the last twenty years, our textiles have found a place of prominence in both Indian and international markets by way of our work with global fashion houses as well as our brands Angadi and Advaya. Alamelu is a natural progression of the experiences I gained over the last two decades as a designer and fashion entrepreneur.
I also felt the need to explore and contemporize India's vast wealth of textile techniques, and perhaps reinvent their design language to suit a global aesthetic. I have a constant need to push the boundaries of design and innovate with both the visual and technical aspects of fashion, and this creative urge takes a modern and international form with Alamelu. Also, while designing for Alamelu, I was able to shift the point of origin of the design process to the yarn stage. Virtually every single aspect of the garment has been designed in house end to end — the motifs, surfaces, colours and silhouettes. This leads the brand to be absolutely technique and region-agnostic, while creating a sense of wonder through the final form that the fabric takes as a garment.
How would you describe its design sensibility? And how would you describe the Alamelu woman?
My design sensibility is shaped primarily by my exposure to working for the international markets, which gave me practical experience in designing for a global consumer. This also inspired me to undertake several experiments on the loom and with India's traditional weaving techniques. All of these factors led me to imagine and reinvent textiles in a wide array of disciplines. Alamelu is a contemporary design label that seeks to push the boundaries of design. It is a label that strives to be aspirational without being overpriced. I am a great believer that the role of a designer in today's society should be that of a practical innovator. My design practices are a reflection of this.
The Alamelu woman, as I see her, is someone who is well informed, well travelled and is conscious of Design. She is a confident woman who is mature in her thoughts and dresses to express her highest ideals. She could be from anywhere, but what makes her an Alamelu woman is her dedication to her vision that manifests in her work, her life, and subsequently her sense of personal style.
What kind of fabrics/textiles dominate the label?
Our first collection is called Architexture in tribute to two of my personal passions: architecture, and textiles. Architecture is a consistent source of inspiration to me and Architexture is a precursor for all that is to come from Alamelu. The hero of the collection is the technique that has gone into the making of the fabrics. I've explored the amazing versatility of Handwoven Ikat through patterns ranging from the classic Houndstooth to jewel-like Uzbeki motifs and polka dots reminiscent of Yayoi Kusama's work, all woven by hand in the most luxurious silk. The same silk is also woven on our cutting-edge textile machinery into three-dimensional, textured textiles that are light as air, and play with light to create the illusion of ripples of water.

The palette is contemporary, beginning with warm, luminous eggshell tones to soft pebble-like greys, going into moss greens, olive, navy, and jewel-like ruby tones highlighted with hints of copper. The cuts are relaxed and play with proportions and layers. From structured classics like the pantsuit and trench coats, to easy shirt-dresses, tops, tunics and pants, the collection lends itself effortlessly to being styled as per the wearer's preference.
How are the international markets responding to the change in the industry because of the pandemic?
Globally, several supply chains have come to a halt in the immediate aftermath of the pandemic. But slowly and steadily, the world is returning to normalcy and we are seeing a shift in global sourcing. Many European and American brands have begun to shift sourcing from China to other countries such as Vietnam. Sadly India has not been effectively able to leverage this trend. However we as a brand are focusing our efforts in launching Alamelu to an international audience some time in 2021, post pandemic. We are hopeful that it is not too far in the future.
Text Hansika Lohani Mehtani