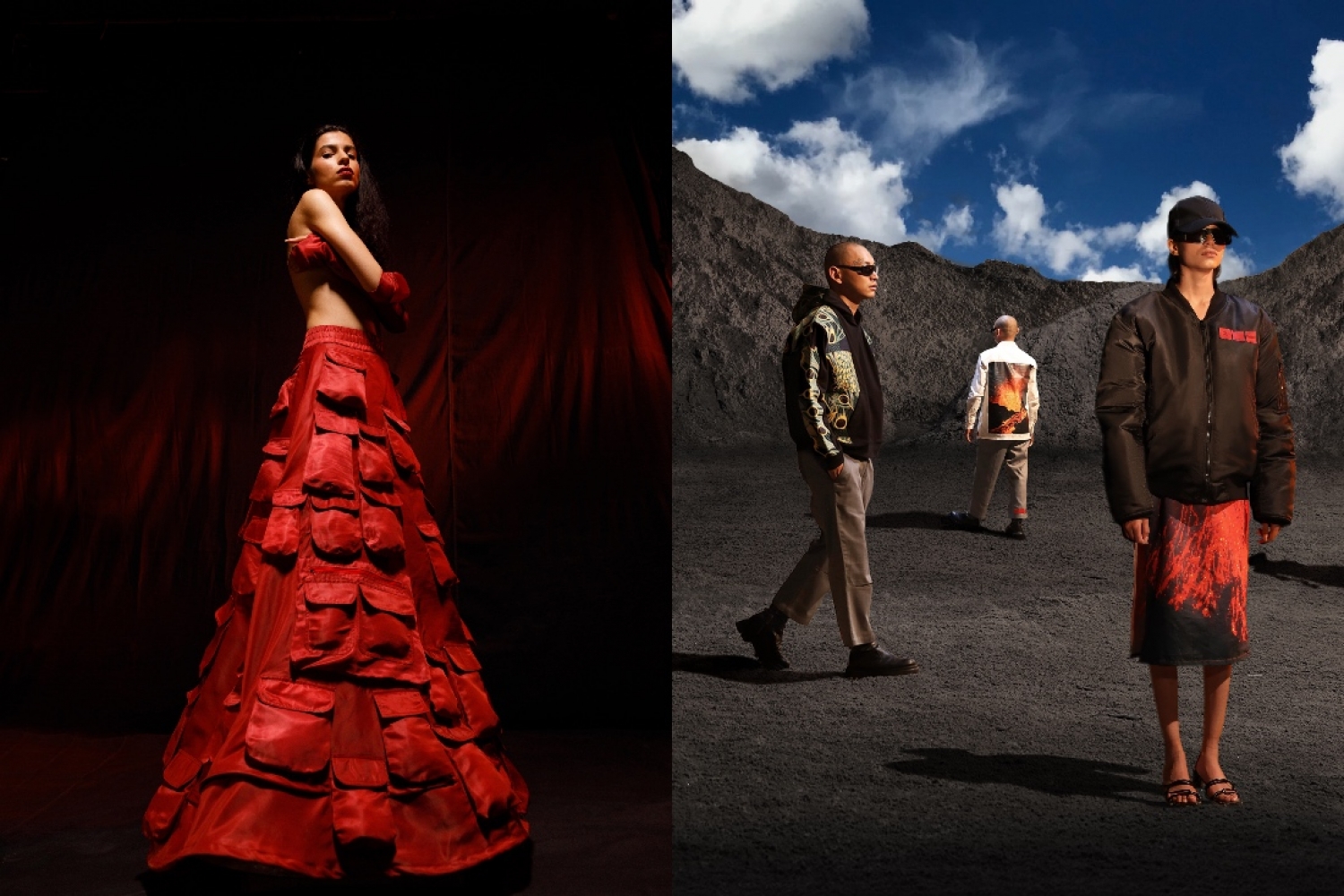 Designer Dhruv Khurana has always found himself fascinated with structures of power. He recalls gazing at the Pyramids of Giza, as a child, attempting to decipher the symbols, and while walking into Harvard University's yard as a young adult, being awestruck by all the myths surrounding the institution. As someone who has closely studied power relations between different countries, his diverse sensibility also allowed him to deconstruct artist Kayne West, now Ye, through the lens of historian and philosopher Michel Foucault.
Not veering very far from his formal education, his label, Almost Gods, attempts to delve deeper into the conversations revolving around power, its influence and the authorities wielding it. Taking this idea a notch further, the label's philosophy includes closely assessing sustainability and upcycling as an act of power. Dhruv's intent involves re-contextualising heritage silhouettes and fabrics, he has grown up around, into new designs that could be engaged with globally, and to establish India as a generator of original thought.
Below, he tells us more about the new collection and his process, amongst other things.
The Journey
In 2014, I was a sophomore at Tufts University, double majoring in International Relations and Economics. Prompted by my architect and artist grandmother, I wanted to take the opportunity to go deeper into exploring the world of art that America uniquely offered. Over the course of the year, I found myself spending a large amount of time in museums, galleries and shows, falling in love with abstract impressionism, and eventually with conceptual art.
The idea that the thought behind an artwork could be the art itself was something I found incredibly thrilling. As I saw these works take the physical form of party balloons filled by the artist, sold as 'Artist's breath' or Hirst's dead shark symbolise 'The conception of death in the mind of someone living', it sparked my excitement. Wanting to be more deeply connected to this world but unable to afford any art, I found myself taking a different route. Having stumbled upon them in a YouTube video, I discovered the trend of sneakers and streetwear. Over the span of the next year, I became THAT KID, flying across the country to pick-up sneakers, sleeping outside Supreme while waiting for the newest drop and making myself pocket money by reselling 'grails'.
What I didn't realise was that I was falling in love with the idea of context. The currency of cultural conversation that found its voice both in conceptual art and in sneakers. The creation and trading of these contexts was not only a form of play, which I found exciting, but was also highly technical, and most importantly, it was culturally, economically and mentally impactful to a degree I hadn't considered before. Eventually, streetwear became my gateway into the broader world of fashion and independent design. The breadth of storytelling and scope of what was considered important design widened for me as I began the process of self-education and understanding the kind of work designers were creating globally. After graduating from college in 2017, I was fairly confident that I wanted to be connected to this world in some way, leading me to the launch of Almost Gods in 2018.
PALEOLITHIC EMOTIONS, MEDIEVAL INSTITUTIONS, GODLIKE TECHNOLOGY
The collection draws its name from a quote by Edward O. Wilson, that reads, 'The real problem of humanity is the following: We have Paleolithic emotions, medieval institutions and godlike technology.' It's a statement that really stuck with us. We saw it as an idea that not only broadly captures the human condition perfectly, but also juxtaposes a number of ideas that Almost Gods naturally plays with already — past and future, archaic untamed emotions contrasted with technological preciseness and most importantly, the idea of finding definition during constant transition.
In giving structure to the narrative of the pieces, it was very important to us that the three pillars of the collection — Paleolithic Emotions, Medieval Institutions, and Godlike Technology — were not dealt with separately, through individual drops, but rather every drop of the collection, and every piece in turn, dealt with these three ideas at once, on the same, equal footing. This to us was an acknowledgement of the nature of Humans as 'Evolutionary Chimera', as Wilson calls us, 'Picking up things from every age without fully transitioning out of any one era.' Therein, drawing on the past, present and future, all at once, and more importantly, on the emotionality that goes with it.
For the visual imagery, I was really drawn to natural disasters. We used heat maps recording global temperatures. We pulled on volcanoes a lot, an obsession of mine for as long as I can remember. The Krafft documentary, Volcano Watchers, has played on loop in our studio the last few months. Nothing to me has the raw emotional power or beauty as an erupting volcano; or more so, captures the collection's core tenets so perfectly. There is also a very direct inclusion of Almost Gods within the pieces, an admission that the speculation of being humans within these parameters is something we are not outside of, but rather products of the same conditions. This comes through in the New Delhi city map printed panels, with our studio marked, or even through our choice of resurrected fabrics for the collection, that include dead stock thick woven jacquards, a fabric that is very personal to me as I have seen my grandparents cover their living room sofas, curtains, table-runners, and even television remote, with this material. This is an experience that should be relatable for many North Indians and has now, through our pieces, been re-contextualised into new storytelling for our clients.
All this being said, the collection is intended as a meditation. We're not trying to propagate any grand ideas, but rather, positing a gentle reminder of the structure within which we see our reality, defined by PALEOLTIHIC EMOTIONS, MEDIEVAL INSTITUTIONS and GODLIKE TECHNOLOGY.
The Fashion of Now
I'm massively in favour of the world of fashion right now. It's an incredibly exciting time. Ever since streetwear, earlier a niche, became the lens through which the world looked at fashion, it's given the opportunity to a lot of smaller, independent designers across the spectrum to bust out of the shadow of the bigger houses and create compelling work, with an important story. Whether you look at a label such as Rick Owen, that has carved out a large niche for itself, smaller and cult brands such as Doublet or even the quilting phenomenon of Bode, it's very cool to see so many people be able to not only create, but have people accept these multitude of design languages.
I think the internet has changed our consumption habits, which has made us very open to the idea of curation. This is something that's egged on this independent designer movement and allowed us, as wearers, to style high-low looks in a way that's truly exciting. In that vein, I hope that this momentum towards ending the gatekeeping of fashion continues to grow and many more new design ideologies are able to make their way into the industry, challenging and helping cultivate larger conversations around this world of fashion.
The Future
I'm ready for the roaring '20s.
Text Unnati Saini
Date 02-11-2021