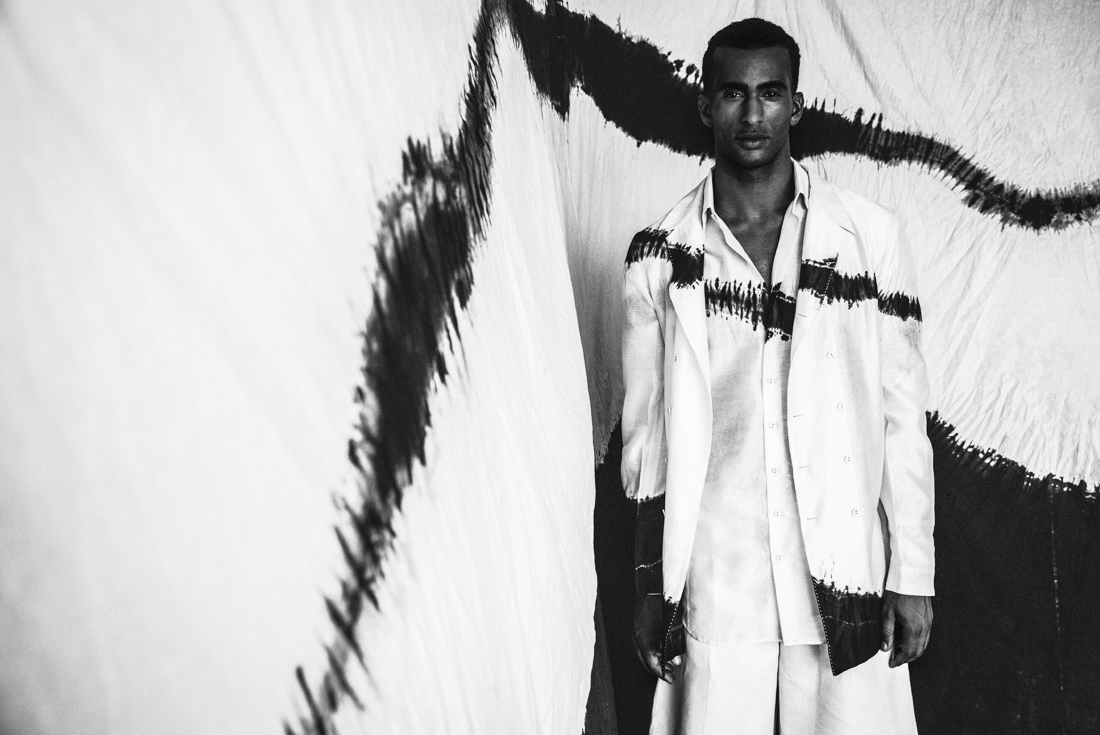 Translating the ambiguous into the tangible, Akshat Bansal's debut collection is a flirtation in black and white. Drawing inspiration from towering snow-clad mountains that shoulder past misty clouds, his palette is reminiscent of cold, stark winters. A diaphanous kurta with a ribbed mesh; slashes of black ink on a crisp white jacket and black capillaries veining into the white – the moody undertones makes you stop and stare. There is something quite mesmerizing about the interplay of the dark and light, lending an enigmatic touch to the entire collection.

Time spent at NIFT, Mumbai and Central Saint Martins in London gave Akshat a sharp understanding of the nuances of textile and fashion design. Stints at Saville Row and Tarun Tahiliani finally gave him the push that he needed, as he decided to fly solo with his own line, Bloni. 'I am inspired by unconventional visions and tangential thought and aim to manifest my view with this label. To me, design is not only about functionality and creativity, it's about creating a new perspective, and fashion is a perfect platform for it,' says Akshat. Over a quick conversation the Lakme Fashion Week GenNext designer tells us what led him to Bloni.
What inspired me to launch Bloni? What lies at the core of the brand ethos?
For a long time, I felt that there was a genre of clothes missing in India and globally. Every time I would go to shop and explore available labels, I would find it either too dressy or too casual, where I was looking for something which was impeccably tailored but has the individuality to not blend into the rest. I envision Bloni as an atelier to be known for capturing unique identities and delivering great experiences; we want our designs to ease clients into expanding their comfort zone, evolving and expressing themselves better.

At Bloni, we encourage an unconventional approach and believe in developing and nurturing ideas. Our process allows clients to understand and create an 'innovative self' which would enable them to bring out the quirk in themselves. The visual tangent follows an absurd path, but the Origin and the End is distinct. It's the journey which adds on and makes the process unique. With Bloni we aim to give individual identities a sharper and stronger voice.

What influences your sensibility when it comes to your work?
Nature, myths, stories, art, craftsmanship and architecture - all of it becomes a melting pot of influences.

Tell me a little about your latest collection. What kind of material do you like to work with?
The collection is inspired by snow-clad mountains, the science of nature in its monochromatic best. I have explored age old techniques like tie and dye and crochet and engendered a collection that remains androgynous at its core. Fabrics like chanderi combined with Italian crepes lend themselves for a seamless marriage between Indian techniques and western silhouettes.

Where does inspiration come from?
My creative process stems from taking literal inspiration from varying points, observing it and turning it into something original. Many points of subconscious converge and merge to form a silhouette. My style is a combination of contemporary and Indian fusion.

What's next for you?
I'm dreaming of an independent store where I design unique identities and bring individuality to India. In the longer run, trying to showcase internationally is on the bucket list.


Text Ritupriya Basu