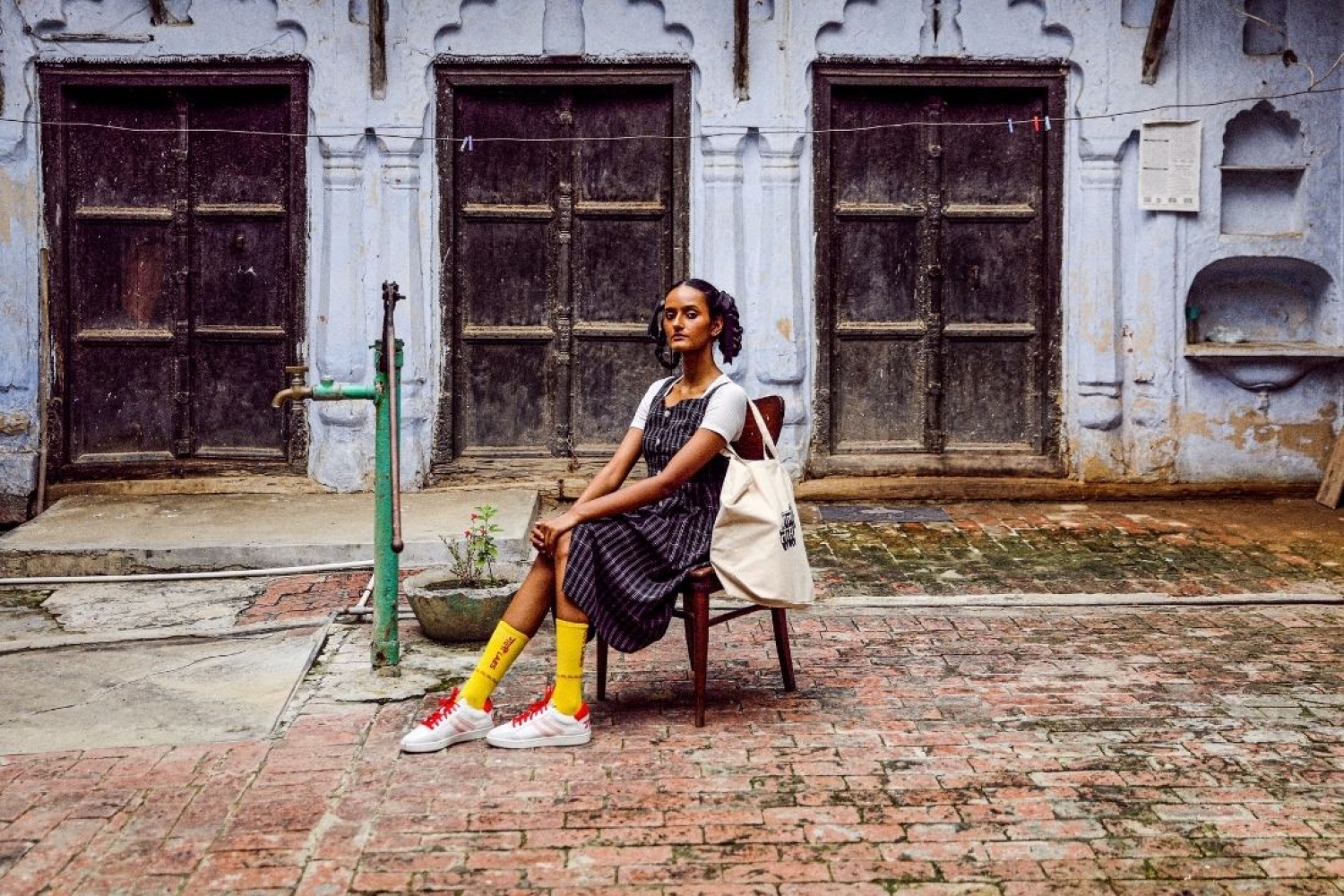 Gully Labs was started by Arjun Singh with a vision to unearth the lesser-known stories of people across India. In a bid to redefine the sneaker culture in India and move away from colonial influences, Singh is dedicated to showcasing the craftsmanship and using indigenous materials for making shoes. Crafted from natural rubber, bamboo, and adorned with intricate Kantha stitches, their sneakers wholeheartedly embrace the essence of Indianness. While Gully Labs is still in its nascent stages, it is teeming with innovative strategies and plans aimed at fostering a grassroots sneaker culture in India. In this interview, Arjun Singh shares insights into his journey, the inspiration behind establishing an Indian sneaker brand, and his aspirations for the future.

Why did you think of making a sneaker brand in order to embrace the Indian pop-culture and resist colonial hangover?
While I was living in Australia, I started a page called 'Badass Indians'. It was an Instagram page. I was trying to find people doing interesting and cool stuff. It wasn't like Humans of Bombay to tell soft stories, it wasn't for popular things like cricket or Bollywood. I was just trying to find people who are doing something very independently and they have owned their narrative. It can be someone who is probably surfing somewhere. It can be someone who just built something really cool. Things that are very original and authentic to their stories.

I launched that page, I got a bunch of likes on it, and then it went sort of dormant, but I had this idea in my mind. So I moved to India. I didn't decide on my next steps. After having spent some months here, I realized the energy is really nice. I was looking at a bunch of ideas to start a business in India. Having this page of 'Badass Indians', I wanted to create a product that resonates with people's stories and their lives. It's a bit of a community cultural product. For me, sneakers had an emotional value. When I looked around India, a lot of sort of sneaker culture was popping up. A lot of sneaker culture in India is a derivative sneaker culture. Sneaker culture grew up in the West, where it was led by mostly American pop culture and specifically rap artists, the African-American community and basketball players in cities like New York and Los Angeles. So, it had a resurgence from the ground. It grew from the streets and it had a reason and a meaning. The sneakers represent their communities and stories.

But here in India, it just becomes a derivative culture. In my head, I thought we have such cool stories in India and brands like Nike are not rushing to represent them. So how do we create something that merges culture and sneakers together? I felt a need and a gap for us, our narratives and our stories to be elevated by our products. Also, I think we are the only Indian sneaker brand selling at this price, which is a testament to our own research & development, and the materials that we're using. This is the idea behind starting Gully Labs, and the narrative attached to it.
What does your brand actually do to promote authentic Indian stories?
It's in a bunch of different ways. Firstly, our design language uses scripts from the Indian sub-continent. Like, Japanese brands celebrate their language and IKEA also does it in all their product range. But when premium products are launched in India, its name is always anglicized. There is an Indian handbag company called Da Milano, which sounds Italian and it almost feels like we want to get borrowed credibility.

Along with that, our names are all Indian. Our shoes are called Patang Red, Firki Indigo and we intentionally chose those names. Our script is big and bold on the back of the shoes. It says Gully in Hindi and Labs in English. We want to bring Indian-ness to the shoe itself.

Secondly, our shoes have threadwork from India. We realized that shoes have a lot of stitches in them and India has a lot of very amazing stitching techniques. So, our first model has a hero element of a Kantha stitch. Then, there's a hole pattern in the front of the shoe, which is inspired by Rangoli designs. Then, all the designing and manufacturing is done by Karigars by hand in Delhi. I want to work with people who grew up here. We consciously took that decision. Almost 95 per cent of the raw materials for the shoes are also sourced locally. Going forward, we will be using these themes and motifs to build upon the shoes and create different lines.

Apart from the design perspective, Gully Labs has a very community first approach. Right now, we are in talks with a number of artists and communities to actually co-create stuff with them, host events, and create limited editions, which sort of represent the artists. Sneakers are an amazing medium to have cultural collaboratio ns with artists, sports people, or just people who have done something really cool in life. We want to use that as a canvas and we have one line currently in place right now with an artist but I can't name him right now. He's a very celebrated artist and uses the emotions of everyday Indian people to create thick lined art. He's creating art on a massive piece of canvas out of which we will cut 100 to 300 shoes. Every shoe will have a unique part of the canvas. So, between launching our main lines, we will be working with prolific people within our environments to release sub-lines, which sort of highlight or give a platform for representation basically.
How do you think Gully Labs is different from other local sneaker brands in India right now?
We have a very strong sense of identity. If you look at any other brand they use words like stylish, chunky, live your dreams and whatnot. We have a very stated manifesto of why this brand was created.

What do you wish for Gully Labs to achieve in future?
I don't think India has exported any real consumer brands that are broadly and easily acceptable in India and all over the world. We want to be one of those. Like, how Zara can be easily sold in India, Australia, Europe, US but I rarely see a single Indian brand doing that.

It's a shame we invented Yoga, but the biggest yoga pant brands are not Indian. It is a shame that we had Maharajas who used wear jewels for like thousands of years, but Cartier and all of these European brands beat us in luxury jewelry. It's a shame that we had Ayurveda for thousands of years, but we could never create a cosmetic brand that is present all over the world. It is very easy for us as Indians to just consume anything that is from overseas, thinking it's really cool and premium. Now I feel is the time that we should be building and creating just really cool premium stuff and should not be afraid to talk about it locally.
Words Paridhi Badgotri
Date 16.10.2023