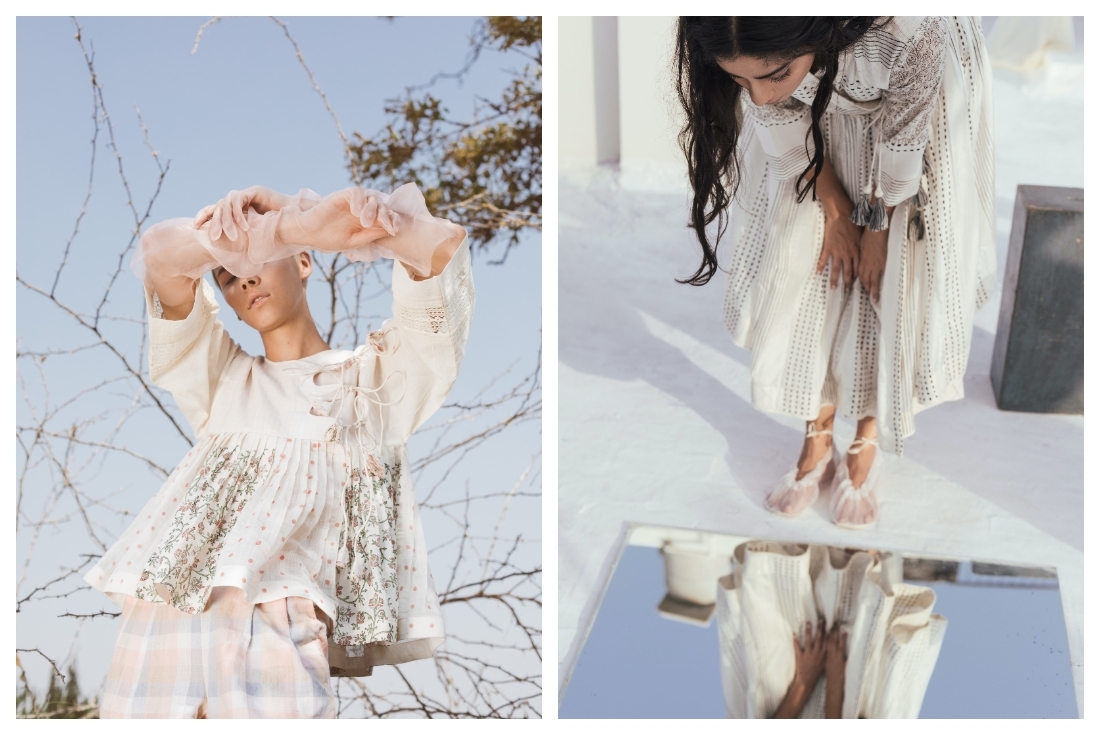 Designer Khyati Pande of the label Itr, grew up surrounded by crisp muslin sarees and handloom silks. An introvert by nature, she was acutely aware of her grandmother's hand-embroidering, stitching linens, and her mother's vast Benarasi collection. Eventually, communicating through visuals came as innately to her as breathing. It was this immense fascination with the Indian textiles that led Khyati to pursue design from NIFT and NID. She further tells me, 'Itr began in 2014, without any blueprint and a minimal budget, in a room on the roof of my home with a team of two. The simple thought behind the brand was to craft comfort in this chaos, for mindful wardrobes. The essence of our 'Minimal, Handcrafted, Essentials', lies in the honest and humble hand-skills involved at every stage of creation. Today, we have grown into a cosy studio, with a small but growing team of 12.'
The label's motto is coherent and unambiguous — to craft minimal garments unswayed by the norms of time, trend, age or size, for a timeless wardrobe. The process thus is extremely organic. 'The starting point is always the textiles. With every new collection we try to add a new weave or cluster or hand-skill to the brand design vocabulary, followed by shaping the fabric into timeless silhouettes We then finish with finer details, making sure that they don't superimpose on the effort invested in weaving, dyeing and printing that piece of textile, which is the basic building block of every collection,' Khyati explains.
While the need for sustainability is being felt desperately in every industry world over, Khyati on the other hand believes that it can't be achieved in a day, rather it needs to be an every day practice. Being conscious in one's practice is of utmost importance and to constantly progress and build a business on the basis of transparency and honesty, not just regarding the products but their practice as well. She elucidates, 'This also aids in cultivating a more aware and mindful audience. While 'cost' is always a crucial point in conscious fashion, it is never disproportionate to the time and effort invested in making that garment. As a designer, I believe it is also important to make handwoven handcrafted luxury more accessible, because in order to truly bring the change, it needs to be relatable to more people.'
The designer's perseverance is something that reflects deeply in the philosophy of the label and has helped it fare through the Covid storm. Be it handling obstacles like not possessing an official degree to run a business, or dealing with restricted capital and human resources, Khyati's spirit has helped the brand bloom wholly and sustain itself within any and every limitation. Her humble beginning taught her to be mindful through design, and compassionate towards people. She adds, 'This is perhaps what helped the brand hold its foundation even in current times. We've managed to stick to our basics and survive.'
While the pandemic certainly came with its share of challenges, the label's practice as a made-to-order brand that doesn't lead to any unnecessary stock, certainly helped. She was able to provide continued support to their tailors and weavers, both financially and morally. Talking about the label's future, she's hopeful and positive. 'Whether it's the hands involved at every step in making the brand, or the women who have consistently made us a part of their wardrobe, it has made us more compassionate towards each individual. I hope that as we grow slowly and mindfully, we support more craft communities and reach out to more wardrobes,' she asserts.

Text Unnati Saini