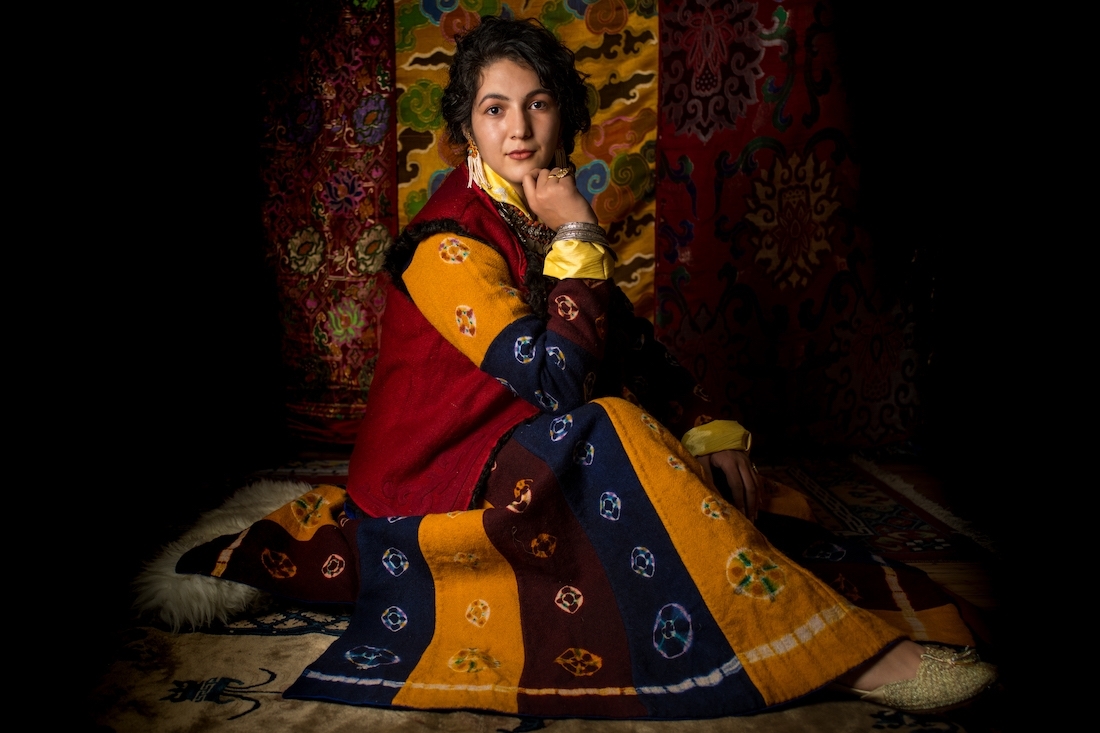 Established with the paramount objective of reviving and promoting Ladakhi indigenous art, craft and textiles, Jigmat Couture is an ethical fashion house that explores possibilities and creates valuable and meaningful garments. Driven by their intense passion for native textiles and the untapped potential of local raw materials like wool, Jigmat Norbu and Jigmat Wangmo conceived the label. It was way back in 2010 when, along with a few artisans, the duo set out to come up with a distinct kind of woollen textile. Talking more about it, Jigmat Norbu adds, 'Though weaving was not unknown to Ladakh, there were limitations and constraints in terms of weave, design and innovation. Our collection and design philosophy is completely based on our own art, craft and culture. For example, we produce only one collection in a year, which is truly inspired by a region, its cultural and bygone costumes or the art forms. We not only make collections but also document our research in the form of paper, drawings, oral recording and video recording, for the archive of our own textile museum.'
We're in conversation with Jigmat Norbu of the label, who tells us about their motivation, the creative process and more.
The First Interaction
My first interaction with art was when I was twelve. An author from the States, Jules Hermes, visited my school. At that time she was writing a book called Children of India. It was about 18 kids from different parts of India who are good with art and somehow have a vision and story to tell. I was also among the kids who appeared in that book. Later, after almost three decades, she visited India again and tried to find those kids and what they were doing. It was surprising for her to find that among those 18 children, only two had succeeded as promising artists, living the dream. She then wrote a book called Self Portrait, in which she published the words that had not been used in her earlier book. Unfortunately, in our society, it is the parents who decide the career of kids. I was fortunate to be surrounded with art, understanding and support of my parents, to carry what we have created so far.
The Label
All our family members share the same initial name. It is a coincidence that me, my wife, and our both sons' names start with 'Jigmat'. We are Buddhist and there is no surname in Buddhism. Moreover, when it comes to the name 'Jigmat', it is very prominent in the Himalayan regions. And it makes sense to use our name as well as Himalayan identity for our brand. Every corner of Ladakh has its own costumes and drapes, for example, Changthang, Zanskar, Brokpa, Balti, Bogdang, Central Ladakh and so on. We also have our own textile art and three different looms, which are very unique and practical for a place like Ladakh when the temperatures drop down to -30 to -40 degree Celsius.
The Designer and The Artisan
Fashion provides the platform to showcase the skills of the artisan communities. But in our case, it's a bit different. We give the artisans the opportunity to work entirely on their own terms and mostly from their home. Our venture is an entire ecosystem in itself. The entire process of manufacturing is done not in an industrial way, but with a very natural and ethical approach. It starts with shearing and combing of livestock in the month of May-June, followed by washing and dehairing of wool in summer months and spinning of yarns and weaving throughout winter months, when our artisans are free from farming. Every step of production is done in harmony with the day-to-day life of artisans in Ladakh. By supporting these craft communities and restoring the relevance of their skills, we are partners in building our brand and sustainability can be found when working with such ethics. Some of our exclusive products are even signed by artists.
The Creative Process
The livestock are the main source of income for many Ladakhi, especially the nomads of Changthang. There are many kinds of wool like Sheep wool (bal), Yak wool (khullu), Yak hair (rtsid-pa), Lamb wool (yumbu), Goat hair (ral), Goat wool or cashmere (lena) and Camel wool (rna-bong bal). Ladakhi wool is said to be best in the world and the main reason for this finesse is that the growth of wool is stimulated by the intense winter cold of windswept plateaus and high altitude. All this wool and hair is used for weaving a variety of textiles. We Ladakhi, particularly Changthang nomads, have great respect and myth for weaving and loom. There's a saying in Ladakh that weaving textile is associated with fertility — the warp is like the mother and when the weaver inserts the weft to make his cloth, it is like a child is conceived within her womb. The cloth weave is then similar to the child's growth inside her. Women are the creators of life, we say.
We have three kinds of looms. Foot loom (thag-sha), Back-strap loom (sked-thags) and fixed heddle loom (sa-thags). Various textiles are woven on these three looms — nambu, spuruks, challi, phug-shar, tsug-tul, tsug-gdan, ta-gal, lu-gal, ma-gdan, phi-gyis, ray-bo. We use almost every textile woven in Ladakh in various products. All the soft woollen textile we use for apparel, coarser hair is used for furnishing and exclusive wool like yak wool, camel wool and cashmere is mainly used for accessories. Nothing is wasted, even final remains from dehairing are used for felting. We keep our textiles mostly undyed, just in case if we want the required colour, we go for natural dye.
We are the first homegrown fashion house in Ladakh with an objective to run a business with a conscience and create products entirely made in the region. Fashion houses should take responsibility for both social and environmental issues. We believe that our drive to make a difference helps others to think beyond business. Our textiles and products are a combination of tradition and innovation. Our artisans have a natural talent for spinning and weaving. We still use traditional drop spindles and hand spindles to spin wool. To weave, we use traditional looms without changing the ancient aesthetic. Our products are made in Ladakh only, by local artisans at the very source of the wool. Today, when fast fashion and unethical production dominates, we offer a product that will last long and is ethically produced. Our products are free from harmful chemicals and are safe for your skin, as well as the environment. We produce in small, eco-friendly batches, give fair wages to our artisans, generate local economy, and even everyday textile waste in our workshop is mostly upcycled to make various small merchandise like dolls, puppets, stationary et cetera. We are constantly working on various projects which will benefit both the environment and artisans.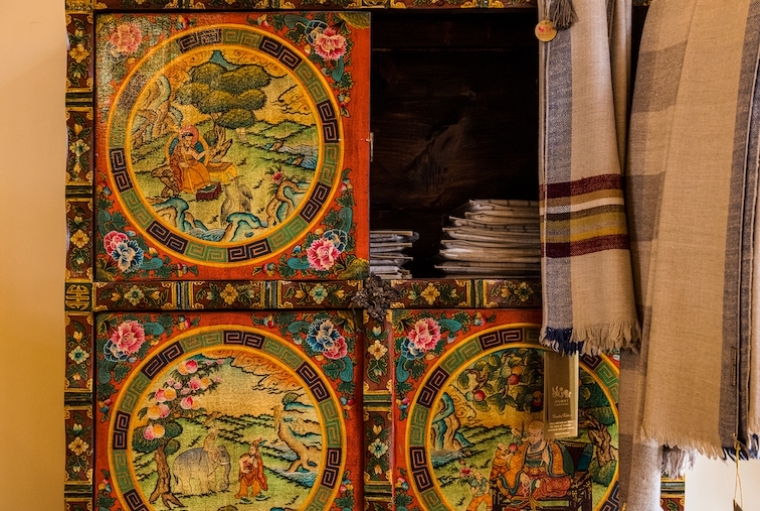 The Pandemic and Beyond
Tourism has been badly affected in Ladakh, perhaps more than any other place in India. 70-80% of locals are directly or indirectly associated with tourism. Pandemic has taught us a few good and bad lessons. We got plenty of time to spend with family and art, we made some very interesting paintings and later translated them into weave. However, since we have a very short business season, pandemic's also hit our sales and we still have to constantly give work to the artisans, it is hard to manage the rotation of money. Now we've decided to go online, which we'd never thought of earlier (www.jigmatcouture.com).
Text Unnati Saini
Date 02-06-2021