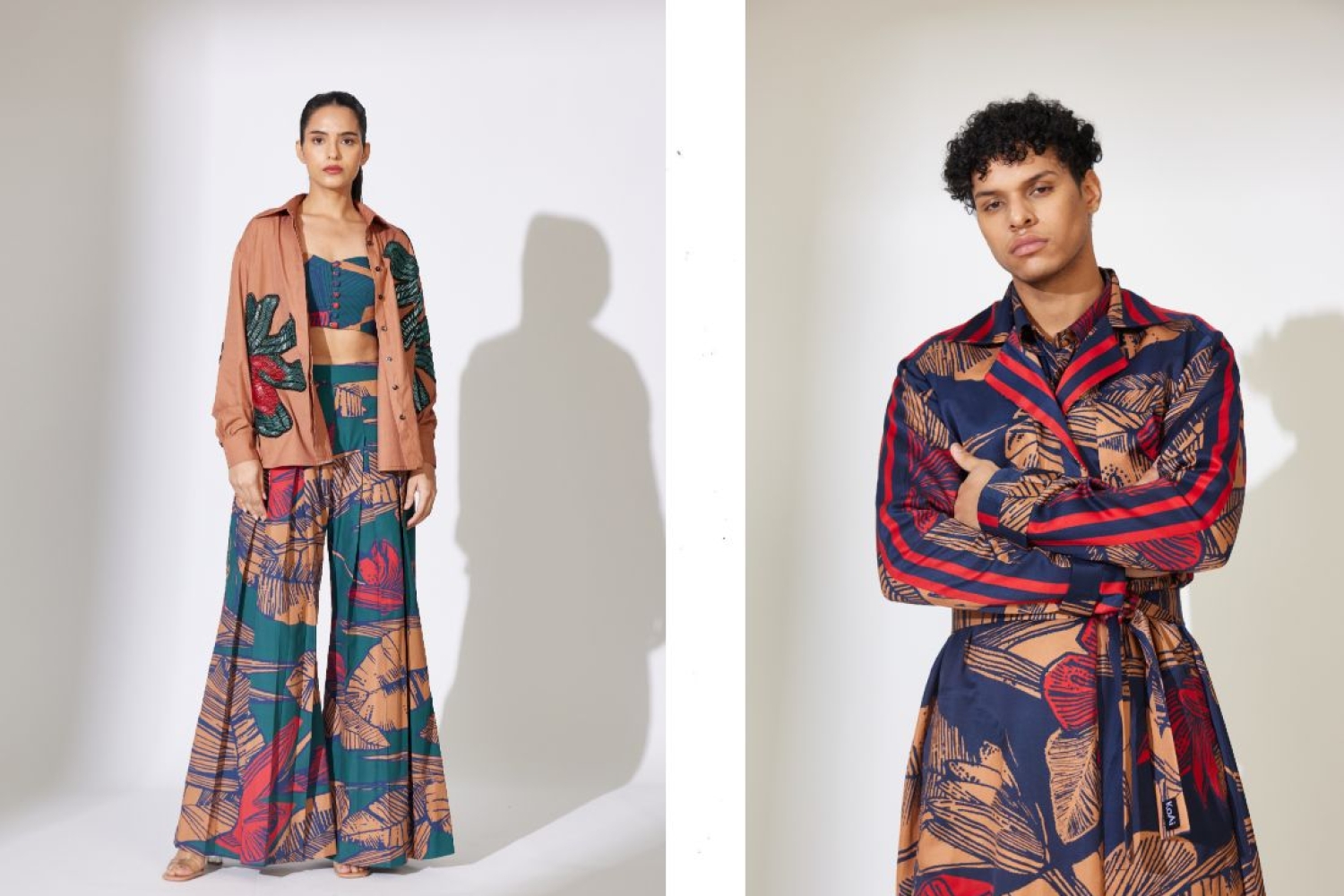 Despite having a career in law, designer Anugrah Chndra found himself fascinated by design, leading him to establishing his label KoAi. While the transition from law to fashion wasn't necessarily an easy one, the creative believes it was an imperative change for his personal and professional growth. Constantly inspired and challenged by the possibilities that surround fashion, Anugrah found his calling with KoAi. It was his deep-seated desire to create something that was uniquely his own. He came up with prints and patterns that led to a small capsule collection, which was consequently launched on social media. It gained popularity and he started getting orders for the designs, which made him realise there was a market out there for his work. His journey has been equal parts challenging and fruitful, and we're in conversation with the designer as he lets us in on the collection for his upcoming GenNext showcase at the FDCI x Lakmé Fashion Week.
Take us through your creative process for the upcoming 'INIFD presents Gen Next' collection.
The tangible and intangible aspects of our environment constantly inspire me. The flora and fauna, food, architecture, art, and music, all inspire me too. KoAi's Resort 2023 is our latest collection that we will be showcasing for 'INIFD presents GenNext' at Lakmé Fashion Week X FDCI. It is called Coalescence which means the joining or merging of elements to form one mass or whole. It is inspired by "Coppice", which means trees that are periodically cut back to ground level in order to stimulate growth. As a part of the collection, unique prints have been designed by visualising coppice and integrating our classic printing floral motifs derived from dabu, shibori and botanical printing.
The colour theme is directly derived from our inspiration "Coppice" which comprises pastel shades of red, green, brown, and blue. The techniques used to add texture to our digitally printed fabrics include appliqué work, hand embroidery, weaving, smocking, pleating and micro pleating. Silhouettes created from these printed textured fabrics are an amalgamation of drapes and patterns. The fabrics used are heavy cotton silk, mushroom twill, poplin cotton, and chiffon.
Tell us in detail about how sustainability has been incorporated in your blueprint?
KoAi follows a zero-wastage policy. With our excess cut fabrics, we make pipings which are weaved carefully by our skilled artisans into separates of an ensemble. We also use cuttings to patch the inside of garments, which give it a better finish and hanger appeal. Whatever material is left, we use it to create dog coats for our furry little friends, to provide comfort during Delhi's unforgiving winters.
Also, what do you think of it (sustainability) in terms of the current fashion landscape? Where are we lacking and what's the way forward?
Sustainability is an increasingly important issue in the fashion industry and it is clear that there is much work to be done in order to create a more sustainable and ethical fashion landscape. While there have been some positive steps taken towards sustainability, such as the use of eco-friendly materials and production processes, there is still a lack of transparency and accountability when it comes to the supply chain and labour practices. Fast fashion continues to dominate the industry, leading to a culture of overconsumption and waste that is unsustainable in the long term.
In order to move forward, we need to see a shift in consumer attitudes and a commitment from fashion brands to take responsibility for their impact on their environment and workers. This includes embracing circular fashion, reducing waste and pollution, and ensuring fair and safe labour practices throughout the supply chain. Education and awareness are also crucial in order to empower consumers to make more sustainable choices. Ultimately, sustainability should be a top priority for the fashion industry and a collective effort is needed to create a more just and sustainable future for all.
What is coming up next for you post Lakmé Fashion Week X FDCI?
Being selected as one of the winners of the INIFD presents GenNext platform at Lakmé Fashion Week x FDCI is a huge honour and a significant milestone in my career. It has given me a huge boost of confidence and motivation to continue pushing the boundaries of my craft. It will also open up new opportunities for exposure and collaboration, as this will likely bring more attention to my work and brand.
Words Unnati Saini
Date 28-02-2023