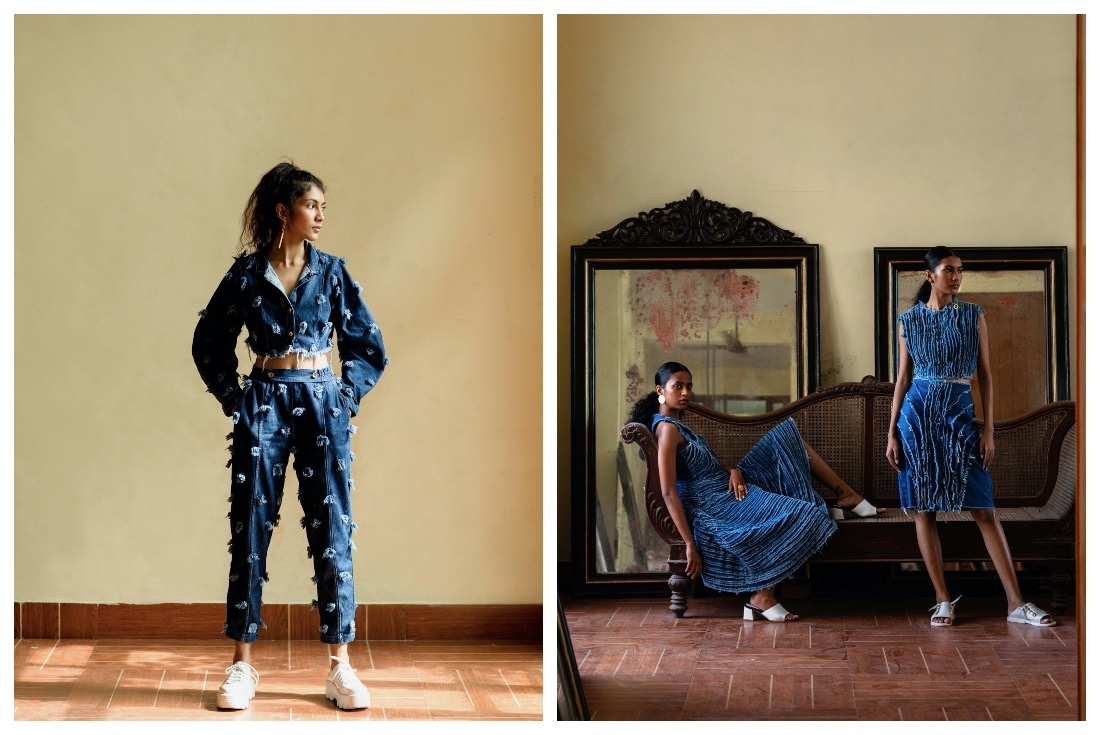 Denims are a wardrobe staple. A pair of denim jeans worn with a white t-shirt is a classic. However, if one were to do a quick search about the reality of producing our favourite ripped jeans or oversized jackets, the results found are grim. The production not only requires a huge amount of water, but the dyeing process requires chemicals that are not only harmful to the environment, but also the individuals who come in contact with them.
Neha Celly, founder of the label Nece Gene and the denim design and research house Bluehemia, has been working with mills and indie labels globally, helping them focus on sustainability when it comes to the material. Nece Gene is an endeavour that focuses on reducing the waste that the industry produces at every stage, from cutting to stitching the material. The founder's focus was to weave together aesthetic products from all kinds of waste. Her years of work and research were aimed to develop a circular label, wherein less is truly more. Hence was born Nece Gene, producing sustainable denims in collaboration with the textile manufacturing giant, Arvind Mills.
Neha gives us some insight into their process of creation, her inspiration and more.
The Process
'Nece' here stands for necessary and focuses on buying mindfully. It happens to be made up of my initials too. The products in the brand include high fashion couture and avant garde objects, all made from Denim Industry waste. Our design journey starts from the pile of waste we receive from the mill. Small yardage bits get converted into couture. The waste left from this creation gets re-woven into a new fabric, that's further woven with thin leftover denim strips. To give it more character, old newspapers, wrappers and different coloured denim strips are also added to make this new fabric. Accessories like bags, cushions, wall hangings are made with this technique. We call this technique 'Denim on loom'.
Some of this cutting waste is being used to make hard bricks. We call it the 'DeBrick'. It's made with compressed denim waste, with minimal bio-epoxy. This is still a work-in-progress, but we're very happy with the first samples. We've made a DeBrick stool and some beautiful pendants so far. In the end, some small bits and fibre pulp is left. This pulp is used to make 100% indigo paper, a tree-free paper. Through our designs, we make sure that we leave no waste behind and close the loop completely.
FDCI x Lakme Fashion Week
The experience at the FDCI x Lakme Fashion Week was enriching. Despite social distancing and the pandemic, a beautiful show was conducted. It definitely helped in creating awareness amidst people looking out for sustainable fashion and couture.
The Inspiration
Waste, and the power it has to change the world, inspires me. Being in the garment industry and not-so-nature-friendly denim industry, I know what goes behind making a pair of jeans. So I am doing my bit to make people conscious of their choices. Also, to make everyone aware that sustainability doesn't need to come at the cost of design.
The Pandemic and Beyond
Last year during the pandemic, Nece Gene's digital collection was launched, wherein one could wear a piece in the digital space, without physically owning/wearing it. This concept took off well, and in January 2021, we launched the physical collection on the website. Due to the pandemic, we had to postpone the collection stitching and hence the delay in the launch. The good news is, the pandemic has brought a new wave of consciousness, and people are looking for recycled and waste-free products. And a brand like ours, where design is the key focus, while being sustainable, I think we're in the right place.
Currently, the brand is focussing on couture and avant garde products, all made out of denim waste. To gain scalability or to use large volumes of available waste, we'd have to enter the basics market too. The idea really is to create designs out of all the waste that's created, one mill at a time.

Text Unnati Saini
Date 08-06-2021