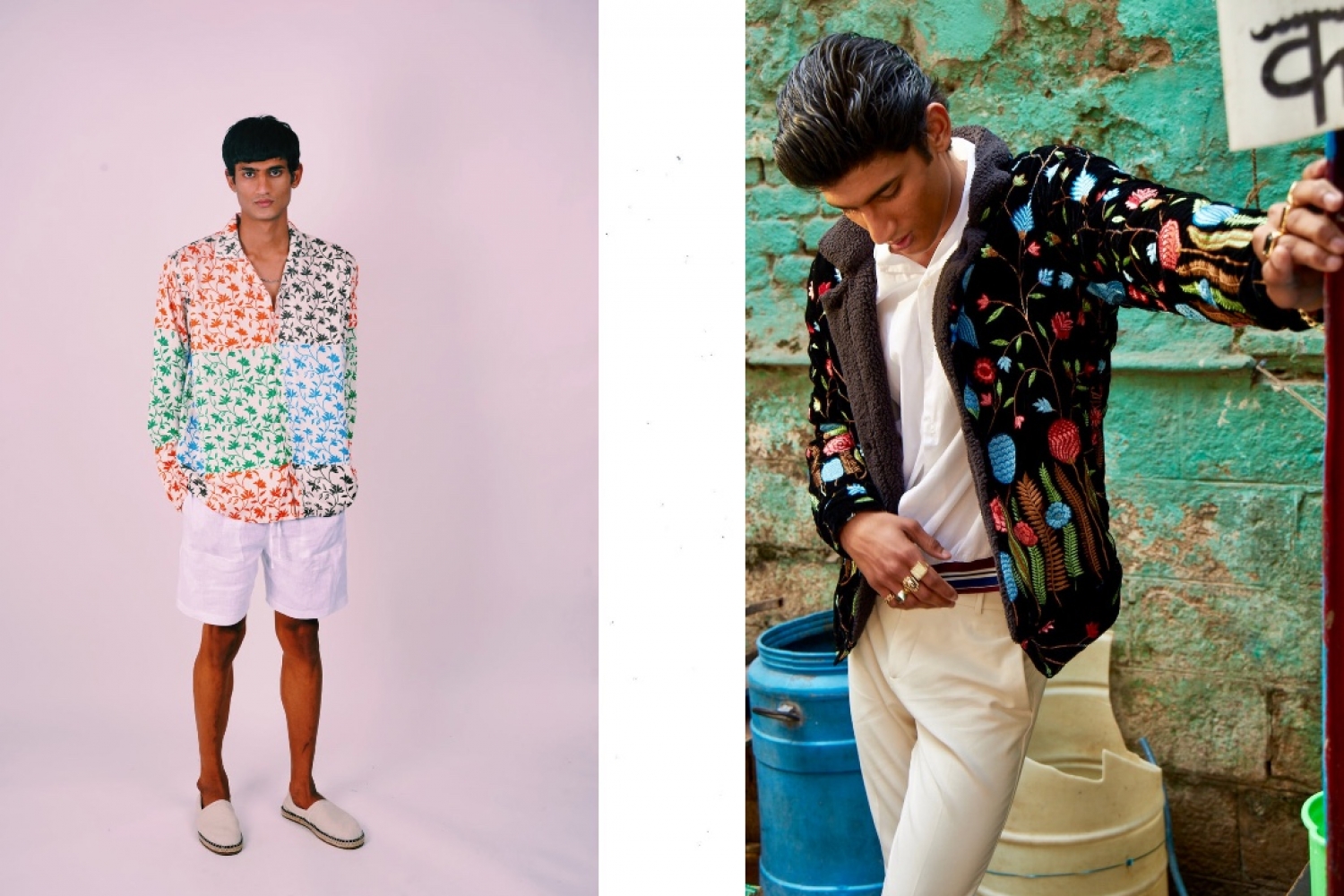 Utkarsh Mithas, founder of the label Perte D'Ego, can't pinpoint to a singular event that pushed him towards design. For him, it was a series of events that solidified his position in the field. One of his favourite novels, The Alchemist, talks about a shepherd going on a journey and all the ups and downs he encounters while moving closer towards his destiny. There are moments in the journey where none of the events make sense in that moment, but they are integral in the bigger picture. For Utkarsh, design comes from an innate place and is natural to his being. Perte D'ego itself means "ego loss", a concept which revolves around finding your true self, he tells me. It is this journey that led him to the label.
Below, Utkarsh tells us more about his process and inspiration.
THE PRACTICE
Trying to find the balance between the rebellious spirit and the lover spirit. I believe that we need to have the balance to move the culture forward. For me, fashion is more than just clothes — it represents a movement, an idea and often the emotion one is going through. I look at my pieces as physical manifestations of a thought or a feeling.
THE INSPIRATION
Hope. Hope of a better and more peaceful and happier world is what drives me in the present moment. My collections revolve around the idea of living in a world where you can be who you want to be without any judgements.
THE PROCESS
I design from a very personal point of view. The collection starts with a theme or an emotion. It can be inspired by an old vacation picture that I found or a quote from a book that I am reading at the moment. I don't spend more than a day to outline the collection and the colors. If I am spending more than that, it seems forced, and I like going with the creative flow that comes when you sit down to design the collection. Once the basic ideas are penned down, we move on to decide the fabrics that will best suit our ideas. The different properties of different fabrics play a big role in bringing the collection together. After this, everything is hand cut and sewn in our studio and ready to be shipped all over the world.
THE SUSTAINABLE BLUEPRINT
Sustainability has been a core part of the foundation of Perte D'ego. Since our first collection, we have focused on using sustainable fabrics, dead stock fabrics and most of our pieces are made in small batches which are periodically restocked if there is a certain demand for them. All our packaging is recyclable and compostable.
THE FASHION OF NOW
Post the Covid-19 pandemic, people really want to live to their fullest. They want to wear what they want to wear but they are also very cautious about the impact their purchases have on the planet. As I mentioned earlier, fashion is more than just clothes, it's about ideas and cultures. Fashion of now needs to focus on preserving traditional techniques, arts and crafts, while also putting more focus on sustainability.

This article is an all eclusive from our May EZ. To read more such articles, follow the link here.

Text Unnati Saini
Date 16-05-2022