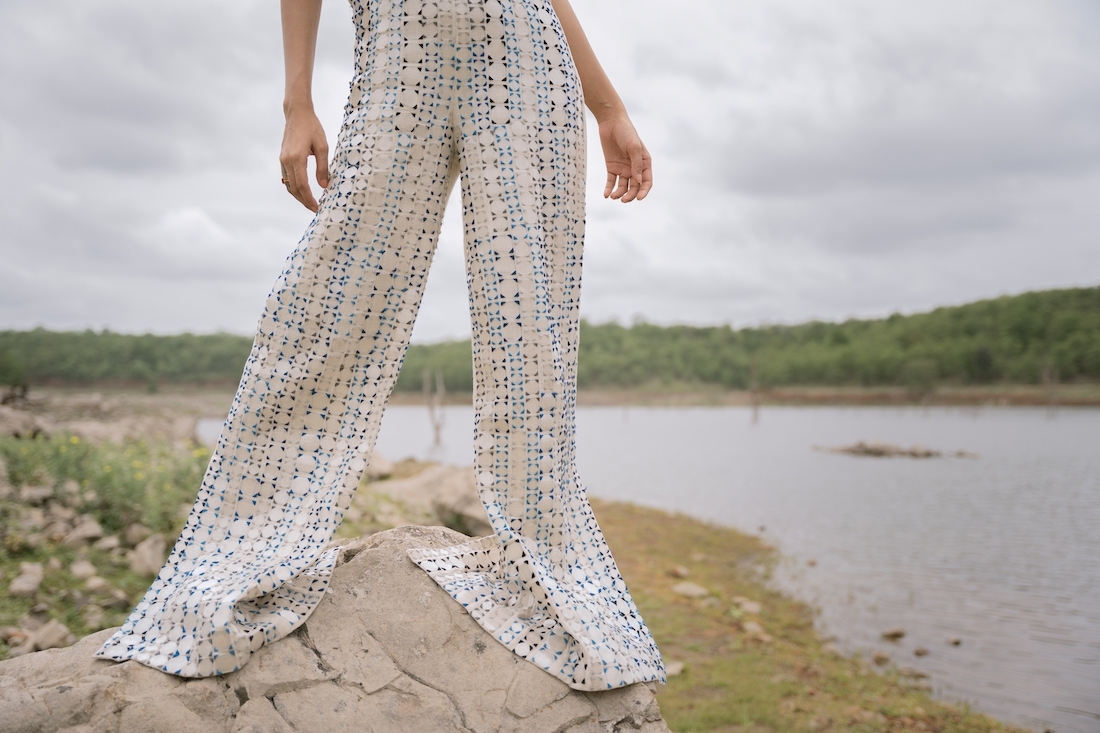 In March this year, aspiring fashion designer Priyal Turakhia was named winner of the Fashion Forward Fellowship — one of India's first fellowships that focuses on bringing climate action to fashion. This talented creator gave new life to single use plastic in her collection titled Could Be by Nirantar (निरंतर). Her line consisted of garments made from hand-woven organic cotton, adorned with sequins made from water bottles and cosmetic product bottles. The traditional method of creating sequins from Polyvinyl Chloride (PVC) is chemical intensive and leads to non-biodegradable outcomes. Therefore, using 'single use plastic' items, such as water and shampoo bottles to create sequins, can drastically reduce the waste created and save the environment.
Turakhia is also a strong believer of the zero-dyeing approach in order to address the excessive water-pollution caused by the industry. Her collection was brought to life with the help of local artisans in Siliguri, West Bengal, and the designs were selected by a panel of expert judges, including Nonita Kalra, Nimish Shah, Tina Tahiliani, Akshay Tyagi and Parmesh Shahani. In an interview with Priyal Turakhia, we discuss her humble beginnings in the world of fashion, her approach to sustainable and ethical clothing, and how she sees the future of sustainable fashion in India.
Growing up, did you always know you wanted to enter the field of fashion?
I grew up watching my mother paint and always felt a strong inclination towards art. Even in college, I was not sure of which stream of art or creatives I wanted to pursue. It was not until my years at Graduate school that I realized that fashion was my passion and true calling.
When did your relationship with the world of fashion begin?
It was during my second year of my undergraduate program in 2016, that my interest in fashion arose. I came to the realization that in order to be satisfied and genuinely happy in life, one must pursue what they are truly passionate about, rather than following a career path simply for the financial stability and material comfort it brings. That's when I decided to take the plunge and enter the world of fashion.
What/ who sparked your interest in sustainable fashion?
As a part of my Masters, I was interning at a fast-fashion brand when I realized how destructive their practices are. Majority of the collections released by fast-fashion brands include cheap fabric alternatives (i.e. synthetics) and promote over-consumption. They do so by releasing new collections frequently and pricing it low so that the consumer can afford to dispose of their clothing after minimal usage. Their products are also often manufactured in countries where cheap labor is easily available. This leads to exploitation of labor and unhealthy working conditions. As a strong advocate of sustainable fashion and ethical labor treatment, I decided to educate myself on how we could undertake better practices and take up the sustainable path, as designers.
How did your childhood/ past impact your outlook on sustainable fashion and the concept of 'reduce-reuse-recycle'?
Indians are very frugal by nature and tend to generate minimal amount of household waste. It is also the prime reason that a lot of what is practiced in the average Indian household is already very sustainable, such as repurposing old clothes, packaging materials, bottles, et cetera. Ever since my childhood, reducing and reusing have always been a part of the daily practice in my home. However, in today's day and age, we have a better understanding of the benefits of 'reduce-reuse-recycle' on the environment. This is also where the Fashion Forward Fellowship has played an important role. Learning from the experience and challenges of the mentors at the fellowship has helped me understand that sustainability is multidisciplinary and all encompassing. It is about taking into consideration all the options one has and then weighing them out to see which ones are better than the rest, because no materials or processes are completely sustainable on their own.
What is the significance of the name Could Be for your collection?
Could Be metaphorically hints at the possibilities of all that we usually overlook in passing. The possibilities of how we look at our waste or rather what we define as 'waste'. It is with the intention to encourage reflection on these, that we named the collection Could Be.
What were some of the items you recycled in your clothing line?
We have reimagined single use plastic by upcycling shampoo and various other kinds of bottles, which would have ultimately ended up in a landfill. We turned them into sequins of different shapes, sizes and colors. Recycling coloured plastic is a huge challenge in the industry and this collection addresses that challenge by transforming these plastic bottles into something new, with the lowest carbon footprint possible.
What was your intention behind the clothing line?
Inspired from the Japanese philosophy of Kintsugi, Could Be incorporates sequins from single use plastic items. We used plastic from items that could have ended up in a landfill but instead transcended into something beautiful. For the launch collection, we used fabrics that aren't dyed or treated at any stage (to address the water pollution caused by the fashion industry) and built the aesthetic of the garments by adding colorful sequins to the plain fabric.
What do you think is the future for sustainable fashion in India?
There are a lot of small brands that are working in line with the principles of slow, sustainable fashion. We had a chance to interact with many of these brands during the fellowship. The sustainable fashion industry is very fragmented at the moment, but we are seeing many of these voices coming under one umbrella, like they did during the fellowship. As customers switch to making more sustainable choices, even the bigger players are realizing the need to drive sustainability in the fashion industry.
Speaking in terms of education, there are multiple universities in India that teach design and fashion, but very few have sustainable design as a compulsory subject of study, let alone programs that specialize in sustainable design. However, with fellowships like the Fashion Forward Fellowship, coming generations of designers can learn dedicatedly and practically about sustainable fashion and be the ones to bring about change. The various elements make me truly optimistic about the future of sustainable fashion in India.

Text Sarah Affonso
Date 21-07-2021