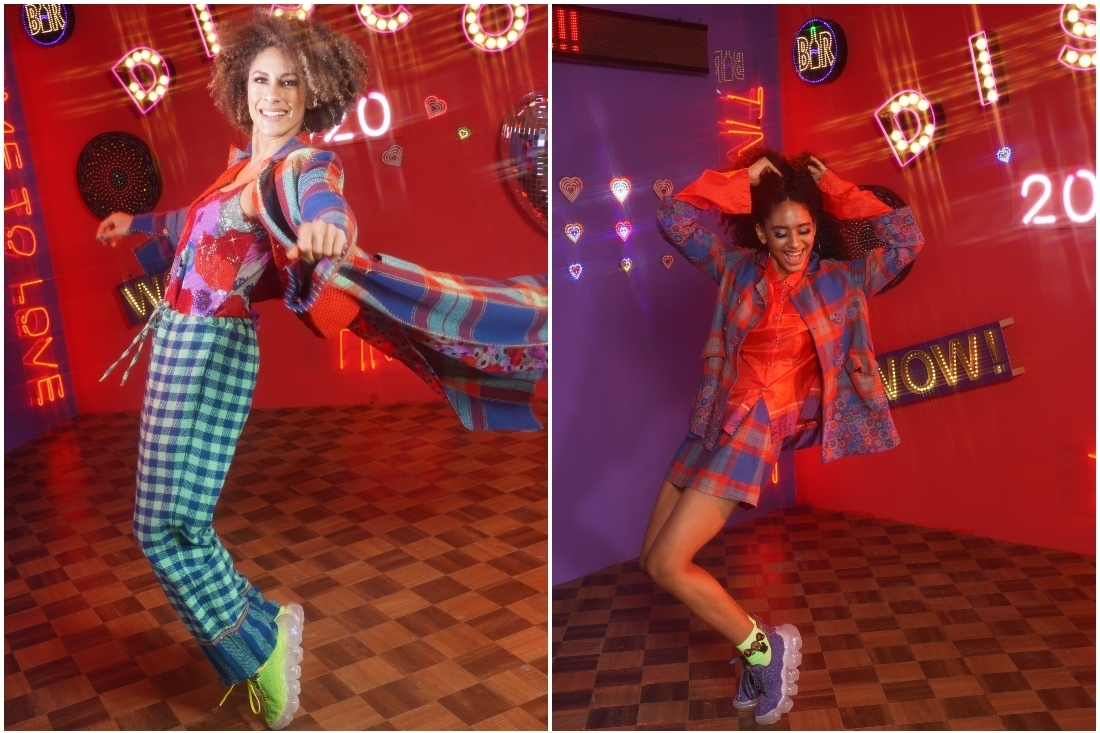 péro has been synonymous with its long standing association with various craft clusters across the country. Designer Aneeth Arora is back yet again with a new collection, that was launched in collaboration with Lakme Fashion Week, displaying the timeless crafts of India. Adding an ingenious twist to the Australian merino, the cotton stripes and checks from West Bengal, mashru stripes from Gujarat and handwoven silks from Bhagalpur, along with mulberry silks from the south of India and light chanderis from Madhya Pradesh, the collection is an ode to the disco culture of the 70s. Marked by the rising feminist movement, identity politics and pride parades, the era solidified a democratic assertion of the self in the public space. Bringing back the retro glitz, glamour and the flair of the 70s disco movement, Aneeth's designs reestablish one's individual identity, without the fear of rejection from society.
The silhouettes include geometric patterns of woven checks and stripes, and to bring in the element of shine of the DISCO lights, the chequered and floral textiles have been rendered with matt and shiny sequin following the textile patterns. With the help of their skilled hand-embroiderers, the label has further carried out ornamental needlework, adding hand-embroidered wool flowers by using extensive techniques. The label also recently launched virtually at Ogaan store, Malcha Marg. The virtual store gives users the opportunity to shop within an immersive, 3D, 360˚ format. This unique collaboration is a break away from the monotony of the traditional e-commerce interface. This VR shopification experience, allows everyone to move around the physical store virturally at their own pace, and browse, zoom, and explore all the intricate details of the new collection.
We're in conversation with the designer about the changing face of fashion, creation in the time of chaos and more.
Do you remember your first interaction with textiles? If yes, what was it?
When I was at NIFT Mumbai and we had to present our first collection, I realised that everybody was going to the same shop and we were all buying the same kind of textiles, relying on what was available to us. We ended up fighting in the classroom, claiming the others had copied our work because of the limited options we had. For the first time I realised that I needed to understand textiles more deeply. So, I applied to NID for textile design because at NIFT, there was only one course on traditional Indian textiles, which too was available only for one semester. It did not teach us how to actually create the textile.
At NID we learnt how to make them, and we got to directly work with the craftspeople. I realised that there were so many possibilities available, one can easily start from the fibre or the yarn stage, and construct something that they want to use in the garment. This filled me with a sense of completion — the fact that a painter could weave his own canvas and then paint on it. I decided that if I ever make clothing, I would always begin right from scratch — from the yarn stage. I had decided that we would never buy any textiles from the market and always make our own.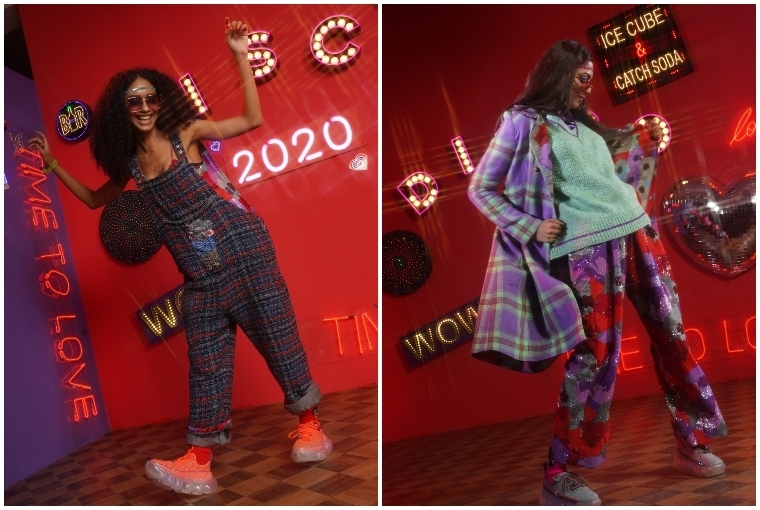 At a time like this, what/who is it that's keeping you motivated to create?
I think the lockdown couldn't do much to shake us up as a brand. We've always been very positive and hopeful and we always look forward to the next season. If we all work together, we can make a good next season happen and that helps us get back on track. We've all tried to keep ourselves focused on our upcoming collections, and are striving to bring things back on track.
Tell us about what motivated the collaboration with the artist Nathalie Lété and the Japanese shoe label Grounds?
With each passing collection, we always look for fresh collaborations. All of it comes together organically. I came across Nathalie's work in a book that I had and I really liked her style, which led me to approach her. Surprisingly she responded and I met her in Paris. The brief we worked with was that she would design a few characters for us, which would be taken forward with our embroidery. We would also try to develop a print out of it and she was really excited about that.
With Grounds it was very spontaneous. I saw the shoes and I immediately took to them and the philosophy of the label. It's very unique, how they talk about lifting people off the ground and helping them fly. I really appreciate that dreamy aspect they promote and I really thought we could collaborate with them by embroidering the shoes. We even went ahead and up-cycled them. Before this we've worked with BIRKENSTOCK and Adidas, this is just another edition to our up-cycled, footwear range.
You've been a part of the industry for a decade. What is it that inspires you now as opposed to when you started out?
I've always found inspiration in everything that surrounds me, it could be some music that I'm listening to or maybe even some good food that I'm eating. It's not that the way of finding inspiration or looking at things has changed, but it has obviously evolved. Now I observe much more than I used to, and there are many more aspects that call out to me. When you're just out of college, you've been taught that there's supposed to be a moodboard and you have to come up with a vision. However, now I work in a completely different manner because there's inspiration in everyday life and it's never ending.
You've always had a long-standing association with multiple crafts clusters across the country. What is the significance of the relationship between a designer and a craftsperson in the current landscape of fashion for you?
I don't think the relationship between a designer and a craftsperson is unequal. It is about the balance that one has to strive towards. It has to be work from both sides, they have to understand us and we have to understand them in terms of their lifestyles, because it's not fair to impose our deadlines on them. They have a certain lifestyle and it's this lifestyle that makes the craft truly what it is. If we try to alter and bend it, the craft won't remain the same. I think it's a very mutual bond, if I'm inspired by something and ask them to work on it, they need to be excited enough to deliver it as well. We learn a lot from their experience because all we have to offer are ideas. It's their experience that helps bring our ideas to life. So, this balance needs to be maintained in order to achieve something.
I personally don't believe at all that any one of us can take credit for what is being created, independently it's not possible to function. We co-exist and co-create. I've often heard designers say that we're providing livelihoods to them, but that's not true, it goes both ways. They certainly provide livelihood to us as well by doing what they're doing for us. I don't think a designer can claim superiority and feel that they're doing any favours to a craftsperson, and I really don't think that we can do anything without the craftspersons. To sum up, I think balance, co-creation and co-existence are the key words here.
There are a lot of changes that are taking place in fashion right now. What is your take on the current situation? Do you think we'll be able to cultivate a more sustainable future?
I feel that we're moving towards more conscious buying and it's finally about having lesser pieces in the wardrobe, but special ones. I think the entire culture of mass production and impulse buying will fade away eventually, if this phase lasts for long. People might eventually start buying what they love and not just fill their wardrobes.
The virtual experience at Ogaan created and conceptualised by the Delhi-based BongWater Films (BWF)
Tell us about the some of the challenges you may have faced with this shift of fashion to the digital space.
There are always positives and negatives to every situation and it is for us to understand what we have to absorb. What we have realised is that even though everybody is going online, everybody is bringing their prices down because people aren't really buying at the moment. We have decided to take a different route. We still haven't gone online because we don't believe in that philosophy. We want people to feel our product, and more importantly, we don't want to make the product cheaper because that's simply confusing the clients, because eventually when things go back to normal, people will face the difference in pricing.
We have consciously decided to offer handmade luxury to people, we'll make more and more special pieces. Sitting in the comfort of their homes, I really don't think it's anyone's priority to buy more. However, if they see a special product, they will want to add it to their collection for the longer run. It's almost like getting your hands on heirloom pieces. They also now have a lot of time to think before making a purchase. Instead of offering day-to-day wear, we're making special pieces since everyone's in their loungewear nowadays. People are realising what they like and are comfortable in, and that's exactly what they want. We've changed our strategy and are now offering something the clients can't resist.
Lastly, take us through the process of coming up with the virtual shop with Ogaan.
I think it's one of a kind because I haven't seen it happen in India before. We really had to persuade Ogaan for it because it was a completely new concept for them as well. In terms of challenges, the universal challenge we're all facing is how everybody was comfortable selling in a physical space — people were walking in and purchasing impulsively. Here we're creating another experience, which people may feel is for the tech-savvy but it's not as it's rather easy to navigate. While it took a lot of convincing, in the end it was a mutual decision with them. They have been happy with the response this virtual shopping experience has seen. On the other hand, we have always been excited about trying something new. As a retail store, Ogaan's motive was to look at the numbers being generated, and as a creative label trying new things, we wanted to experiment with something that hasn't been done before.

Text Unnati Saini