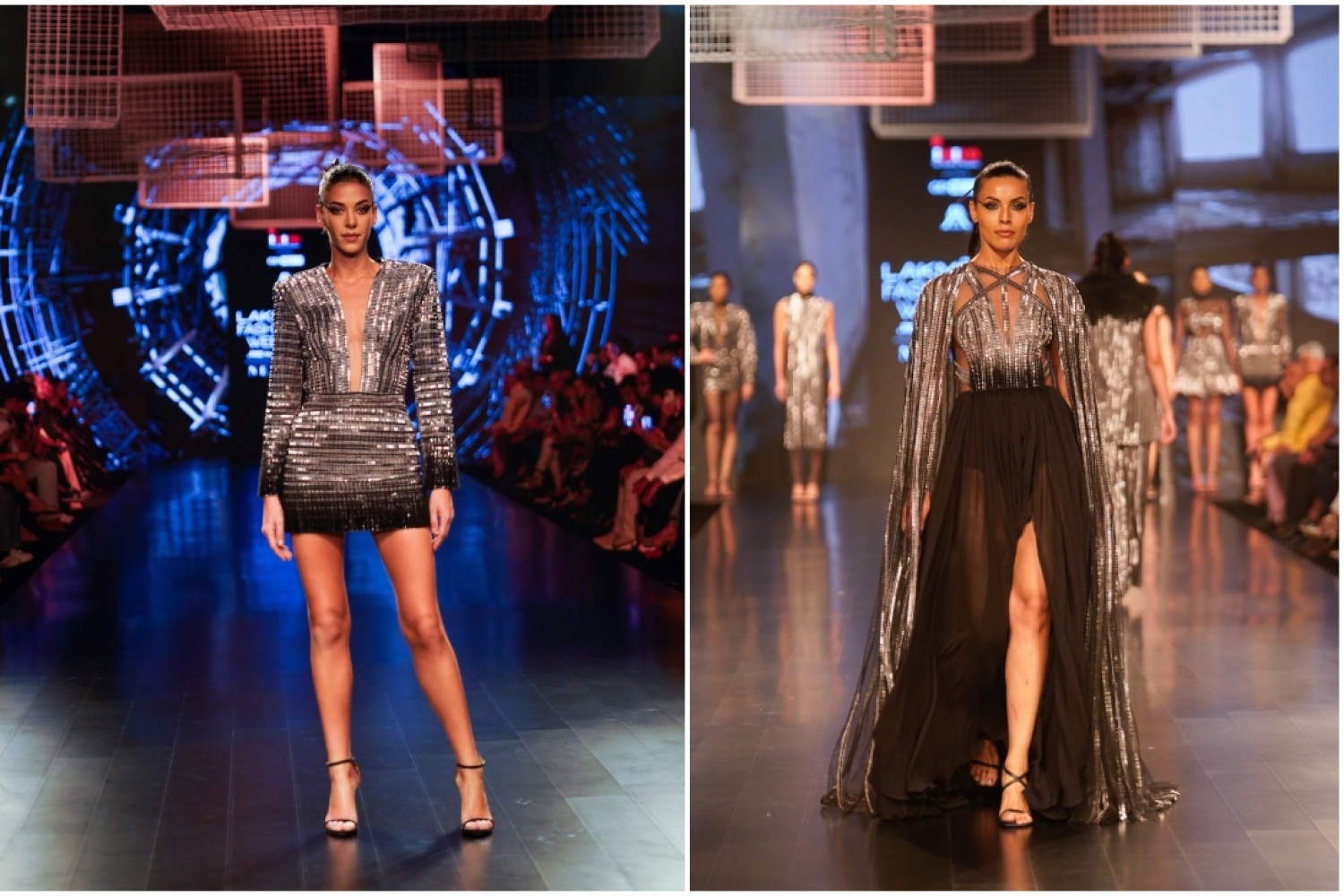 Founder of his eponymous label, Rudraksh Dwivedi grew up in an army household surrounded by family who encouraged him to follow his passion from the get go. With a creative streak in his body that developed early on, Rudraksh found himself fascinated by fashion illustrations, which led him to sketching and eventually, visualising outfits. It was a natural progression for him to pursue a career in fashion, as it was his true calling. He went on to pursue a design education, and one thing led to another that gave birth to his label. We're in conversation with the designer as he presented his collection at the recently concluded Lakmé Fashion Week X FDCI.
How did the journey for your own label begin?
I've had the privilege to work with and be mentored by a few decorated designers in the industry, however in the summer of 2018 I quit my job to start my own label. At the time, there was an investor onboard who backed out once the company was registered. Growing vary of waiting around, in February 2019 I decided to set up a small workshop within my apartment, invested in some fabrics and got down to making our first capsule. We were quite strained financially and I'm thankful for my supportive family who supported me through that period. Once the samples were ready, I reached out to multiple stylists via email/Instagram and sent them our look book.
Being a newborn label, initially we got exploited quite a bit but learned the dos and don'ts on the job. We were able to grow and sustain ourselves by the end of the year, while building a team. We had just moved the workshop out of the apartment in February of 2020 when Covid hit. The past three years have been a rollercoaster ride and we persevered through them, growing and learning along the way. It's our fourth birthday this month and winning INIFD Presents GenNext is like the icing on the cake.
Where do you usually draw inspiration from? Take us through the creative process for the upcoming INIFD presents GenNext collection.
Personally, my mom has been the biggest inspiration and pillar in my life. I was always taught to follow my passion and never to shy away from a challenge. She has made me the person I am today and motivates me to grow every day. Creatively, I draw inspiration from a mix of elements, however my design process is predominantly inspired by the raw material I use. The journey of fabric, from a sketch to a fully realised garment still amuses me.
Inspired by eco brutalism, for this upcoming INIFD Presents GenNext collection, I've tried to integrate geometric line work (symbolising rigid grim concrete buildings) into handcrafted textures (symbolising natural elements) that result in an aesthetic juxtaposition. For this collection, we've used a four-inch metallic trim, matted onto tulle and manipulated using hand and machine work. Through this technique, we are able to achieve a variety of classic silhouettes like column, fit-flare and more. In combination with chrome line work, we've worked with layered tulle and crochet mesh to create a mix of paradoxical elements throughout our collection.
Also, what do you think of it sustainability in terms of the current fashion landscape? Where are we lacking and what's the way forward?
In my opinion, sustainability is a huge umbrella term and is perceived differently by different individuals as it's not a black and white construct. That being said, the current fashion landscape thinks sustainability is a fad. While individual change is great, systemic change is the goal. There is no single solution that would work for everyone. I personally feel the access to funding and resources to scale sustainability is where we are lacking. Going circular is what we should be aiming at, and having these hard conversations is the way forward.
What do you think is coming up next post Lakmé Fashion Week X FDCI?
I'm absolutely thrilled to be showcasing at Lakmé Fashion Week X FDCI this season and intend to make the most of every opportunity that I am offered. I'm not sure what's in store for me post the show but I'm elated for this experience and looking forward to what's to come.
Words Unnati Saini
Date 15-03-2023