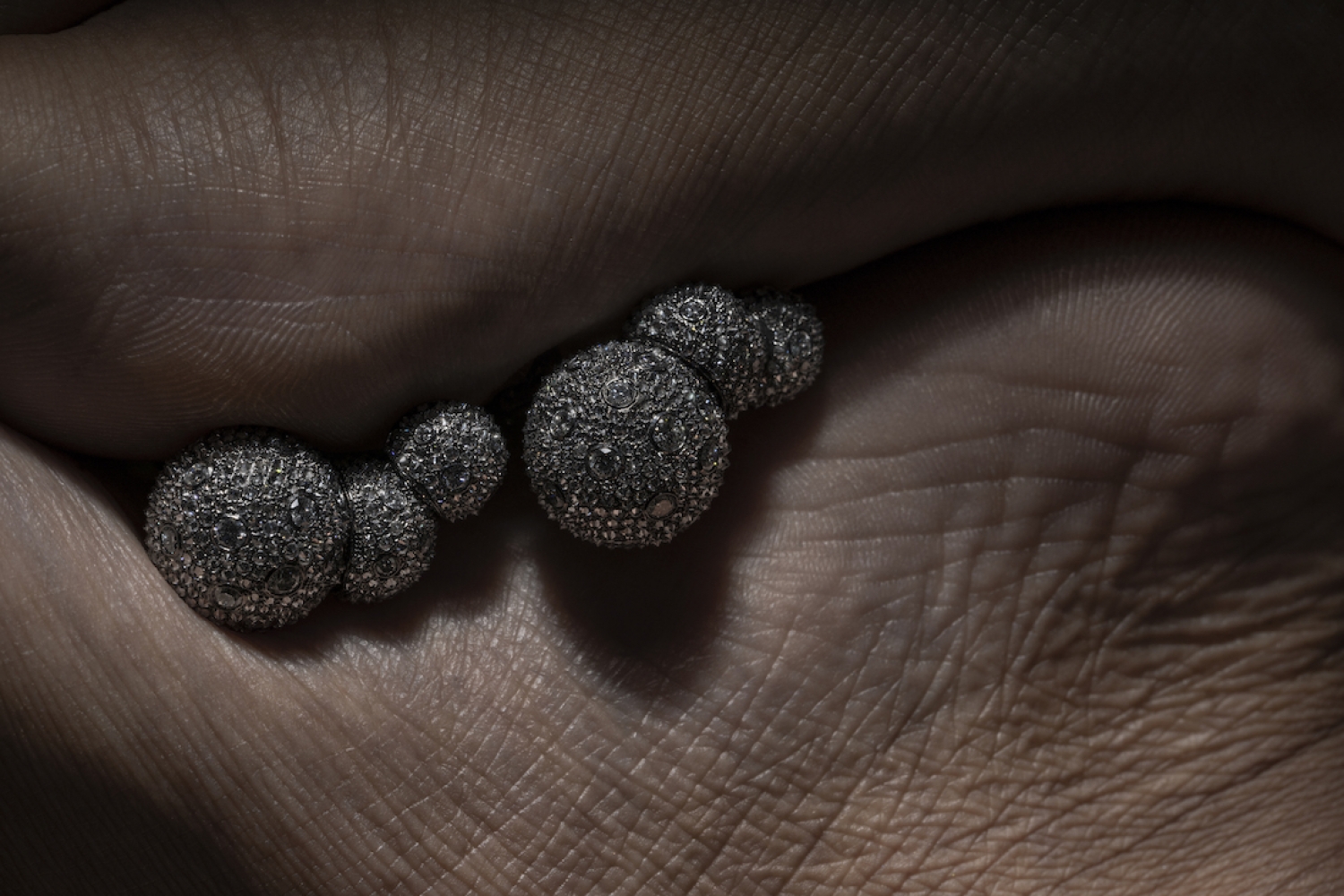 Before starting Studio Renn, co-founder Rahul Jhaveri was involved in his family business of sourcing diamonds. He would design jewellery for his friends and family. Over a period of time, he and his wife Roshni felt it would only be natural to establish their own label to create pieces that were an extension of them. Rahul's own journey with design and the arts goes all the way back to his childhood. His bedroom was nothing short of a studio as he fondly recalls painting and drawing extensively. He hasn't looked back ever since, keeping the company of like-minded individuals even now through Studio Renn. Roshni Jhaveri, on the other hand, was a strategy and marketing consultant before coming on board for Studio Renn. While she came on to help establish the practice, there has been no looking back for her either. Equally excited by the challenges that came her way, just like in her previous job, Roshni feels the learning curve has been immense.
We're in conversation with the duo who recently presented their work at the prestigious GemGenève, the Geneva International Gem and Jewellery Show. Studio Renn exhibited as a part of the Designer Vivarium, curated by jewellery historian, Vivienne Becker. They also tell us more about their process and the label's aesthetic, among other things.
In terms of the label's aesthetic, what would you say it particularly stands for?
Rahul: Our studio is three years old and I'd like to believe that we don't know. We don't want to know either — it should be ever evolving. There are of course certain phrases that do keep coming up in discussions, one of them being contemporary. We're reacting to the world around us and where we're coming from, but our work is forward thinking. While the objective isn't to take the industry forward by any means, it's simply forward thinking for us. Jewellery is the medium we're using to express ourselves.
Roshni: I would say our work is a lot more process driven than end result driven. While our aesthetic isn't defined, it's more about how we got to it than anything else.
Take us through your creative process.
Rahul: The process is very fluid, we don't have any defined path per se. We collaborate with visual artists, architects, performance artists and engineers, to name a few. We tend to work with people aren't particularly involved with our field but are brilliant, creatively inclined and driven by a sense of exploration and innovation. It's from the dialogues we have that we conceptualise the work.
Our previous comprehensive body of work was created in collaboration with visual artist Prashant Salvi. It was through our interactions that he created the sketches. More than the sketches translating into the jewellery, there were certain sensibilities that stood out for us like volume, reflections, textures and nothingness. These words inevitably amalgamated themselves with the jewellery. When we were working with concrete, in collaboration with Material Immaterial, co-founder Nitin Barccha and I discussed the transient nature of the city. That's how the concrete ring was formed. We've acid-treated it to succumb to the 'finished piece'.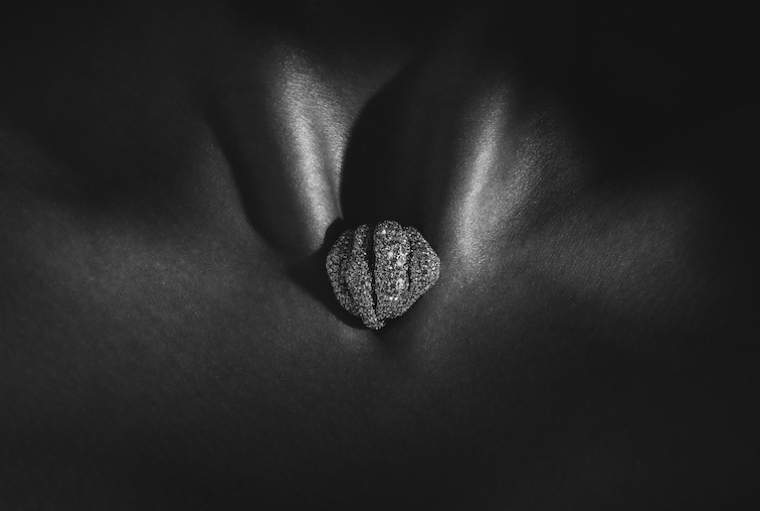 When it comes to concepts, there are obviously no boundaries. How do you reconcile the functionality and art aspect of your jewellery?
Rahul: Everything happens with a lot of trial and error. On one hand of our production, we do have the creative and experimental. There's another in which we're engineering mechanisms and rethinking how a piece can be worn. Everything that we do, all kinds of innovations, are tried and tested multiple times over.
Roshni: The end result is something that we want to make sure is comfortable. We want it to be worn. We have a rigorous trial process. If one sees eighty pieces then there's double of that which do not make the final cut because of not being able to strike that right balance. It is something that constantly keeps happening. Till a piece is not perfected we don't put it out.
How would you say Roshni and Rahul work together?
Roshni: We've been working with each other for over twenty years, be it in university or otherwise. I've always been involved in Rahul's projects outside of the diamond business. I signed up for Studio Renn because we know what it's like to collaborate together. There's conflict but then there's good things that stem out of it. We're both opinionated and know what we want in that sense. Considering we're so new, our roles do tend to overlap at this point. There is definitely a more dominant presence of Rahul in the creative space and mine in the business end of things, however most of our decisions are jointly taken.
Rahul: We've been inseparable since college, us working together is a natural progression wherein we just fill in the gaps for one another now. I think of it like an ideal partnership. We know each other well enough hence we know where the other person is coming from. We do challenge each other's points of view, but more than that, we do understand them very well too.

Roshni: We learnt almost everything together, even at university. The kind of approach we have to decision making or dealing with a problem is that we always try to find the balance between the creative and commercial.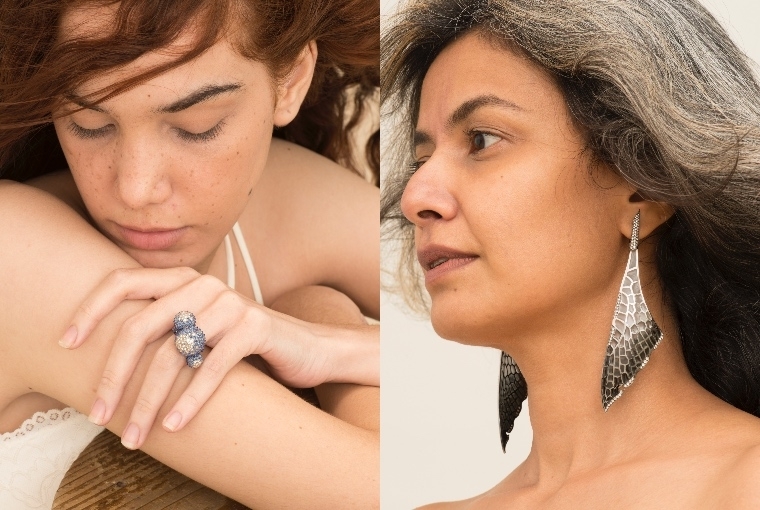 You've mentioned how contemporary is a part of the label's aesthetic. Apart from that, there's also this sense of maximalism. Is it intentional?
Rahul: Our works might seem avant-garde. It's not our place to define them but for the viewer to interpret. The works are what they are, however how people project themselves plays a huge role in how they're finally interpreted. Our pieces might seem a certain way because we're attempting to challenge a lot of pre-conceived notions regarding jewellery, collected and designed. If one does something fairly different from the norm, it does seem avant-garde. It just comes naturally to our design language. We don't know how to do things any differently than we're doing them right now.
What's keeping you busy right now? What's coming up next?
Rahul: There's always something coming up next. There are some works that usually take a upto a year or two for completion. Like mentioned earlier, the pieces that don't make the cut are the ones that we learn from the most. We keep experimenting with ideas and materials. We also recently showcased at GemGenève which is a matter of great pride. When we started the studio, it was always on our list to work with Vivienne Becker. In December, we'll also be having our first standalone show since the past two years.
Text Unnati Saini
Date 10-11-2021