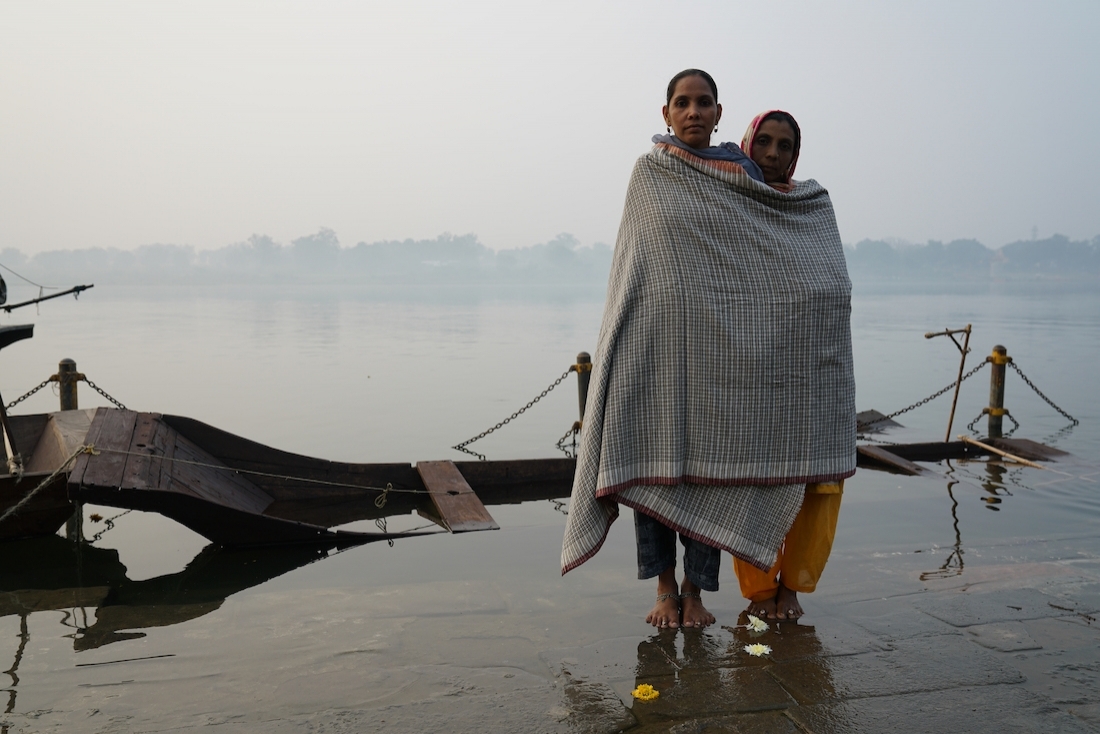 The female weavers with the end product of their work. Photography: Tad Philipp
In a culturally diverse country like ours, there are no easy answers when it comes to the fashion industry. The ecosystem is complex, oscillating between ancient weaving practices and modern artistry. While the wedding paraphernalia continues to dominate, indie labels and their deconstructed silhouettes have also found their space in the narrative at large. The textile industry is booming — a report by Mckinsey's FashionScope predicts India's apparel market to be the sixth largest in the world by 2022. There has also been this urgent need to bring back the weaving community across different pockets in the country, which has led to the revival of traditional crafts and practices. This not only helps build a sustainable structure that generates employment, but also recognises the craftsmen and women who usually operate in the shadows.

An organisation working tirelessly in this regard is WomenWeave. They not only work towards reviving Maheshwar's weaving practices, but also specifically generate employment for women who were initially mere supplements to their male counterparts. Often undertaking secondary work and never being recognised for their labour, WomenWeave helps these women regain their autonomy. Their Gudi Mudi Khadi project has trained about 300 women in spinning and weaving processes. Despite their artistic genius, capitalism has reduced craftspeople to the designation of labourers. WomenWeave's main aim is to provide a security blanket for the communities they work with, to channel their knowledge in the best direction possible. They engage in practices that reduce industrial consumption and are far more conscious of their impact on the ecology.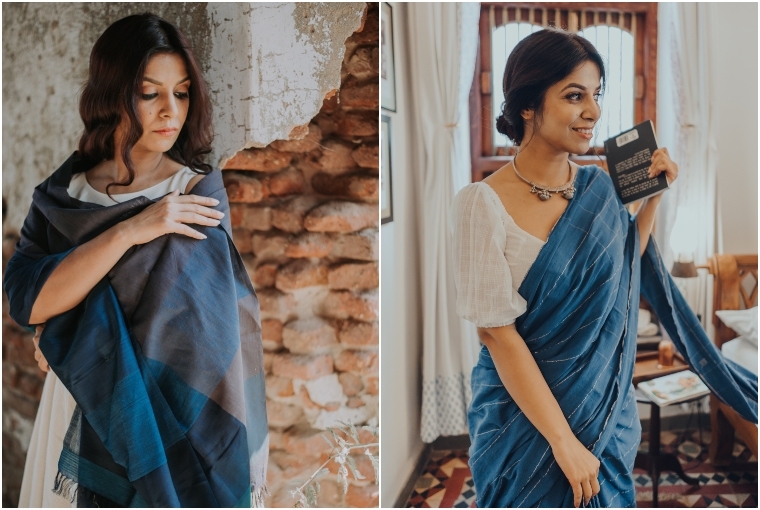 A scarf and a sari by the weavers
Executive Director of the project, Nivedita Rai, is actually an engineer who was working for a corporate firm before joining WomenWeave. A few years into her bank job, she came to the realisation that her volunteer work intrigued her more than her actual job. She further pursued a two year long course in Rural Management, post which, she was specifically looking for a job in the crafts sector, leading her to WomenWeave. Her response to the complex relation between craft and fashion is an interesting perspective, seeped in history. She emphasises on how initially, the creators were considered to be the trendsetters. The weavers and craftspeople were creating for the royalty and the regular folk, thus defining fashion in those days as opposed to now. 'Craft is fashionable, you cannot segregate these two concepts. Something that's well-made, utilitarian and hand crafted is the ultimate form of fashion,' she adds.
The textile industry may have been rapidly growing, but with the pandemic at hand, the entire world is at a standstill. Things are clearly not what they used to be. Nivedita explains the consequences for WomenWeave, 'It has completely taken over our business, our workspace had been shut since 22nd March and we have just started opening up again, following due procedure to maintain hygiene. We lost business and since we deal with luxury textile, which isn't a necessity, we can't be sure when the markets will recover. We plan to be very cautious and cut down on our expenditure. Our main aim is to make sure our artisans and their families are well provided for. We are trying to be flexible and take up all opportunities to provide work. We have also been receiving donations for our artisans. We are working on utilising our waste yarn to create new products that can be used during this time. We want to create utilitarian goods and we're altering our product range.'
Textiles produced by the organisation
This global pause has also led to brands strategizing to restructure how fashion world over is perceived. Conscious efforts are being made to reduce the footprint of fashion and sustainability is being emphasised upon now more strongly than ever. Many scheduled fashion weeks are now going digital. Alessandro Michele, the Creative Director of the luxury giant Gucci has announced to only present twice a year in the future. On the Indian front designer Gaurav Gupta has switched over to recyclable packaging. Talking about the need for drastic change in fashion and the consequences of our situation, Nivedita is both worried and hopeful.

From their Handloom School where weaving and other skills are taught. ; Photography: Tad Philipp
She elucidates, 'I think there are two things that can happen. Either people will emerge stronger and think carefully about their consumption habits. On the other hand, there will be a lot less money in the market and spending will reduce. People might shift towards relatively cheaper clothes and materials. Will we then even stand a chance, in comparison to mill-made products? I do feel though that people are getting more and more exposed to the human induced damage on the environment due to mindless consumption. I still have hope that people will make the correct choices and support smaller businesses and ethical brands. I hope they'll demand more transparency and ask the right questions.'
The future may not be looking the brightest right now but WomenWeave is an organisation that facilitates in helping women create a self-sustaining economy and realise the true worth of their labour. They believe they'll continue to do so. Nivedita believes they not only invest in women but also help nurture their families. They further want to move into unexplored clusters of crafts, help empower those communities and showcase their skills on a larger platform. As an organisation, they also wish to help develop the skills for the next generation of weavers.

Text Unnati Saini

Textiles in process. ; Photography: Tad Philipp
Textiles in process. ; Photography: Tad Philipp