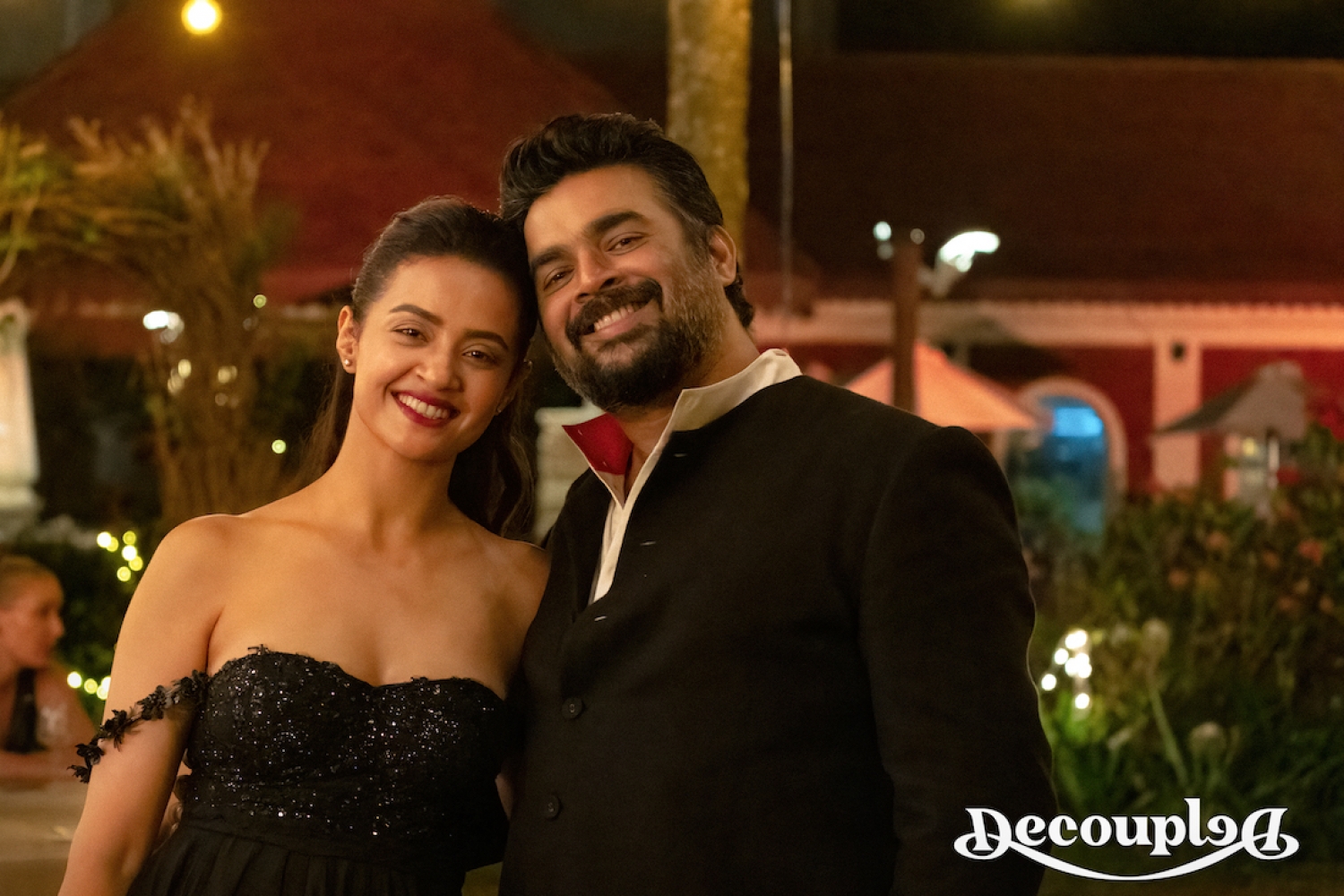 Ram Madhavan and Surveen Chawla are actors who often sweep you off your feet with their powerful performances. We all remember the pilot in Rang De Basanti, a patriot, a lover and a great friend, whose death wakes up a group of fighters from their sleep. And Jojo Mascarenas in Sacred Games, a woman living on her own terms, slyly driving the show. Now they're coming together for a Netflix show called Decoupled. Written by ace writer Manu Joseph and directed by the very efficient Hardik Mehta, the show is a big departure for the actors from their past roles. It is a show filled with chucklesome, toe-tickling sarcastic banter.
We spoke to them to know more.
To begin with, tell us the first thought that came to your mind when you read the script of Decoupled?
Surveen: The first thought that came to my mind was that I was looking forward to doing something that was light, unlike what I've done in the recent past. And actually for the longest time, I've just been doing very heavy rolls. Although comedy was the last thing on my mind, when the script came to me and I read the first two episodes, I was on the floor laughing. I think that sealed the deal for me. It was a refreshing change for me, something I was looking forward to.
R. Madhavan: For me, when I saw the script, I didn't have much hope for it actually. I didn't know who Manu Joseph was. I only knew some of the team, as well as Surveen, of course. And I was very skeptical because it was in English. But I read it just to see how it goes, and it was what I'd been looking to do for a long time. I knew that it's a risky project. It's very niche and in English, but I was very compelled by the writing to take it up. Also, I was playing somebody who can easily be hated because of the way he says things and who he is, but, to make him endearing and to make him feel charming at the same time, so that you don't hate him, was a challenge I was willing to take up.
S: I can't imagine anybody else playing this roll the way you have done it.
R: And I can't imagine anybody doing what you did, Surveen. Not that we're patting each other's back, but I think it was just a fabulous time. The way we met in the hotel, the first day, and how this whole family is sitting and chatting and that camaraderie kind of just contributed to it so beautifully.
How was it working with Hardik and Manu?
S: I'll tell you about my first interaction with my Manu. He is a very docile kind of a sinister writer. That's how I see him. I remember him being very quiet. And Hardik and Manu are quite the yin and yang — Hardik's energy is very different from Manu's. But I think the commonality between both was the free hand that they gave both of us and to most actors actually, to collaborate, sit down, have inputs, revisit lines, say the way we want to say them, have our own rhythm, have our own flaws.
There was one thing that kept me really happy on set — the collaboration. When you're sitting down together and making notes and making the changes, if at all needed, I think for me that teamwork is a big high. To make the character, Shruti, my own and to be given that kind of levy and luxury to let me do it my way. So I remember me and Maddie would just rehearse the lines that he wrote. I think that's what worked for both of us very well.
R: Absolutely. I cannot agree more. We just wanted it to be spontaneous when we did it. So we would just ride on the lines. And, as far as working with Manu and Hardik is concerned, and the entire production team, the prep was impeccable with the stress of shooting in the pandemic. And hats off to the entire production team for that. Manu was absolutely sure about what he was writing and what characters he was building. He was able to contribute to me as an actor as well. A lot of places, where I took up what he said so seriously, it made a huge difference in how I was portraying the character. And it was good to know that you can fall back on somebody who knows exactly who you are. Hardik's prep was extraordinary. I mean, for somebody to be that well-versed with the script and to do everything so efficiently, it is only on sets like these where one feels comfortable. And to do this during the pandemic, within two months, is not an easy task. They pulled it off brilliantly and we were right in our assessment of the team.
Do you have a creative process? Can you talk about that in the context of Decoupling?
R: I don't know if I have a process. I like to keep my mind completely empty and open to changes and suggestions. When you read a character, you would run it in your mind and see how you would like to see him, and then you rub it off. And then you come onto the set and rely on your instincts. That doesn't mean we don't prepare! We do it in terms of the lines and memorising it so that you don't keep other people waiting, but I ended up drawing a draft as we go along to make sure that I'm holding onto the thread and I'm not going out of character. I've never learned acting so I don't know what prep is, and I don't know how you're supposed to do it, but maybe I need to go to classes and understand stuff.
S: This is actually a question that stumps me every time because I really don't know what to say. I don't really know, I don't have one. I mean, I like to just go over the script, like Maddie said, with an empty mind, and keep rereading and rereading. And the I try to make a visual of the character. And I always like to have my lines literally at the back of my hand. Memorizing your lines is the first for me personally, that's my first step.
We would do more prep on set together, actually, Maddie and I. We would just keep saying, throwing lines at each other, over and over again. Not too many times though, we refrained from doing that, but I think that helped because we would go all out, guns blazing and that's why the spontaneity never died.
So many platforms offer so many formats now. How challenging is it for you as actors to switch, or does it not matter at all?
S: It doesn't matter.
R: Yeah, it doesn't matter. I think the intensity of the prep is the same and only the working time period on a character changes depending on the format. But apart from that, I don't think that any actor can claim that the pattern changes.
S: I agree.

Before we sign off, can you talk about your upcoming projects a little?
R: Well, my directorial debut Rocketry. That's what I'm looking forward to. It's a big one.

S: Even I am looking forward to watching it! Can't wait.
R: Thank you Surveen!
Text Hansika Lohani Mehtani
Date 19-11-2021