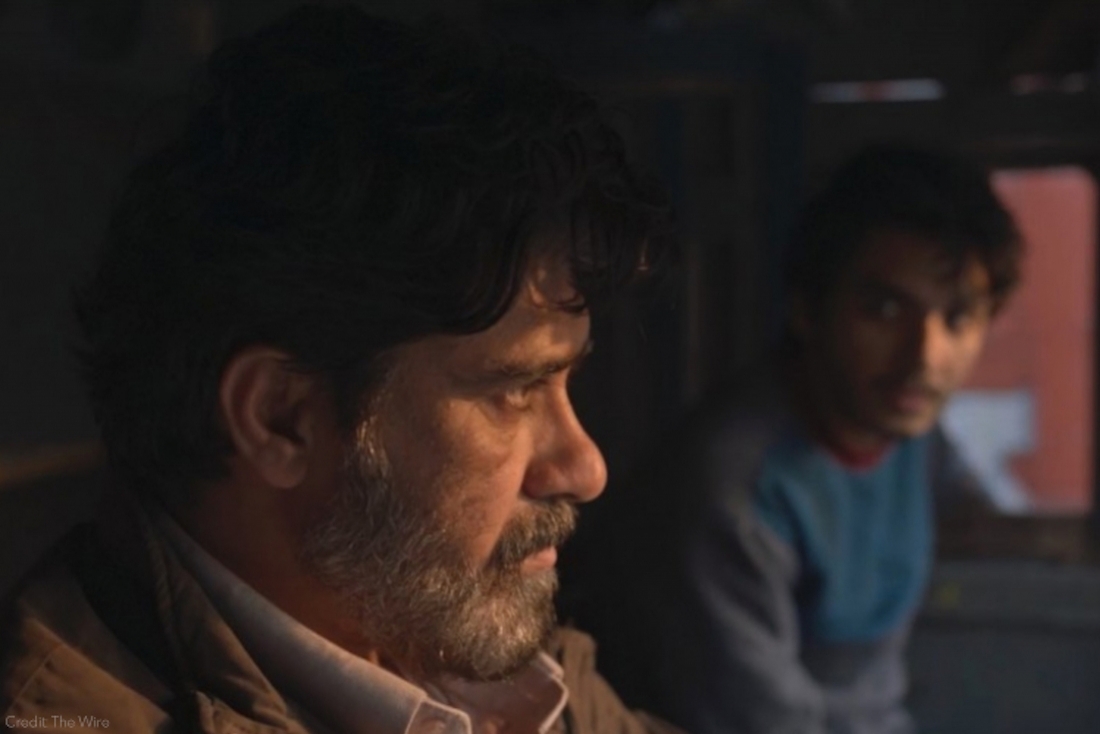 Three years ago we vouched that Ivan Ayr is a filmmaker to keep an eye on. Proving us right, we have Ivan returning to Venice Film Festival this year with his second feature, Meel Patthar or Milestone. It is a part of Venice Film Festival's Orizzonti (Horizons) section, where it will screen between September 2 and 12, alongside Gia Coppola's Mainstream and Lav Diaz's Lahi, Hayop.
Milestone revolves around a truck driver and his struggles. An individual whose very existence finds meaning in moving, is still stuck in his life. Both Soni [His debut film] and Milestone depict different kinds of struggle. Be it women struggling to find their place in a male-dominated world in the former film, or a truck driver who is constantly on the go, but is fighting to find any meaning in his life. Both his films are like detailed character studies.
Shot over a mere 27 days, Ivan finished the film just before lockdown was imposed. On a quick call amongst all this, Ivan walked me through the journey of the film, casting method and script-writing process.
Post Soni's festival run, did you immediately start working on Milestone's script?
I didn't start working immediately but I had a different version of my new film's script partially ready when I was in the United States. I had written the script for the U.S. actually and after I moved to India I was working on something else. But then, Milestone's script kept drawing me towards it and I felt it would be equally beautiful if it was set in India. It is a film about a truck driver who is usually away from home. That actually holds true for anywhere in the world. Truck drivers spend so much time away from home because of the nature of their work. So the idea seemed very appealing -- to set the film in India. I began rewriting parts of the script, and by the end of 2019, we had a script ready to be shot in India.
How did the story come to you though, and why truck drivers? I read somewhere that you have an extended family in the transport sector. Did it spring from a personal space then? Would you say Milestone is inspired by real-life incidents?
Well, initially the idea to make a film about a truck driver, was an idea that interested me greatly because I had heard so many stories within my family. And yes having an extended family who once drove trucks themselves, and later on became transporters, helped with the authenticity because I had an insider view. Although I had never seen the business running, but the access was there. A few of my family members are still in the transport business in the west, but then there are some who are here, and they let me in on their work. They allowed me to see how things work. However, Milestone's story is more of a character study told from a very personal point of view. Although the story has a backdrop of trucks and highways and this industrial mise-en-scène, the story could be anybody's story.
Can you give us a blurb on Milestone in your own words?
It's about a veteran truck driver. Because he spends so much time away from home, he has become used to a particular lifestyle and he is at that point in his life where imagining anything else is disturbing for him. With certain changes that are happening in contemporary India, it almost forces him to reckon with his past and just imagine that one day it is all going to be over. So it's about a sense of existential crisis in a person who has really not done anything else in his life.
Were you shooting before the pandemic hit us?
We actually finished the film in February. We barely finished two weeks before the pandemic hit headlines. Even when we were shooting, which was the beginning of February, there were some of us on the set who were slowly becoming aware of this thing insidiously creeping in, but we weren't entirely sure because there wasn't any precedent for this. The closest thing I could remember to this was something like SARS. And that was from a long time ago. Yes, there was H1N1 but we just kept thinking that it would be something of that sort and it would come and go, so it isn't a major cause for concern. But as we got done with the film and went home, barely within a week's time we were all calling each other. So everything came to a halt by the second week of March. It was barely in the nick of time that we got things done.
Both Soni and Milestone depict different kinds of struggle. Struggle. Does that word mean anything to you? In other words, what type of stories do you want to tell as a storyteller?
Soni is more about establishing your worth as a human being, which is a statement that is resonating in Milestone as well. It is about an individual's struggle. It is about an individual who is trying to make sense of things that are happening around him. And it is a character study. Characters drive my films. I cannot make a film without falling in love with the character. That's basically where my story begins and where it ends.
Let's talk about the setting of the film and the 27-day-shoot. Like last time, you wrote, shot and edited the film yourself. Tell me about the experience and the challenges you faced?
It definitely wasn't easier. Just the amount of time it took us to put the crew together was probably shorter, so the amount of time was less than last time. And also because when we were shooting Soni back in 2016, we were still shuttling between India and the U.S. So, that was delaying a lot of things and making communication very complicated. This time, because we were here, things were more streamlined, but everything else was pretty much the same. We had to spend a lot of time figuring out locations because we wanted to shoot in real locations and that required permissions.
Casting was still very hard, a lot harder than last time actually. The story is about a veteran truck driver so we needed someone who can convincingly play that and is comfortable driving a truck because they actually had to sit inside the truck and drive it. Also someone who is a veteran in age as well as experience. So it required training, a certain kind of look. Then, to make everyone's lives more miserable, I decided that this guy had to speak fluent Punjabi. The character is form Punjab and speaks fluent Punjabi. 30 percent of the film is in Punjabi. So this guy had to be fluent in the language and that made things very hard — finding somebody who is in that age group is hard enough and then you throw the other things on top of that, it made thing very challenging. Hence casting took a lot longer, but everything else was the same.
Do you generally like shorter/tighter scripts? At 75 pages, Milestone's script is 25 pages shorter than Soni's.
The reason the script is shorter this time is because there were lessons I had learnt from Soni. Soni is 98 minutes long and Milestone is a couple minutes shorter. With Soni, when I had put the first cut together, which was basically the entire sequence, it was coming out to be two hours and five minutes. But I was much happier with the shorter version. So there were experiences from Soni that helped me edit things in the script itself. I gave myself a lot more time, just thinking about things from an editor's perspective because I am strongly involved in the editing process myself. I edit on my own, and then I let an editor look at the edits I have made. This time the script was shorter primarily because I knew at the script stage itself that certain things can be changed while writing the script itself. I think we had a balanced, nuanced script within those 75 pages and didn't really feel any need for it to be any longer.
The film is going to a prestigious festival like the Venice Film Festival and hopefully to other film festivals as well, is that enough for the distributors in India?
To be brutally honest with you, I don't think distributors in India really care. I think there is a perception that people want to see certain kinds of films and I think that really drives the decision making and of course, it's their company so who am I to say anything about that. Completely upto them as to which films they want to support. Whether or not they have started giving more attention to the recognition that my films get outside of India is not clear yet, so far I think it is pretty much the same as it has been all these years.
Technically how is Milestone different from Soni. The latter has one-take scenes all throughout.
We have followed the same techniques for a number of scenes. Particularly scenes where there is a third amount of drama. However as the story is very different from Soni, the spaces are quite different, so the same technique did not really make sense. The same sequence would have been unfair to Milestone and in retrospect, unfair to Soni as well. I had to develop a new language for this film which did work to my satisfaction at least.

Text
Hansika Lohani Mehtani