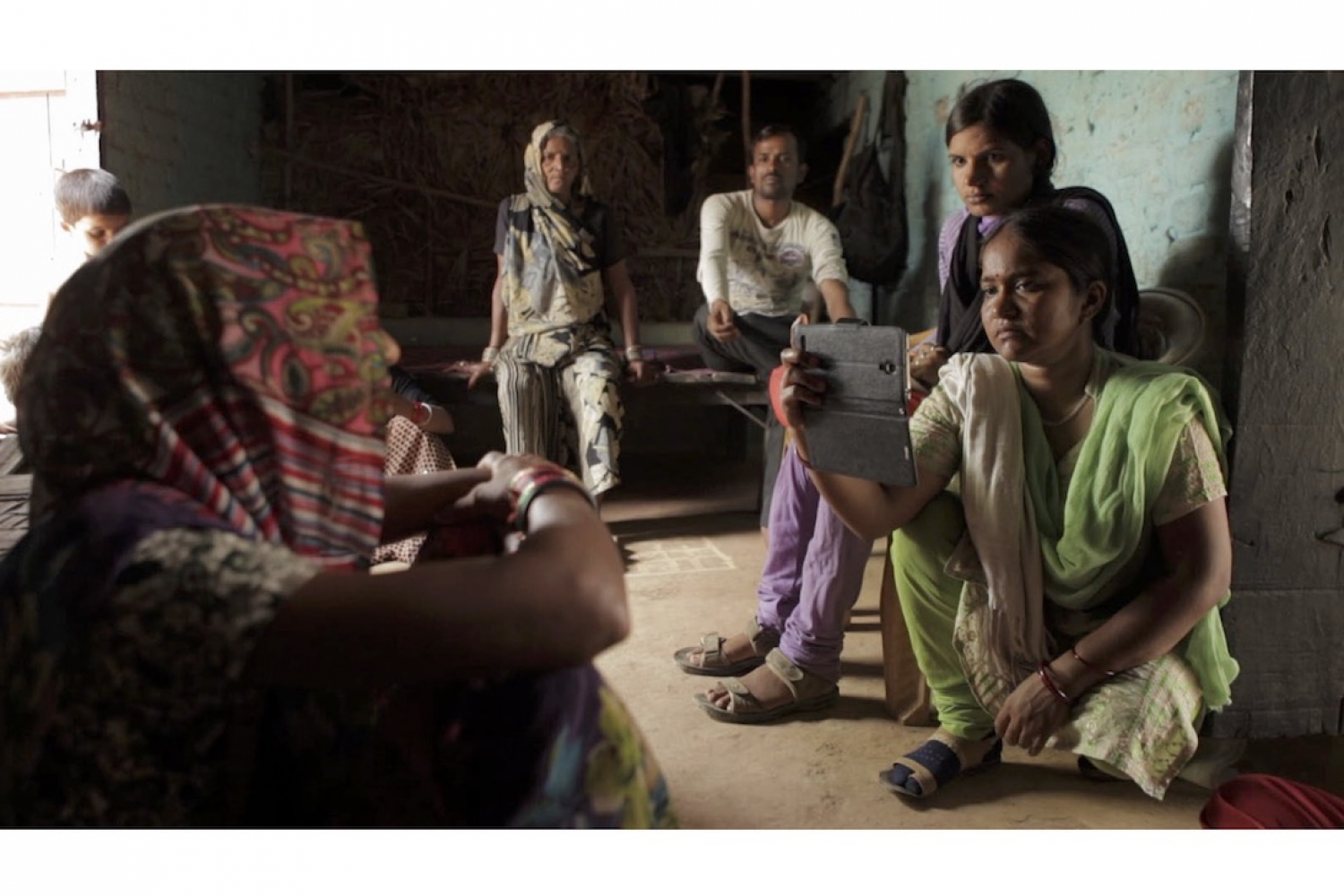 Still from Writing With Fire
While watching documentaries, I've always wondered how it is possible for someone to tell a powerful story of a stranger pulling the viewer into a profound experience of another world, which reflects back to their own.? Non-fiction can be a tricky genre of choice, but filmmaker Sushmit Ghosh is deeply invested in this visceral form of storytelling. A good documentary can rip your soul out and leave you asking for more.
Sushmit spent an idyllic childhood in Kigali, a province nestled in the heart of Rwanda. Days were languorously spent climbing lush trees, catching all kinds of bugs and worms, learning to fish in the streams and listening to African folklore. His parents were also obsessive travellers, finding every opportunity to drive out of Rwanda into the neighbouring countries — savouring fragrances, people, animals and food. As a child, a part of Africa got stitched into his soul and in many silent ways, has influenced him, even though it's been decades since he returned to India.
Sushmit studied at Jamia in Delhi, where he also met his soulmate, Rintu Thomas. Together they started Black Ticket Films, a production company invested in the power of non-fiction storytelling. Over the course of the last decade, Black Ticket Films' award-winning slate of films have continued to be used as advocacy, impact and education tools by institutions across the world.
His debut feature documentary, Writing With Fire won a Special Jury and an Audience Award at the Sundance Film Festival. It has been absorbed powerfully by the audience globally. It is the first time modern Indian Dalit women will be seen on screen, not as victims of their circumstances but as writers of their own destiny. They will be seen in positions of power, represented through their individualistic and dynamic voice and agency as they navigate obstacles in their personal and professional lives. This film is also deeply entrenched in the theme of women whose voices are not heard, becoming the voice for others. And their armoury in doing so is a mobile phone and their own chutzpah. Imagine an alternate world where the world is saved not by superheroes in capes, but by women sporting saris and a smart-phone. Ordinary women with extraordinary courage. This story is as unique for India as it is for the rest of the world.
For Platform, Sushmit spoke his journey in films, Writing with Fire and the way forward.
What is it about real life cinema that draws you in?
Non-fiction came to me quite organically so that's the genre I dove into first. But maybe there's a fiction somewhere in the pipeline, in the not-too-distant future! What really attracts me to non-fiction is that it can be such a visceral form of storytelling. So that's something that I've always been interested in. I'm drawn to stories of outliers, radicals who have created change in their communities, people who would typically never be heard of in the mainstream but have powered on and transformed their communities and their worlds. And the question that has driven our work at Black Ticket Films is how we use our cinematic voice to amplify these stories of hope and change. Whether that be the story of a tiny village that revolutionised agriculture and went on to show the world a better way of life in Timbaktu; or that of Dalit women have dismantled systems of patriarchy to report from the frontlines of India's most urgent stories in Writing With Fire. I think Alain de Botton succinctly sums up what might be my storytelling approach - the difference between hope and despair is just a different way of telling stories from the same set of facts.
Being a documentarian, how challenging is it to make people take their guard down and share their true story for the camera?
My search for stories comes from a deep space of curiosity. And the premise for a story is always cantered on a theme I want to engage with, through which comes the discovery of characters. In film school, we were taught to make films about 'subjects' and I'd always cringe. Calling someone a 'subject' sounds colonial, almost as if the filmmaker is some sort of a scientist on a pedestal. There is always a power dynamic between the person behind the camera and the one in front and the main challenge is how does one make this an equitable relationship. For me, creating a relationship of trust, which might evolve into a friendship – even with someone you might not agree with — is very important.
If I look back at my first film, this is exactly how Bullets and Butterflies evolved into a story. Rajesh was an amputee, who had spent the better half of his life living on the streets. And he implicitly trusted me with his life when we decided to hit the road on a motorcycle. I was just a confused kid who wanted to figure his life out. I had no formal education in cinema, no academic rigour about the politics of image-making, or the dynamics of an edit structure – it was just meant to be an adventure for both of us, which inevitably turned everything for me.
So, the process of spending time together with people, with their families, silly conversations that segue into profound dialogues on life; allowing them to challenge your own beliefs and politics, that's all such a critical part of the process of getting to know each other. And it's usually after all this that the camera comes out. And because there's a relationship of trust, the door opens gently and you find yourself in their lives. And then they want to tell their story. And they want you to be the one to tell their story.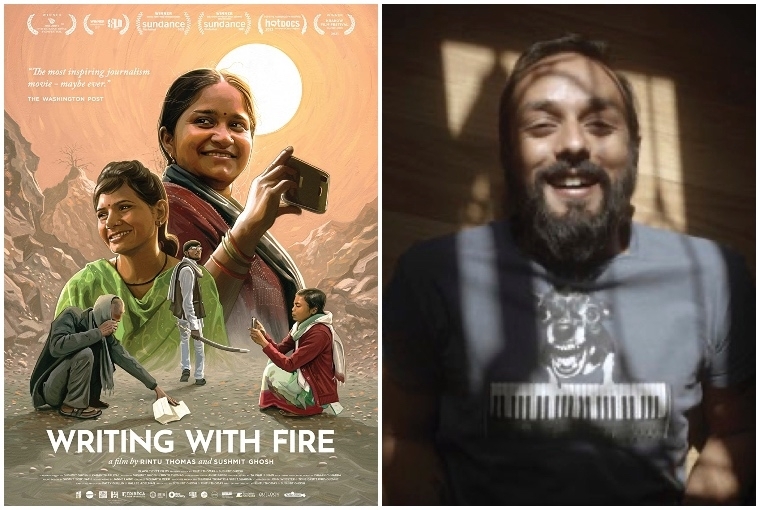 In that context, can you talk a bit about Writing With Fire?
Writing With Fire is the story of Khabar Lahariya, the only newspaper in India run by Dalit women and we began filming this story back in 2016, when the paper was at the cusp of shifting from 14 years print to digital. This story is seen through the eyes of Meera, the Chief reporter at Khabar Lahariya and her two young proteges. We witness Meera leading her team in a male dominated news landscape as they break traditions, both within and outside their homes, to report from the frontlines of India's most urgent stories, redefining what it means to be powerful.
We had been waiting for the right story to come along to develop our first feature so when we met Meera and the team at Khabar Lahariya, it felt like the right story to dive into with all our resources...but we never imagined it'd take five years to put together. And retrospectively, I feel glad we spent this time to be able to curate a story that is as deeply intersectional, personal and intimate. To have Sundance, which is a space that stands for independent voices, as the home for the film's world premiere is meaningful in so many ways – and then to win two awards here (an Audience Award and a Special Jury Award in the World Cinema Documentary Competition) sent everyone on the team over the moon.
When shooting in remote locations, what sort of production conundrums come your way? Can you talk in context of Writing With Fire? Shooting in off-grid locations comes with its own set of challenges – sometimes villages don't have electricity for us to charge our equipment, sometimes we're filming in extreme environments where the cameras are pushed to the limit – every shoot has its own, peculiar story!
With Writing With Fire, the biggest challenge was in filming with our characters, who are Dalit women journalists working in extremely hostile spaces. And sometimes in spaces of deep grief – homes of rape survivors, families of murder victims and survivors of domestic violence. We knew we had to have a quiet presence, with equipment that was almost invisible so that we didn't interrupt the work of our characters and also maintained the sanctity of the moments that were unfolding between them and the people they were interacting with.
We decided to strip down the crew to three – my co-director, co-cinematographer and myself. We filmed our story over four years and knew early we had to go with a unit that would best able in extreme conditions – so we let go of our original plan of filming with the FS7 and stripped down our kit to two Canon DSLRs, deciding to shoot entirely handheld. This really helped us adapt to the physical stress of working in a region where average temperatures hover at 42 degrees, filming in situations that were unpredictable and potentially risky. What does it feel like to jostle for space on rickety buses and overcrowded rickshaws, or to walk hours under the baking sun to get to villages that didn't exist on maps? We wanted to give our audiences a visceral experience yet maintain an intimate lens as the personal stories of our characters unfolded.
How do you find your stories?
Interesting question – there's a story behind each of the films! Rintu and I are bibliophiles so we're always sharing notes about the books we've read and sometimes, there's a burst of an idea that eventually evolves into a film. The Ramsay film was a pet project we'd been keen to work on ever since we founded the company. Timbaktu started from an obscure news article in a regional newspaper and sometimes it's a quaint photo-essay online of a woman in a saree distributing newspapers in an arid landscape, that eventually evolved into Writing with Fire.

This is an exclusive article from our June-November 2021 Bookazine. To read more such articles, buy a copy of the bookazine here.
Text Hansika Lohani Mehtani
Date 13-10-2021