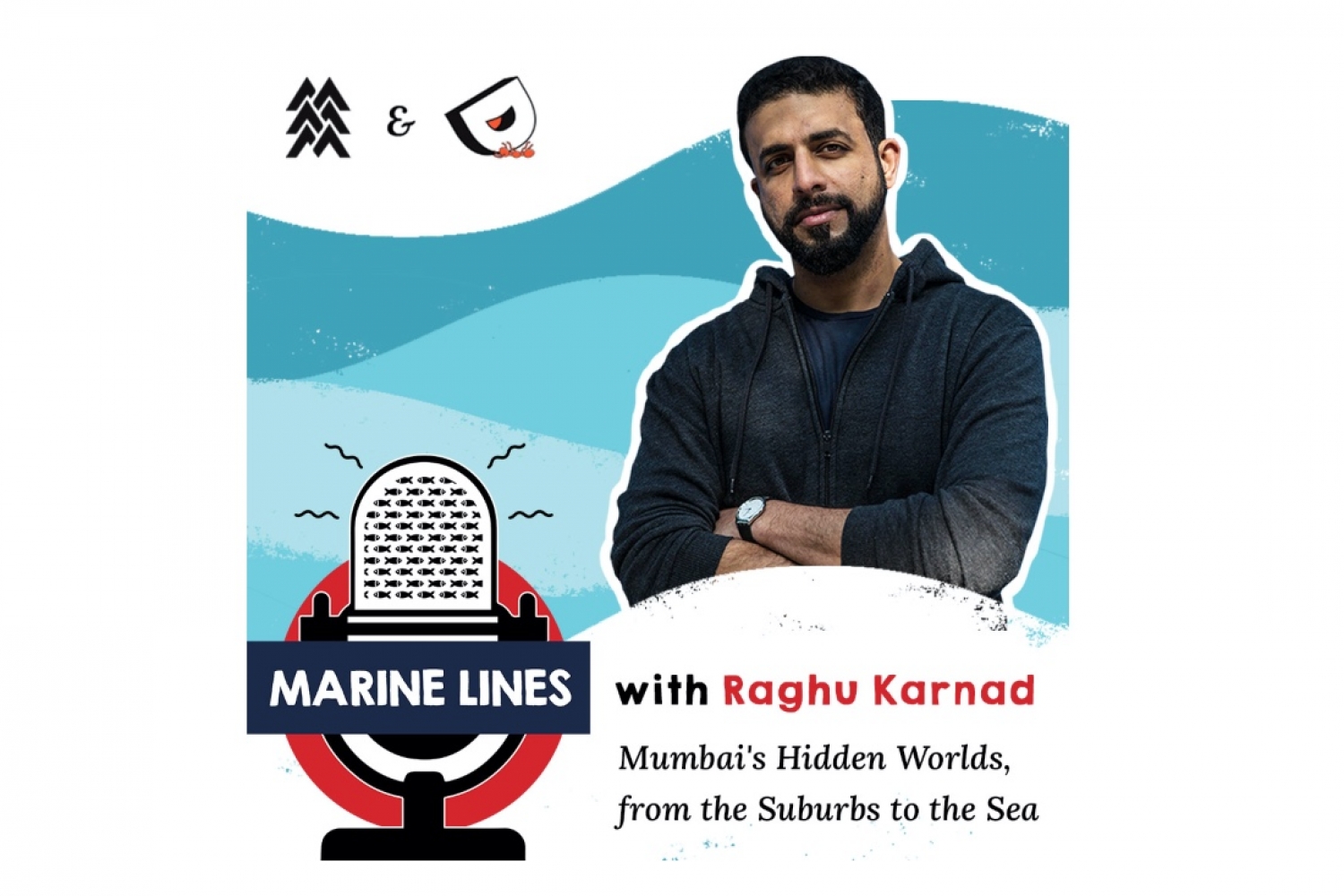 Raghu Karnad
Marine Lines
In today's day and age, when the devastating effects of climate change occur right before our eyes, a podcast such as Marine Lines: Mumbai's Hidden Worlds 'From The Suburbs To The Sea' is the need of the hour. Raghu Karnad, a notable Indian journalist and writer, sits down with ten renowned guests, ranging from Bollywood stars and artists to climate activists, to discuss the city's ecosystem and ecology, and their engagement with the same. Guests on the 10-episode series include actor Dia Mirza, writer Amitav Ghosh, wildlife biologist Nikit Surve, artist Sameer Kulavoor, amongst others. We connected with Raghu, who talks about the birth of his podcast and the current climate crisis below:
What piqued your interest in the environment/ ecosystems of the city?
I used to edit a city magazine in Delhi and while I was doing that, I made sure to spend a lot of time on foot and visit rare corners of it, which required a little extra time and energy. I was attempting to do some 'flaneuring' back then and I soon discovered all kinds of natural ecosystems that I wasn't expecting and wanted to know more about. I learnt to be as attentive as possible to a city. The same applied to Bombay, where I noticed how one is always trying to get close to the sea. People are always trying to spend time on the Carter Road promenade or on Marine Drive. A lot of privileged Bombay life is about accessing a view of the sea. But I always wondered why it ended there.
The sea was always considered a view, or a backdrop for people like me. While I was theoretically aware that the sea was this huge ecosystem, living right under us, I soon realised how little we truly knew about it. So, the podcast wasn't my idea, and I was approached by the producers who are Mumbai's Ministry of Magic and DeadAnt Studios. I was thrilled to do it because I finally had the chance to answer the many questions I had regarding what lies in places that we see as just a two-dimensional view.
Is there a particular goal with each of the conversations/ guests?
When I set out to form a list of people that I would like to talk to about Mumbai's ecosystems, I was surprised and delighted to find so many individuals that would be able toshare their knowledge and experiences about the topic. The challenge was whittling that list down in order to represent a balance between people that are specialists and those who are hands-on environmental observers, with those who are better known among the general audience. So, on one hand, we have someone like Nikit Surve, who is a leopard and wildlife ecologist, while on the other hand, I am talking to someone like Amitav Ghosh, a renowned writer who is very committed to thinking about planet's ecology and the climate crisis. We wanted people who were very close observers of particular ecosystems within the city as well as people from the bigger picture of environmental activism. While our discussions talked about marine animals and other species, we also placed focus on humans and how we coexist within these ecosystems.
How do you think podcasts engage audiences more than other mediums?
It seems pretty clear that podcasts have arrived in our lives in a big way, in part because of the pandemic. I know for a fact that in the last year I have spent a lot more time at home, washing dishes or ironing clothes, and in the way radio played a role in people's lives a while ago, podcasts allow us to be entertained or stimulated while our hands are busy. I also think everyone's eyes are tired of screens. From my own experience, it is clear that being able to listen and rest your eyes is a huge relief to people in 2021, after spending the last five or ten years collectively glued to glowing screens. It is also relevant to note that we were recording these 10 episodes during the peak of the second wave and it meant a lot to me because it was a relief from the relentless terrible news about the world outside. It was also a way to escape being indoors, at least through my imagination. Every week, having one or two of these conversations allowed me to be mentally outdoors, in a new refreshing ecosystem, even though it was a time when all of us were scared to even step out of our front doors.
What is your personal opinion on the current environmental state of our city/ country?
I have been reading this book called The Ministry of the Future by Kim Stanley Robinson and it opens with a description of what is called a wet bulb heat wave hitting Northern India. He provides this hair-raising description of what a heat wave like that could do and the kind of mass deaths that could occur because of climate change. The prospect that we are facing if we don't begin to assess the crisis of small ecosystems, and the whole planet's ecosystem, is going to be much more painful than we can imagine. In the podcast though, we didn't want our starting place to be "there is a crisis", "we are facing a disaster" because people have been hearing a lot of that and we wanted to do the opposite. So, in the very first episode, Shaunuk Modi, who is a marine wildlife photographer, said something that quickly became our informal motto. When talking about the beautiful marine life he finds in rockpools on the Mumbai coastline, he said, "You can't protect what you don't love, and you can't love what you don't know exists." The purpose of the podcast therefore is to reveal to people what does exist and get them to love it.
Are there any other projects related to the environment you hope to take on after this podcast?
I aim to bring to light India's innate ability to work against climate change, as a country and culture. India has this choice as a country to either be a serious casualty of climate change or to be a champion in the situation. We can either be the country that is most devastated by it or the one that shows the way to the rest of the world. I see the potential for the latter in lots of different places. I think in the twenty-first century, what it means to be a nationalist and what it means to want India to lead the world, cannot be separated from climate change or the climate crisis.

You can find the episodes for the podcast here.
This interview is an all exclusive from our August EZ. To read more such articles follow the link here.

Text Sarah Affonso
Date 08-09-2021