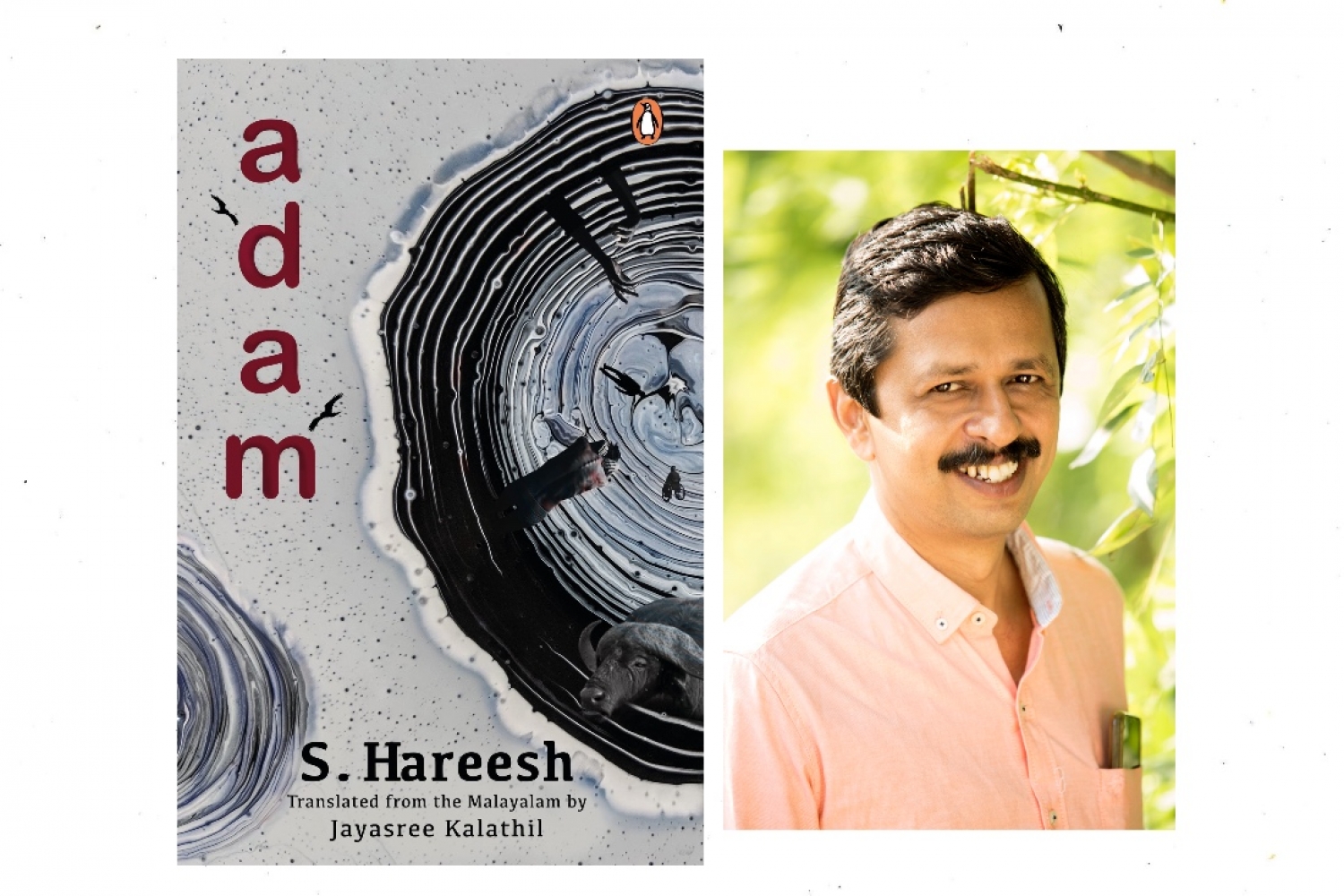 "To tell you the truth, writing is my last refuge. I don't have the self-confidence that I can do anything else well. I think this is what led me to the world of reading and writing. It is important to recognise our place in the world," shared S. Hareesh when I had interviewed him for winning the JCB Prize for Literature 2020 for his debut novel, Moustache. Before he penned his debut novel, his literary brilliance was already well-known and appreciated in the Malayalam literature landscape because of his short story collections, Rasavidyayude Charithram and Aadam. The second collection has now been translated into English by Jayasree Kalathil, titled Adam.
In Adam, S. Hareesh's writing finds itself dealing with difficult human emotions. From jealousy and lust, to greed, each story presents a unique tale of human existence, filled with folly. I had the pleasure of watching Lijo Jose Pellissery's Jallikattu in 2019, an adaptation of the story Maoist from this collection. While the film was phenomenal, it was even more astounding to read the ingenious text behind its adaptation. Needless to say, every story in this collection is equally revolutionary.
We are in conversation with the author below:
We had the pleasure of interviewing you when your debut novel, Moustache, had won the JCB Prize for Literature. Could you catch us up with what you've been working on since then?
I am happy to be talking with you again. Since Moustache, I have been working on a new novel which I am hoping to finish soon. Meanwhile, I also wrote screenplays for a couple of Malayalam films — Churuli, Nanpakal Nerathu Mayakkam.
Previously, you had briefly spoken about how, "Short story is the literary genre that is most read and discussed in Malayalam literature." Could you acquaint us further with the importance of this genre for you as a writer?
The short story is certainly the genre that is most discussed in Malayalam literature. There are some exceptional short stories published every year, and they are discussed, sometimes for months, extensively. I, too, began with writing short stories, and have published three collections so far. My first collection, Rasavidyayude Charithram, received the Geetha Hiranyan Endowment from the Kerala Sahitya Akademi. And Adam received the Kerala Sahitya Akademi award. Short story writing is something that demands as serious an engagement as writing a novel. The task of telling a story effectively in limited words is as difficult, if not more, as writing a novel.
Could you give us an insight into your writing process behind these stories, especially in terms of the subjects you'd chosen to write about?
The stories in Adam marks, I think, a shift in my writing life. They are different from those in my first collection. The inspiration behind the stories is the life around me, ideas that have come from the land that is my home. They reflect the local flare of Kottayam, and history and politics — two subjects that have fascinated me since my youth — have come naturally into them.
As these stories delve into an exploration of rather difficult human emotions, how challenging was it for you to embark on such an exploration?
I think the best way to understand human emotions is to observe the life around us, but I cannot say that I do this intentionally or consciously. As long as we are interested in the people and the life around us, and in reading and writing, they will come naturally into our writing. A broad sense of empathy and interest in human existence — I think that is what drives writing.
For this collection, was there a singular thematic concern that pulled these stories together?
There was no attempt for thematic unity between these stories except that they were written one after the other over a period of time. So, it is possible that they reflect my reading, thoughts and perspectives during that time, and there might be a kind of similarity in concerns. My hope while writing a story is that it would be different from things that I have written before.
As this book is available to a wider readership now, what do you hope the new readers take away from it?
As I said, Malayalam has a wealth of good writers and good short stories. I can only hope that English readers will find in Adam a reflection of it. Many of the stories in this collection are quite local in nature, but I hope readers will find something in them that resonates with them. After all, human experience and nature are universal.
When we last spoke with you about the pandemic, you'd answered, "I think that the world in the grip of Covid-19 is an early-morning nightmare that I am in, and that I have not been able to get out of that nightmare yet." Are you out of the nightmare now? How have you been coping with it personally since, and also as a writer?
I believe that I, and the world, have woken up from the nightmare that was Covid-19. When we wake up from a nightmare, we spend a bit of time wondering whether what we have seen is, in fact, real. I think of the current news about Covid-19 in those terms. Personally and as a writer, I am trying to survive this experience through writing.
Text Nidhi Verma
Date 05-01-2022